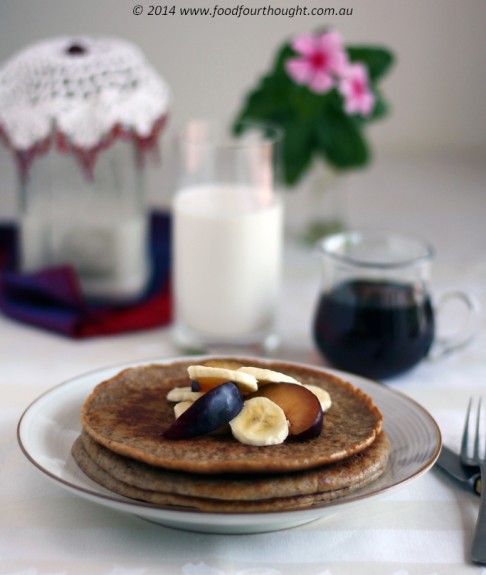 Mother's Day is the one day of the year where most of us stop, even if only briefly, to recognise the AMAZING job that Mothers do in this world.  I'm sure the word "job" should actually be in flashing lights because it is a 24/7, all consuming lifetime commitment.
I am extremely blessed to have an incredible Mum.  One who has always been there to guide and support me while also letting me learn from my own mistakes.  She taught me that I can do anything I set my mind on, to strive for my goals and dreams and, to this day she makes sure I know how proud she is of me.
When I was a child she would put up with my individualism and stubborn, strong will which included constant demands for different fashion items that (she made herself and) were a one of that no-one else would ever have.
She also had the patience of a saint when it came to my cooking.  I remember her teaching me many recipes as a young child, allowing me to make the typical childhood mess.  And as a teenager, me taking over the kitchen and putting my own twist on what I'd learnt to cook it for her and my family.  Mostly successful, although I'm sure she was more than pleasantly surprised sometimes at how well things actually turned out.
Unfortunately we live in different states now.  So although my spirit will be with her on Mother's Day I won't be making her a delicious breakfast like I may have done in years past.  If I was with her I would make sure that she didn't lift a finger and had the best breakfast in bed.  Freshly brewed coffee and healthy pancakes.  What could be better!  I wonder in my fur child can make these for me on Mother's Day, LOL.
What are you making your Mum for Mother's Day breakfast??
(paleo) pancakes – makes 12 x 20cm pancakes (recipe by Fiona at Food 4 Thought).
Ingredients
200g whole almonds (skin on)
1 – 2 tablespoons honey (depending how sweet you like it)
2 tablespoons coconut oil
200g tapioca (arrowroot) flour
250g homemade almond milk
8 eggs
1 1/2 teaspoons bicarb soda
3 teaspoons apple cider vinegar
2 teaspoons ground cinnamon
pinch of salt
Preparation
Preheat a small pan over a medium heat.
Place almonds into TM bowl and chop for 12 seconds on speed 8.  Remove and set aside.
Add coconut oil and honey to TM bowl and heat on 70°C for 2 minutes at speed 2 or until completely melted.  Add all remaining ingredients along with reserved ground almonds.  Mix for 20 seconds on speed 4.  Scrape around sides of bowl, and mix for further 20 seconds on speed 4, or until well combined.*  Place a small amount of butter into the pan.  Pour enough mixture into the pan to cover the base and cook until you see bubbles starting to form on the surface of the pancake.  Flip over and cook on the other side until golden brown.  Remove each pancake from the pan and keep warm until ready to serve.
Serve with fresh fruit and maple syrup.
My tips: *This is quite a wet mixture, not thick like some pancake batters.  This makes it easier to pour and to cover the base of the pan.  *Don't be tempted to turn the heat up too high and cook them quickly.  They will burn and not cook all the way through.  Leave them on a medium heat and wait until you see the bubbles forming.  *I found these really filling and only needed two for my breakfast.  *Use any spice that you like in place of cinnamon.  *These will keep in the fridge really well once cooked.  They can also be frozen.
ease: 8.5/10.  Easy enough to do on Mother's Day!
prep time: 10 minutes. 
cooking time: 20 minutes 
total: 30 minutes.
taste: 8/10 From G, given he isn't strict paleo and loves traditional flour pancakes that is a really good score!  Personally I would say 9/10 from me.  I loved these.  I felt they had so much more flavour than other pancakes I've eaten.
would I make it again:  Every weekend, if I had time 🙂