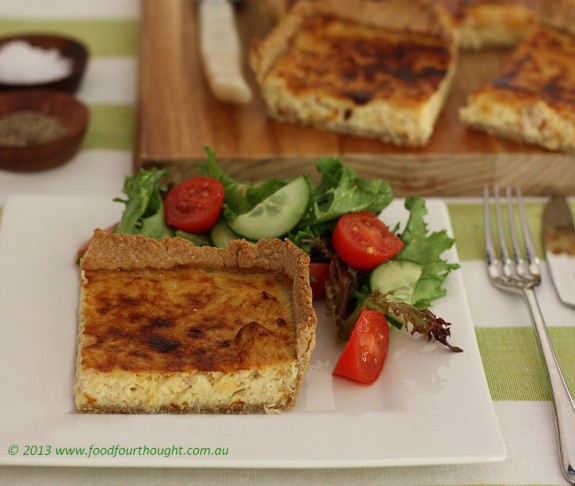 I remember my first few weeks of owning a Thermomix.  Like many people, I was unsure about how it really worked or what I had to do.  My feelings were a mixture of fear and excitement all rolled into one.  I was so pleased to have this amazing machine on my kitchen bench but also wondered what I was supposed to do with it?
I'm so pleased that after a little trial and no real error I got the hang of it.  Now I love that I can just look at a recipe and know that I can adapt it to the  Thermomix easily.
There are also so many other things that are (still surprising to me and) fabulous about this little machine.
I still love several things that the Thermomix can do so easily:
– Chop 1 (small) clove of garlic (my food processor NEVER did this);
– Make 1 litre of chicken stock in 30 minutes (without me even checking it);
– Clean my vegetable drawer out and make Vegetable stock concentrate that will then keep for 3 months in the fridge;
– Homemade butter in 2 minutes THEN make it spreadable or flavoured;
– Being able to steam while cooking soup, and all in one machine (pot);
– Salad in 2 seconds (literally);
– Chop onions in 2 seconds, which means I NEVER have to chop an onion again;
– Custard (like Nanna used to make) in 7 minutes.
What's your favourite thing that the Thermomix does so easily?
This recipe was one that I made up after looking at a couple on the internet.  In the near future I'll talk about how to adapt recipes because I know a few people want to know how to do it.  For now, I hope you enjoy this recipe.
leek and bacon tart (recipes by Fiona at Food 4 Thought).
makes 20x30cm tart (enough for 4 adult as a meal with salad)
pastry (adapted from a recipe in Rainbow Recipes by Aileen Sforcina)
Ingredients
200g whole wheat grain
50g mixed seeds
70g water
10g olive oil
½ teaspoon sea salt or to taste
Preparation
You will need a tart tin, rolling pin, Thermomat and/or non-stick baking paper.
Place grain into TM bowl and mill for 50 seconds on speed 9.  Add seeds and chop for further 10 seconds on speed 7.
Add remaining ingredients and mix for 5 seconds on speed 5 to combine.  Remove from TM bowl, roll out and line tart tin.  Prick base with fork and set aside while making filling.
My tips: *When you roll this out make sure it isn't too thick.  If you get any holes just tear of a piece of pastry and patch it (as shown in my photos).   When I roll my pastry out I use my Thermomat on the base and a piece of baking paper on top.  This means that I don't need any flour and it won't stick.  *You can make the pastry cases ahead of time and store them in the freezer for several weeks.  When you want to use them, simply put them into a pre-heated oven straight from the freezer.
ease: 9/10.  This is the easiest (and healthiest) pastry I've ever made.
prep time: 5 minutes
cooking time: 0 minutes in oven (no prebaking required)
total: 5 minutes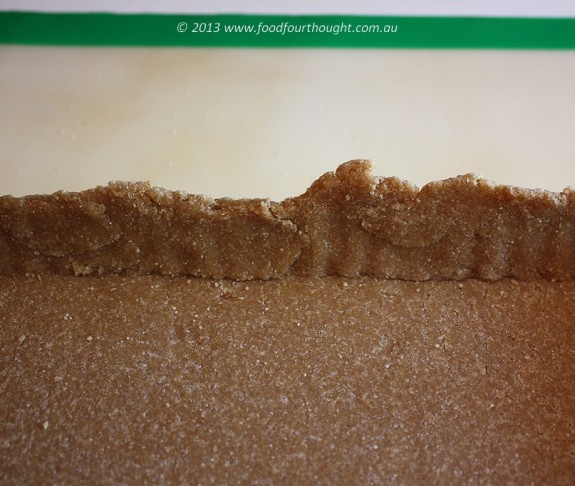 filling
Ingredients
50g Parmesan cheese, cubed
450g leeks, washed and roughly chopped
120g bacon, roughly chopped
1 tablespoon olive oil
100g white wine
Sea salt & pepper, to taste
120g whipping cream
3 eggs
Preparation
Preheat the oven to 200°C (190°C fan-forced).  Place cheese into TM bowl and mill for 10 seconds on speed 9.  Remove and set aside.
Add leeks to TM bowl and chop for 5 seconds on speed 5.  Remove from bowl and set aside.  Add bacon to TM bowl, chop for 2 seconds on speed 5.   Add oil and cook at 100°C for 3 minutes on reverse, soft speed with MC off.
Add leeks to TM bowl, along with white wine, salt & pepper.  Cook at 100°C for 15 minutes on reverse, soft speed with MC on.
Once cooked, add cream, then eggs and approximately two-thirds of cheese.  Mix for 30 seconds on reverse, speed 3 or until well combined.  Pour mixture into prepared pastry, sprinkle with remaining cheese and bake for 30 – 35 minutes until filling is just set.  Remove from oven and allow to sit for 5 minutes before removing from tin.
Serve warm or cold with salad.  Use extra seasoning if necessary.
ease: 9/10. Nothing too hard.
prep time: 15 minutes
cooking time: 35 minutes in oven
total: 50 minutes
My tips: *You can use pancetta pieces instead of bacon for a richer flavour and substitute the wine with stock if you prefer.  *I always use full fat cream when baking otherwise you might find that it separates a little.  Make sure you add the cream THEN the eggs or you will cook the eggs with the heat from the leeks and bacon.  *If you don't want cheese on top just add it all into the filling mixture.  *You might find that the tart browns quickly on top because of the cheese.  If you prefer it less coloured you have two choices.  1. add the cheese to the top halfway through the cooking time in the oven.; or 2. follow the recipe as is and just put a piece of foil over the top if it gets too brown for your liking.  *This keeps for several days in the fridge.
taste: 9/10. This pastry was delicious.  It almost had a nutty flavour because of the grain and seeds.  Really crunchy, even after being in the fridge for several days.  The flavour of the filling was quite intense given the small amount of ingredients that went into it.  We were also fortunate enough to have this for lunch for several days as we had leftovers.   G doesn't like quiche of any description but he loved this tart.
would I make it again:  Yes.  Easy, healthy, delicious and cheap to make!  Does it get any better?