Thermomix.  Two years ago I would never have believed how big an impact this one kitchen appliance could have on my life.
After vowing that I would never buy one because "no kitchen appliance could be worth that money" I went to a friend's demonstration with an open mind to "have a look".  Halfway through I was sold.  It took me two weeks of "justifying" before I decided and took the plunge.
Now, my only regret is that I didn't have one sooner.  Not only has it changed the way I cook, made me even more creative in the kitchen, saved me time and money but it has introduced me to so many people I never knew.  I am so grateful to say that I have 228 special clients and I really enjoy showing people just what this amazing little machine can do.  Just this week I did a home demonstration for a lovely group of people and some of their faces were  gorgeous.  The surprise of milling raw sugar to icing sugar in just 9 seconds; the fact that it will chop one clove of garlic into tiny pieces; and being able to make soup while steaming ribbon vegetables and chicken then turning part of the soup into a sauce to pour over the chicken.  The pièce de résistance, chocolate custard made in the Thermomix in 7 minutes, no packet mix or stirring required. 🙂
I have always loved being able to make my own preserves and relishes from scratch.  An extension of that is being able to give jars of them to friends as gifts.  This recipe is perfect to make and give as a gift.  It is also fabulous for those times when friends "pop in" unexpectedly.  If you have some mini tart cases,  meringues or even some phyllo pastry available, you can create an amazing treat.
I recently wrote about my joy at being given a bag of passionfruit and what I had decided to do with them all.  Part of that was making this delicious passionfruit curd for my Passionfruit Cupcakes.
My favourite way to eat this curd is simply stirred through greek yoghurt but I thought I'd be a little fancy in case you want to be able to serve it as a dessert also.  This is also something that I love to make for friends as gifts.  So when you wonder what you can make in your Thermomix for a Christmas gift, why not try this recipe.
passionfruit curd – (recipe adapted by Fiona at Food 4 Thought from here).
makes approximately 1 litre
Ingredients
200g raw sugar
180g butter, cubed or softened
30g lemon juice
6 eggs, lightly beaten
200g passionfruit pulp (15 – 20 passionfruit – depending on size)
Preparation
Add sugar to TM bowl and mill for 3 seconds on speed 9.
Scrape around sides of bowl, insert butterfly and add remaining ingredients.  Cook at 90°C for 11 minutes on reverse, speed 4.  Use steamer basket on top of lid instead of the measuring cup as it will allow more steam to be released and give a thicker curd.
Pour into sterilised jars and refrigerate until needed.
sweet shortcrust pastry – (recipe adapted from original by Michelle Cranston from "Marie Claire – Hot").
makes 2 small tart cases (10cm x 2cm)
Ingredients
10g raw sugar
50g butter
100g plain (all-purpose) flour
1 tablespoon cold water
Preparation
Add sugar to TM bowl and mill for 10 seconds on speed 9.
Scrape down sides of bowl, add butter and flour.  Set dial to closed lid position and knead for 30 seconds on Interval speed.
Scrape down bowl, add cold water, set dial to closed lid position and knead for 30 seconds on Interval speed. 
Remove mixture from bowl and form into a disc.  Wrap in plastic and refrigerate for 15 minutes.  Once slightly firm, remove plastic and divide into 2.  Using a rolling pin and thermomat, roll out each portion to approximately 2mm thickness and line each tart case.  Place back into refrigerator for further 15 minutes, and heat oven to 170°C with the fan on (or 180°C for non-fan forced oven).  Remove cases from refrigerator and prick the base with a fork, line with greaseproof/non-stick paper and fill with rice/baking weights.  Place the cases on a baking tray and in the oven.  Cook for 15 minutes, remove paper and weights and return cases to the oven for 2 – 3 minutes until they look cooked and dry.  Remove and allow to cool.
Fill the tart cases with passionfruit curd and top with cream or yoghurt and passionfruit pulp.
My tips/alterations: PASSIONFRUIT CURD – *Once the curd is cooked, taste it.  If you feel you can still taste the eggs, cook it for an additional minute at  100°C.  Use this curd for anything, filling a meringue layer cake, inside cupcakes, or my favourite, stirred through some Greek style yoghurt.  *If you store this curd in sterilised jars it will keep (in the refrigerator) for several months.  *I found the easiest way to remove the pulp from the passionfruit was with a dessert spoon.  I did them all before starting the recipe.  TART CASES – *You can make these cases then store them in the freezer for several weeks.  If you have a filling you would like to cook in them, simply add it to the tart case and put them in a preheated oven straight from the freezer, there's no need to thaw them out.  If you would like to use them with the Passionfruit curd, remove them from the freezer and allow them to defrost on the kitchen bench before filling them with curd.  *The amount of cold water required may vary from time to time (due to flour differences, etc), adjust it as you need to.  *I have made these with cold and room temperature butter and each works as well as the other.  Just be careful not to overwork (over mix) the pastry.  *When you remove them from the refrigerator to roll it out, work quickly as the pastry becomes slightly sticky as it comes to room temperature.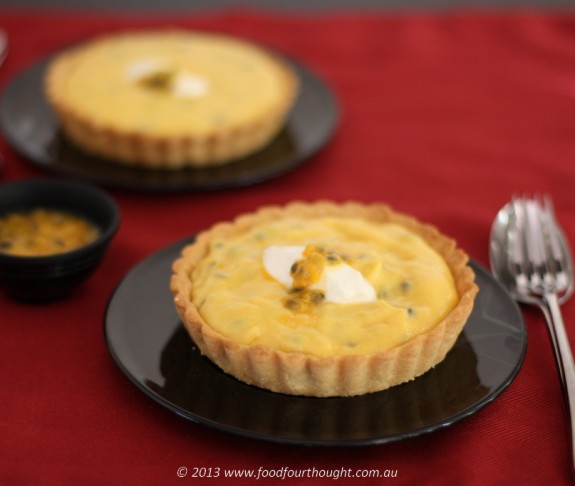 ease: 7.5 – 8/10.  The curd couldn't be simpler and the pastry is easy once you've done it a couple of times.
prep time: 15-20mins for the curd (the passionfruit take the time). 
cooking time: 15mins for the tart cases in the oven + cooling time.
total: 35 minutes + cooling time.
taste: 9/10. This pastry has the snap that you want as your spoon goes through it.  The passionfruit curd is delicious with the perfect amount of sweetness to compliment (and not overpower) the passionfruit.
would I make it again:  Yes, yes, yes.  This is going to be a staple in our house, especially when anyone is willing to pass with a large bag of passionfruit. 🙂
So what about the whole conversion thing.  I've listed the recipes side by side and given you  some explanation.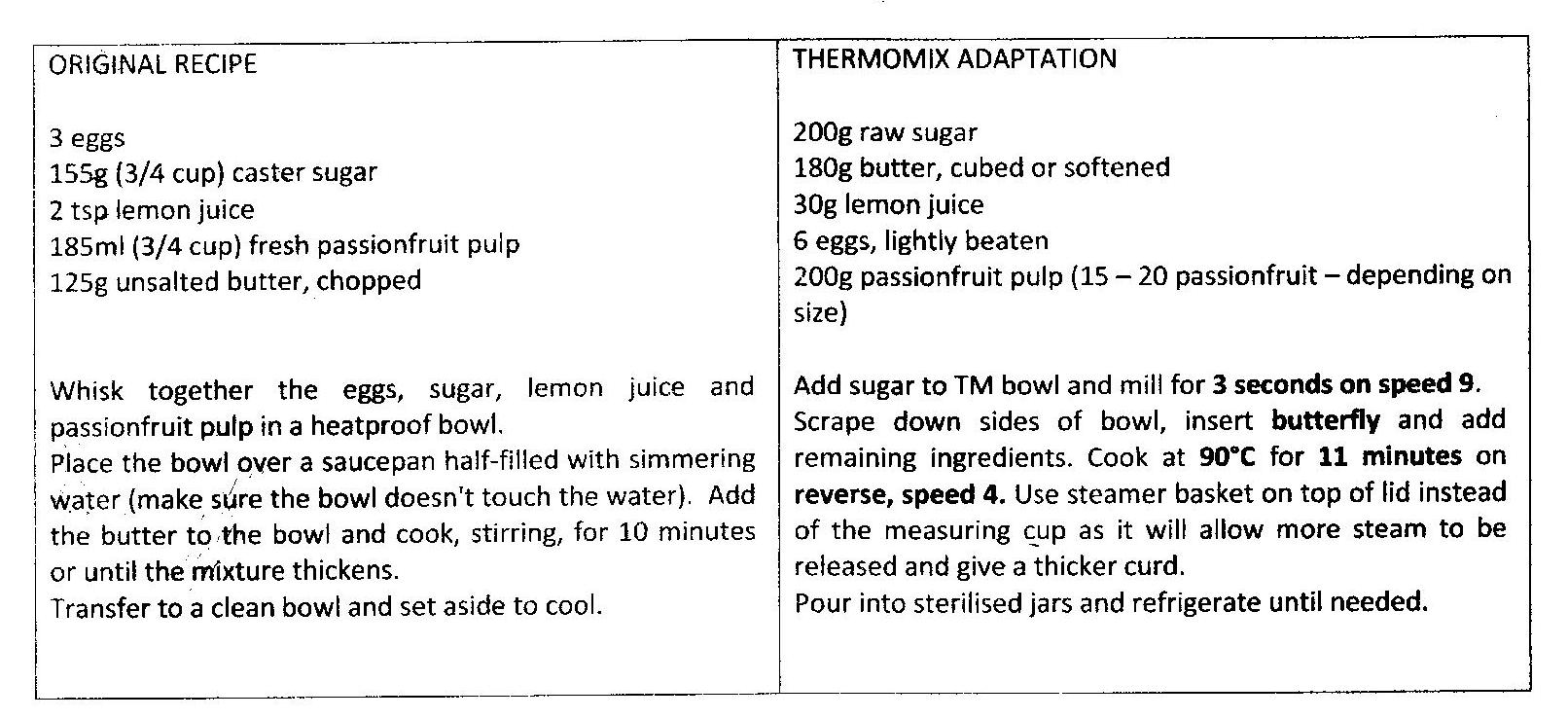 1. We make our caster sugar from raw sugar.
2. Because we can control the temperature, instead of using over a pot of simmering water we can just use the TM bowl.  To work out the temperature and the speed I just looked at what we do for the lemon curd and custard and did something similar.
3. To get the mixture to thicken on the stove there is no lid on it.  To create the same effect with the TM I just remove the MC and use the simmering basket on the TM lid.
4. Converting recipes can be a little bit of trial and error at first but persist with it and you will have your favourite recipes done the Thermomix way in no time.
I hope this helps you to convert your recipes 🙂
Two other posts that might help with recipe conversion –
– Jo Whitton does some amazing things with the Thermomix and these are some of her tips.
– Forum Thermomix is a place where many questions can be answered and this thread might be useful.