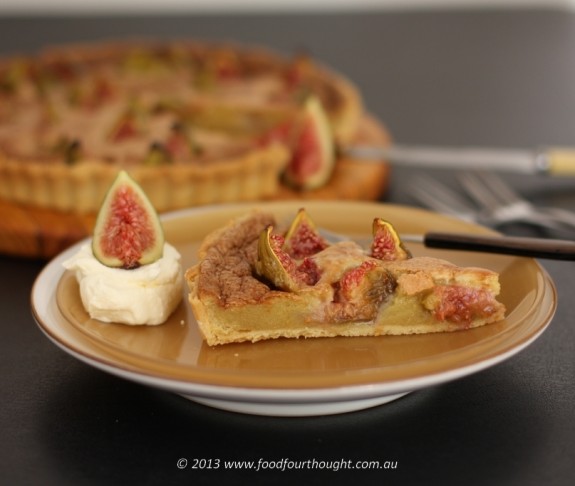 I love showing people the amazing features of the Thermomix.  Watching their faces light up when we create icing sugar from raw sugar in just 9 second and 2 litres of fresh fruit sorbet in 2 minutes with no artificial colours, flavours or preservatives.  The smallest, smartest kitchen machine as it is known is certainly just that.  It is very different to any other kitchen appliances.  I can say that because I used to own many of them.
In actual fact, I'm sure I used to own every kitchen appliance known to man!  Our kitchen has minimal bench space but that didn't stop me having a large food processer, juicer, rice cooker, bread maker, ice cream machine, yoghurt maker, electric steamer, stick blender, coffee grinder, electric scales and many other smaller gadgets for chopping, grinding and mixing.
Probably the most precious piece in my "collection" was my black and stainless steel KitchenAid.  It always had pride of place on my bench.  When I decided to purchase the Thermomix it was because of the incredible features that were so  different to any of the other machines that I owned.  Being able to make things that I had never tried before was very appealing but one of the main things was that I could cook dinner without having to stand in the kitchen for hours on end.  I was slightly nervous when I first started using the machine but found it so simple that it actually became exciting.  The more I used it the more I loved it.  At the beginning I kept all of my other appliances for the first 3 months, just in case.  I must say, with my hand on my heart, that I didn't use any of them at all.  Bitterly disappointing, given the money I spent on them but after selling them half the cost of my Thermomix disappeared along with them :).
During our demonstrations there are always some common questions.  One that I seem to have been asked a lot lately is about using the Thermomix for cakes, especially given that the KitchenAid is so good at it.  In my opinion the Thermomix is just as good, if not better.  This question inspired me to make this recipe because it is one that I used to make the filling for in the beautiful mixer and now make (MUCH EASIER) in the Thermomix.
If you have a favourite cake recipe for the Thermomix I'd love to know about it.
fig and brown butter tart (recipes adapted from Marie Claire "hot" by Fiona at Food 4 Thought).
makes 1 x 22-24cm tart or 4 x 10cm tarts
pastry
Ingredients
30g raw sugar
200g plain (all purpose) flour
100g cold unsalted butter
2 tablespoons of ice cold water
Preparation
Place sugar into TM bowl and mill for 3 seconds on speed 9.  Scrape around sides of bowl, add flour and butter.  Chop for 10 seconds on speed 5 until the mixture resembles breadcrumbs.  Add cold water then place dial on closed lid position and knead for 1 minute on interval speed/dough mode or until the mixture comes together.  Wrap the dough in plastic wrap and place in freezer for 10 – 15 minutes.   Roll the pastry out as thinly as possible (the easiest way to do this is on a Thermomat with a piece of baking paper on top of the pastry).  Line a 22 – 24cm tart tin (with a removable base).  Chill for a further 10 – 15 minutes in the freezer.
Preheat the oven to a 180°C.  Remove base from freezer, prick with a fork, line with baking paper and pour weights (rice, dried beans, pie weights, etc) on top of the paper and bake in the oven for 10 minutes.  Remove the paper and the weights, return base to oven and cook for further 10 minutes until just slightly golden.  Remove from oven and allow to cool.
ease: 8/10.  This isn't really difficult, just a little fiddly with the blind baking
prep time: 15 minutes + chilling time
cooking time: 15 minutes in oven (can be done ahead)
total: 30 minutes + chilling time.
filling
Ingredients
190g unsalted butter, cubed
8 – 12 fresh figs, depending on size
150g raw sugar
3 eggs
30g plain (all purpose) flour
Preparation
Preheat the oven to a 180°C.  Place butter into small pan and cook over medium heat until it  become a nutty colour.  This will take between 5 – 10 minutes.  In the meantime, place the figs on the chopping board with the steam facing up.  Cut in half, stopping two-thirds of the way down, then repeat so that the figs look like they are quartered but are joined at the bottom.  Open them up slightly and arrange in the pastry base.
Place sugar into TM bowl and mill for 3 seconds on speed 9.  Scrape around sides of bowl, insert butterfly and add egg and flour.  Whip for 1 minute on Speed  4.   Pour the hot (warm) butter into the egg mixture and continue to beat for 30 seconds on speed 4.  Pour the filling over the figs and bake for 25 minutes or until the filling is cooked and golden brown.
Allow to cool completely before serving with a dollop of cream.
My tips: *You can make the pastry cases ahead of time and store them in the freezer (before blind baking them) for several weeks.  When you want to use them, simple put them into a pre-heated oven straight from the freezer.  This pastry was divine.  Really crunchy, even after being in the fridge for several days. *I would have used the TM to melt the butter but it needs to become nutty brown.  I don't find the TM gets hot enough to do so hence I used a small pot.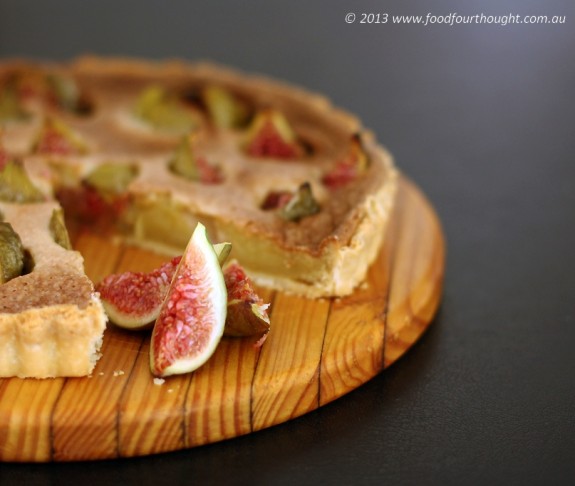 ease: 7.5/10.  There are a few components to this dish but believe me, they are worth it.
prep time: 15 minutes
cooking time: 25 minutes in oven 
total: 40 minutes + cooling time.
taste: 9/10. We loved this tart as did many others who tried some for us.  The pastry was crunchy, the filling soft and buttery and the figs….sublime.
would I make it again:  Yes.  It is delicious!