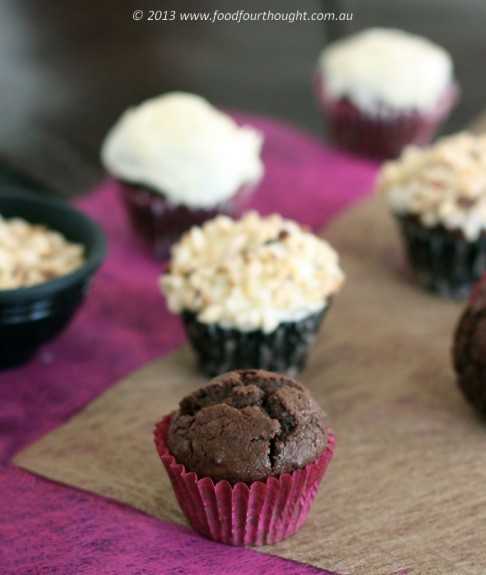 As those who own a Thermomix know, there are many advantages in doing so.  One of the things that I never actually considered when I was purchasing the machine was just how much money I could save on the very basic things that many of us buy pre-packaged.  Items such as stock, yoghurt, butter, juice and peanut butter are things that we can all make in a very short space of time and they will also save our hip pocket.
I know it might be fairly obvious, but here are some benefits of making your own "basics" and everything we eat I guess.
You know what is in everything,
Allergies are easily controlled
It saves lots of money
(which means) The Thermomix is paid for with the money you're saving
You can make it taste the way you like it
You can make it whenever you want to
I'm sure there are many more.  Leave me a comment and tell me what your biggest benefit is.
I'm sure you've seen this recipe going around.  It is the one that uses Nutella with eggs and flour to make a brownie style mini cupcake.  When I first read it I couldn't believe that it would work so (of course) I had to try it, my way.  So after making the chocolate hazelnut spread myself I used it in the mixture.  I've never been a Nutella fan until I made it myself, I always found it too sweet but this version is delicious.
These little bites are an absolute treat.  Do yourself a favour and make them as soon as possible.
3 ingredient cupcakes – (recipe adapted by Fiona at Food 4 Thought after reviewing many recipes)
makes 10 – 12 mini cupcakes
Ingredients
150g chocolate hazelnut spread (at room temperature)
1 large egg
30g SR flour
Preparation
Preheat the oven to 170°C (fan-forced).  Line mini muffin/cupcake tray with cupcake liners.
Add all ingredients to TM bowl and mix for 15 seconds on speed 3.  Scrap around sides of bowl.  Repeat if necessary until mixture is combined.  Divide mixture evenly into cupcake liners.
Bake 10 minutes, until slightly risen and just set in centre.  Allow to cool on wire rack.  Decorate as you like (see tips).
My tips/alterations:  *I used SR flour because I wanted these to be light and fluffy rather than like a brownie.  If you'd like a brownie consistency just use plain flour and cook these for 2 minutes more.  *To divide the mixture evenly I used a mini ice cream scoop but teaspoons will work just as well.  *To get as much mixture as possible out of the bowl, put the dial on closed lid position then hold the Turbo button in for about 4 – 5 seconds.  *Before rinsing the bowl with water, you can add about a cup of milk mix it up and you have a glass of choc milk.  *The chocolate hazelnut spread that I used is not sweet, so I iced my cupcakes with cream cheese frosting and hazelnut granules (that I bought already chopped).  You can just sprinkle them with icing sugar if you prefer.  *If you're spread isn't at room temperature just whip it for a few 5 – 10 seconds on speed 3 then add the egg and flour.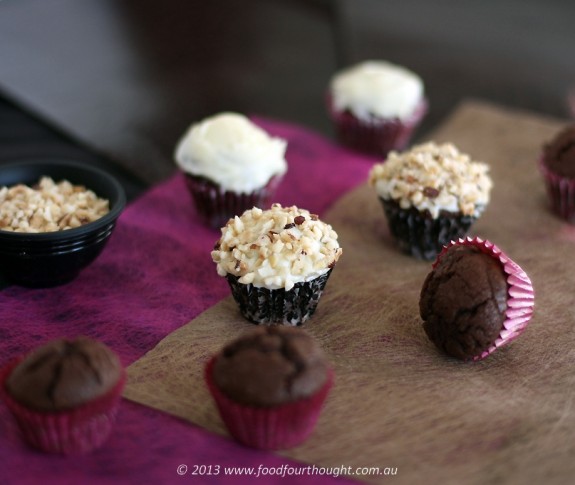 ease: 10/10. Couldn't be simpler.
prep time: 5 minutes if the spread is pre-prepared.
cooking time: 10 minutes + cooling time and decorating time.
total: 15 minutes + cooling time.
taste: 9.5/10. These are a mini bite wonder, especially when you use the icing and crushed nuts on top.  I love that they are not too sweet and have a deep rich chocolate flavour.  Just what I need to make my afternoon run smoothly.
would I make it again:  YES. Now and forever 🙂