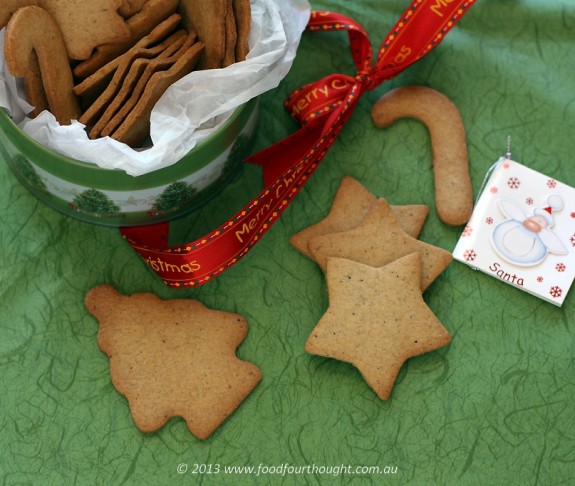 Christmas is a time for giving.  A time for helping those less fortunate than ourselves, for showing our appreciation by passing on gifts of thanks.  It is also a time that many of us use to spend with our families and loved ones because we realise how important they really are.
For me this year has meant that I am extremely grateful to all those who have supported me in my Thermomix business.
When I started working with Thermomix in Australia almost 3 years ago it was because I saw an amazing product that I wanted to be able to show as many people as I possibly could.  Of course journeys evolve on a natural and maybe somewhat directed path with many trials and tribulations along the way.  I can honestly say that my tribulations have far outweighed my trials, for which I have immense gratitude.
For many years I have always made an edible gift for family, friends and work   colleagues.  In the past it has been pistachio, white chocolate and cranberry nougat, white chocolate and pistachio fudge, passionfruit curd, panforte, shortbread, tomato relish and many more.
This year I decided to make to make something a little more traditional, that had a little more meaning and also gave back.  So I purchased the Devil of a Cookbook by Fiona Hoskin.  This gorgeous book has some delicious (and simple) recipes and the all the proceeds from the book go to a great cause – the Devil Island Project that is trying to save the Tasmanian Devil.
These yummy biscuits are a Dutch creation traditionally made for St Nicholas.  Make them for those you love and cherish!
St Nicholas Speculaas – recipes from "Devil of a Cookbook" by Fiona Hoskin.  Buy it here.)
Makes LOTS!
Ingredients
2 teaspoons ground cinnamon
1 teaspoon ground nutmeg
½ teaspoon ground ginger
½ teaspoon ground cloves
½ teaspoon ground cardamom
550g plain flour
1 teaspoon baking powder
Zest of 1 orange
Zest of 1 lemon
300g sugar
200g butter, softened
2 eggs
Preparation
Pre-heat the oven to 180°C.  Line a baking tray with baking paper and set aside.
Places spices, flour and baking powder into mixing bowl and mix for 5 seconds on speed 5.  Remove from bowl and set aside.
Place zests, sugar and 2 tablespoons of reserved flour mixture into mixing bowl and mill for 10 seconds on speed 9. 
Add butter and heat for 1 minute on 60°C at speed 4. 
Add eggs and beat for 10 seconds on speed 5.
Add remaining flour mixture and mix for 40 seconds on speed 4.  Scrape down the sides of the bowl if required and mix for a further 7 seconds on speed 4.
Roll out onto a lightly floured surface and cut into the shape of St Nicholas or other shapes of your choice.  Place onto prepared tray and bake for 10 – 15 minutes or until golden brown.
My tips/alterations: *I cooled these on a wire rack.  *When "zest" is used in a Thermomix recipe as above I use a vegetable peeler to remove the zest from the fruit.  By mixing it with the sugar the Thermomix will create the fine zest that is needed.  *This recipe makes a lot of biscuits (depending on how thin you roll them) and could easily be halved.  *Not sure what I may have done wrong but I found this dough quite stiff when combining it all in the Thermomix.  I decided to mix it in two batches and it worked well.  *I rolled these quite thin because that is what I have seen Dutch biscuits look like but you can roll them thicker if you like.  *I put mine into little cellophane bags and tied them with ribbon to give as gifts.  *Get the kids involved in making the shapes, they will have loads of fun!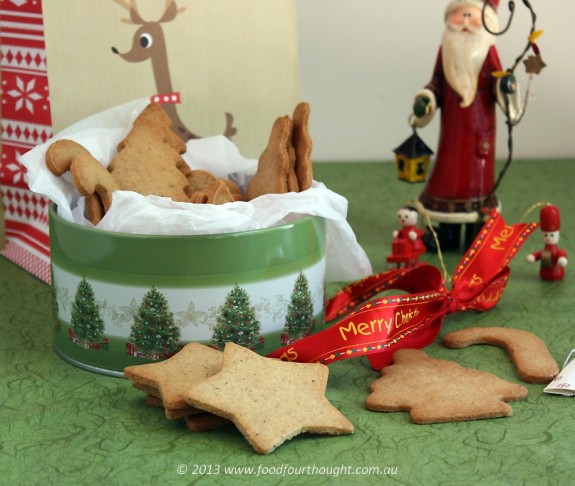 ease: 9/10.  The hardest part is the shapes.
prep time: 30 minutes.  Once again the cutting out is what takes the time.
cooking time: 15 minutes (I did several batches)
total: 45 minutes. (depending on how many you make)
taste: 9/10.  These are delicious!!
would I make it again:  YES!!  My first batch has all been given away so I am making another batch tomorrow 🙂