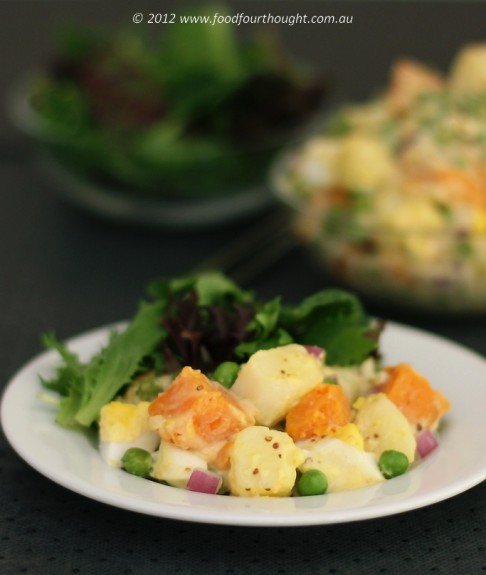 I was flicking through my recipes recently and noticed that everything I have posted in the past few months has been something sweet, a slice, cake or dessert.  And as much as I LOVE all of these things I thought it was time for something a little different.
One of the things that I use my Thermomix for quite often is steaming.  I know that some people don't even use their Varoma dish (steamer), so hopefully this will inspire a few of you.
The Varoma name comes from Vorwerk (the company that design and manufacture this amazing product) and is a made up work combining the two things that occur when steaming.  Vapour comes from the bowl through the steamer and Aroma is emitted, hence Varoma :).  The dish itself has two layers and has (up to) a 2 L capacity.
So what can you create using your Varoma?  How about these few things:
– Prosciutto rolled chicken breast in cream sauce
– Turkey wrapped in bacon with cranberry gravy
– Brown rice salad (one of my favourites!)
– Meatloaf with red sauce (Yes it is delicious)
– Sticky date puddings
– Chilli mussels
– Ricotta dumplings with Napoli sauce (from the new 2013 calendar)
There is so much more.  I hope you enjoy this recipe and adapt it to suit your household.
potato salad with seeded mustard mayonnaise (recipe by Fiona at Food 4 Thought).
serves 4-6
seeded mustard mayonnaise (makes just over 2 cups)
Ingredients
2eggs
1 tsp dijon mustard
2 good pinches fine salt
50g white wine or apple cider vinegar
35g seeded mustard
450g grapeseed or rice bran oil (pre-weighed)
Preparation
Pour eggs into TM bowl, add dijon mustard and salt.  If the eggs are from the refrigerator, heat on 37°C for 1 minute, speed 3, otherwise mix for the same without the heat.  
Ensure the MC is on the lid with the opening facing up and the lid is secured in position.  Set scales to zero and pour (and weigh) the vinegar into the MC.  Turn the dial to speed 4.  Pour the oil onto the lid (being careful that it doesn't overflow) and allow it to drip into the bowl  until it is all gone.  Without stopping the blade, remove the MC and pour the vinegar into the bowl.  Mix for a further 10 seconds.  Stop the blade, add the seeded vinegar and mix for 5 seconds on speed 3.  Check for seasoning and adjust as necessary.
Pour mayonnaise into airtight container and store in refrigerator until required.
My tips: *I always make this mayonnaise at least a day ahead as the flavour develops with time.   *This recipe makes quite a bit.  I think it depends on how much dressing you like on your salad as to whether you halve it or not. I think I like a little bit more than a half batch.  If there is anything left over I'm more than happy to use it for something.  *I know it is a little controversial not to use the butterfly but it works really well.  Particularly if you weigh the vinegar into the MC.  It has a dual purpose.  With the TM 31 the MC always "floats" when you pour oil on the lid.  Weighing the vinegar into the MC prevents that and also means that it is already organise for you to just pour straight in when needed.  *You may find this a little sharp but the salad needs the flavour.  *This will store in the refrigerator for at least a month.  Just make sure you store it towards the back as it is usually colder and when you use it be careful not to cross-contaminate it.  *You can use apple cider vinegar if you like.  *I don't use olive oil in my mayonnaise as it can be bitter and very strong.  For a basic mayonnaise recipe go here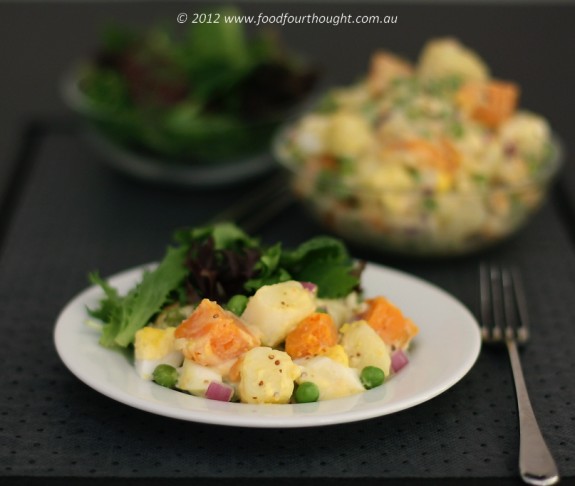 potato salad
Ingredients
1 litre water
6 eggs
600g sweet potato, peeled and chopped into 1½cm cubes
600g potato (ruby lou or royal blue), peeled and chopped into 1½cm cubes
250g fresh or frozen peas
75g red onion, finely diced or sliced thinly
250-300g mayonnaise
sea salt for seasoning
Preparation
Place water into TM bowl.  Add simmering basket with eggs.  Add mixed potatoes into the Varoma dish, leaving the top layer out.  Cook at Varoma temperature for 15 minutes on speed 3.  When finished, remove Varoma dish, set aside.  Use the spatula to remove the basket and run the eggs under cold water before peeling.
Stir the potatoes to encourage even cooking, add the top layer into the Varoma dish and add the peas.  Place the dish back in place and cook at Varoma temperature for 10 minutes on speed 1.
In the meantime, chop the onion, peel the eggs and chop into pieces the same size as the potatoes.  Add to a large salad bowl.  Once completed, check the peas are cooked and the potatoes are soft when pricked with a fork or knife.  They should not be falling apart but just soft.  Add the potatoes and peas to the salad bowl.  Pour over the mayonnaise and stir gently to combine.  Taste for seasoning and adjust as desired.
Allow to cool slightly and serve.
My tips: *I always use ruby lou or royal blue potatoes as I find they hold their shape better and do not break apart.  *You can substitute beans and spring onions if you prefer and even add some crispy bacon for something different.  *If you find the mixture too thick when the mayonnaise is added or you would like to add a little less mayonnaise, simply add a tablespoon of the cooking water.  This will loosen it slightly but still keep it creamy due to the starch content.  *I prefer to dice my onion in this case than use the Thermomix because I want it to be uniform in shape.
ease: 9/10. 
prep time: 15mins.
cooking time: 25mins + 5minutes for mayonnaise
total: 45 minutes.
taste: 9/10. We loved this salad.  Everything just worked so well together.
would I make it again:  Yes.  Summer is here!  (I did this recipe at our Festive Flavours Cooking Class in South Perth.)