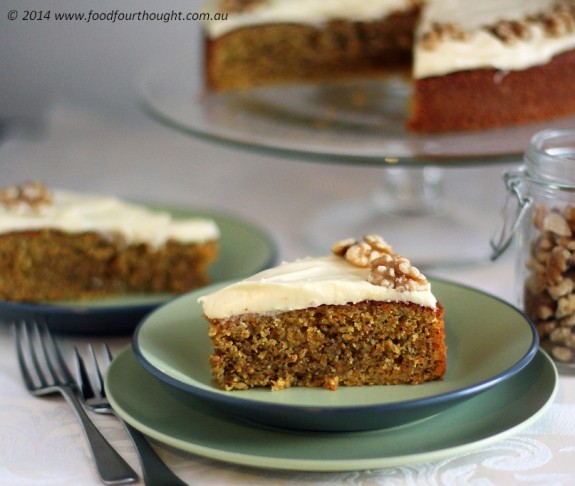 Sharing recipes of any kind is a very special thing.   Some of them involve family traditions and secret ingredients; many are not even written down and only learnt through teaching the next generation.  This is something that I have always loved about cooking and one of the things that drives me to continue teaching people how to make delicious and healthy food.  I also love the fact that cooking and eating are often about sharing.  Not only the food but also knowledge, stories, love and laughter.
Easter is one of those times of year that we connect with those special to us and sharing some good food is often on the agenda.  This recipe was very generously given to me by a dear friend, who I happened to meet through Thermomix.  Liz is a fabulous cook with many hidden (German) family secrets.  She is also an amazing lady who inspires me in so many ways, one of which just happens to be in the kitchen with my "Hermie".
I love this recipe because I have NEVER liked sultanas in my carrot cake (sorry if you do – you can just add them) and it is also VERY simple with no added fat.  What could be better?
I hope you enjoy some time with you family and friends throughout the Easter period.  Blessings to you all 🙂
(too easy) carrot cake – (original recipe by Elisabeth Higgins, tweaked a little by Fiona at Food 4 Thought).
cake – makes 1 x 26cm round cake
Ingredients
300g whole almonds (skin on)
200g raw sugar
zest of 1 lemon (peeled)
300g carrot, chopped in chunks
4 eggs
80g of flour (wholemeal/spelt/plain/gluten free)
20g/1 heaped tablespoon cornflour
20g baking powder
2 teaspoons sweet spice mix (below)
pinch of salt
Preparation
Preheat the oven to 180°C (170°C fan-forced).  Line a 26cm round spring-form cake time with baking paper.
Place almonds into TM bowl and chop for 12 seconds on speed 8.  Remove and set aside.
Place sugar and lemon peel into TM bowl and mill for 20 seconds on speed 10.  Scrape around sides of bowl, add carrots and chop for 4 seconds on speed 5.  Add all remaining ingredients and mix for 15 seconds on speed 6.  Scrape around sides of bowl, and pour into prepared tin and bake for 40 – 50 minutes.  Test that the cake is cooked in the centre by inserting a wooden skewer or toothpick.  If it comes out clean, your cake is ready.
Cool in tin for 5 minutes then cool on wire rack.
My tips: *You can halve this mixture and bake it in a smaller cake tin and bake it for 30 – 40 minutes.  *If you would like to add some sultanas and nuts just add a small handful of each after the final mix.  Then mix it on reverse, speed 3 for 10 seconds to combine.  *The spice is subtle and different to just cinnamon.  *Don't over bake this cake or it will go slightly dry.
Sweet spice mix – makes approximately 1 cup
Ingredients
12 cardamom pods or ½ teaspoon cardamom seeds
40g/2 tablespoons light brown sugar
25g/5 cinnamon sticks
1 tablespoon ground ginger
1 small or ½ large nutmeg
½ teaspoon/20 cloves
Preparation
If using whole cardamom, place pods into TM bowl and mix for 2 seconds on reverse speed 6.  This will crack the pods so you can remove the seeds easily.  Pour broken pods into a bowl and remove shells.  Return seeds to TM bowl.
Add remaining ingredients and mill for 1 minute on speed 10.
Scrape around the sides of the bowl and pour mixture into an air tight jar and seal until needed.
My tips: *This mixture is best used within 3 months.  * You can use it to make a sweet spice butter to add to pancakes, or brush over scrolls instead of cinnamon.  *Mix it with a little icing sugar and sprinkle it over any cake.
Topping
I used this Cream cheese icing.  For a dairy free version you can just sprinkle with icing sugar if you prefer.
ease: 8.5/10.  Individually these are easy, and the whole thing isn't too difficult
prep time: 20 minutes.  For all three.
cooking time: 50 minutes 
total: 1 hour 10 minutes.
taste: 8/10 From G. Personally I would say 8/10 from me.  For a healthy cake I loved it.  This had a great flavour and the spice was balanced really well.  The cream cheese frosting is also delicious 

.
would I make it again:  Yes, this is too easy not to want to make it again.  I might even try a different vegetable 🙂