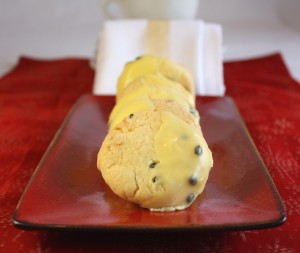 Upon our return from holidays I restocked the fridge with fresh fruit and vegetables ready for the week ahead.  As I was doing so I discovered three passionfruit that looked a little worse for wear.  I thought about throwing them out but then I remembered that when looking for good passionfruit to buy you should search out the ugly ones that are heavy for their size.  This means they are full of seeds and pulp and are ready to use.  These were both of those things so I decided to use them. 
I wanted something simple and didn't have enough to make the passionfruit curd that I've made previously, all of this along with an empty cookie jar made me look for a biscuit recipe.  I went to one of my "old faithful" cookbooks, The Australian Women's Weekly – The Big book of Beautiful Biscuits, because that was where I had found the chocolate chip cookie recipe and they were delicious.  Sure enough I found something that suited my requirements perfectly.
I read through the recipe and got started.  I had made the mixture and was attempting to put it into a piping bag as the recipe required but found that my mixture was way too thick to pipe.  Upon reviewing the recipe I discovered that there was only 1 1/4 cups of self-raising flour needed and not the 1 3/4 cups that I had put in.  What to do?  The dough felt a little like a shortbread mixture so I pulled out my small ice cream scoop and started to shape scoopfuls of the mixture into small discs.  This worked a treat and they came out of the oven smelling and looking delicious.
I guess what may seem like a disaster in the kitchen can sometimes be overted with some creative thinking and a little faith. 🙂
passionfruit biscuits – (recipe from The Australian Women's Weekly "Big Book of Beautiful Biscuits" – adapted by Fiona at Food 4 Thought)
makes about 50 (or 35 with my recipe)
Ingredients
185g unsalted butter
1 teaspoon finely grated lemon zest
3/4 cup icing sugar
3 passionfruit
3/4 cup cornflour
1 1/4 cups self-raising flour (or 1 3/4 cups if you want to make shortbread style discs)
Icing
1/2 cup icing sugar
1 teaspoon butter
1 passionfruit 
Preparation
Preheat oven to 190°C.  
Cream together butter, lemon rind and sifted sugar until light and fluffy.  Add passionfruit pulp and mix well.  Fold in sifted cornflour and self-raising flour. 
Put mixture into a piping bag fitted with a fluted tube and pipe decorative shapes onto a lined baking tray*.  Bake for 12 – 15 minutes or until golden brown.  Remove from oven and cool on wire racks.  When cold, dip half the biscuit in the icing.
For icing, combine sifted icing sugar, softened butter and passionfruit pulp, mix until smooth.  Stir over hot water until smooth and glossy. 
My tips/alterations:  *As mentioned, the original recipe used less flour than I did then the mixture is put through a piping bag.  I kind of like the mistake that I made by adding extra flour because it meant that there was no piping involved and that I ended up with a shortbread type biscuits.  I used a small ice-cream scoop to make sure each biscuit had the same amount of mixture then shaped them into flatter discs.  You could just use a spoon if you prefer.
ease: 8.5/10.  This is the score for the way that I made them, without the piping.
prep time: 30mins.  Rolling the mixture into balls takes most of this.
cooking time: 15mins.
total: 45mins.          
taste: 8.5/10.  These have a lovely shortbread texture with the occasional pop from the seeds of the passionfruit that were distributed throughout each biscuit.  The absolute hit of these is the combination of the biscuit and icing.  The textures and flavours work so well together that you can not imagine they should ever be separated.  They even impressed some guests, which is always a nice thing.   
would I make it again:  I think there will be a demand to do so.