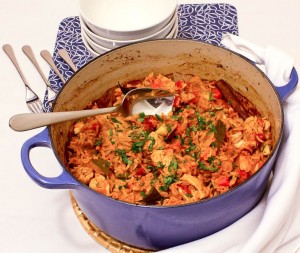 Seeing the final few leaves fall from the frangipani tree signified that winter is just around the corner.  This makes me feel a little sad because I love the summer and autumn months in Perth.  The heat can be exhausting when it is at its most intense but the autumn months are slightly cooler and much more pleasant to have friends over to dine alfresco.  We are fortunate enough not to get snow during the winter and after living in central USA (Indianapolis to be exact) for a few winters I truly know how lucky I am living in this gorgeous city down under.  However, we do have cold enough weather to inspire me to want to cook wholesome, comfort food that makes you forget how cold it is outside. 
Tonight I decided to try a recipe that I had seen in one of my magazines recently.  It was from Rick Stein, who happens to be one of the celebrity chefs I admire.  It also had an Indian theme to it and this is one of the cuisines that I love to cook.  I am often asked what my favourite cuisines are to cook and my reply usually includes the fact that I love to cook with spices so therefore Thai, Indian, Spanish and the like are my favourite cuisines to try and create.  I simply love the layering and depth of flavours that you can create when using different spices and combining them in a harmonious way.
Don't be put off by the list of ingredients, if you try this recipe and you will be rewarded.
aromatic chicken pilau with cinnamon, tomato and nutmeg – (recipe from Rick Stein, delicious Magazine June 2010)
serves 6-8
Ingredients
750g mixed chicken breast and thigh fillets, cut into 3cm pieces
75g ghee or 2 Tbsp oil
2 x 5cm cinnamon quills or 10 pieces cassia bark
10 cloves
10 green cardamom pods
2 bay leaves
6 garlic cloves, finely chopped
10cm piece ginger, finely grated
2 large onions, halved, thinly sliced
1 Tbsp coriander seeds, roasted, ground
2 tsp cumin seeds, roasted, ground
1 tsp freshly grated nutmeg
1/2 tsp kashmiri or regular chilli powder
400g fresh or canned tomatoes chopped
1 tsp ground turmeric
2 cups (400g) basmati rice
12 curry leaves
chopped coriander leaves, to garnish
 
Preparation
Preheat oven to 180°C.  
Season chicken lightly with salt and pepper.  Melt ghee in a large, flameproof casserole over medium-high heat.  Add the cinnamon, cloves, cardamom and bay leaves and sizzle for a few seconds until aromatic.  Reduce heat to medium-low, add garlic and ginger and cook gently for 2-3 minutes.  Add onion and cook, stirring occasionally, for 15 minutes or until very soft and lightly golden.  Add coriander and cumin, nutmeg and chilli and fry for a further 2 minutes.
Stir in chicken and cook for 5 minutes or until lightly coloured all over.  Add tomato, turmeric, 2 cups (500ml) water, 2 tsp salt and 1 tsp pepper and bring to a gently simmer.  Stir in rice and curry leaves.  Bring back to a vigorous boil, stir once, then cover with a tight-fitting lid.  Transfer to the oven and bake for 20 minutes or until rice is tender and chicken is cooked through. (You could do this on the stove if you can maintain a constant low heat). 
Remove pilau from the oven and stand for 5 minutes, then fluff it up with a fork.  Serve sprinkled with coriander.
My tips/alterations:  *Makes sure you don't overcook this dish as it will go claggy.  Most of the ingredients are available at supermarkets and/or asian food stores. 
ease: 7/10.  This isn't difficult there is just a little bit of work involved in the preparation.
prep time: 15mins.  Rolling the mixture into balls takes most of this.
cooking time: 50mins.+ 5 minutes standing.
total: 1 hour 10 mins.          
taste: 8/10.  The mixture of spices in this dish was delicious and you could actually taste each one.  We were surprised by the depth of flavour that was achieved through such a short cooking time.  The process left the chicken tender and tasty.  I loved the fact that this was a one pot dish and that the rice was in with the rest of the dish, it made it so much easier to prepare.
would I make it again:  Yes.  Winter weather will not seem so bad with a bowl of this in front of me.