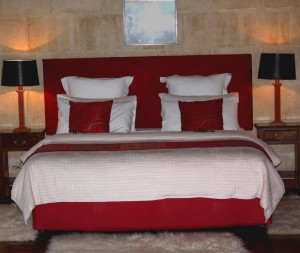 For purely selfish reasons I really don't want to tell you about this wonderful property because I know next time I want to visit there is the possibility that it will be unavailable.  Alas, I committed to share all parts of my food journey and technically this is part of it.  Doh!  🙂
The best way I can describe this property is like a home away from home, although I wish my home was this gorgeous.  Jeanette & Brian Evill are the wonderful owners and hosts of this fabulous oasis nestled in the rolling hills and beautiful forest just outside of Pemberton.  There are currently two chalets on the property and they are secluded from each other and the main residence by the stunning surroundings.  A small manmade lake and some picturesque walking paths throughout the property add to the feeling of being able to temporarily leave behind the norm of everyday life. 
This retreat hosted its first guests in November 2007 and was designed to meet the growing demand for couples seeking a luxury romantic getaway in a forest setting, offering style, spacious living and personal service.  The market it has been targeted to service ranges from young couples who are looking for that special place to relax, to honeymooners, corporate stays and overseas guest.
G & I have stayed in a variety of accommodation throughout the country and around the world so we have a vast range of comparison.  To us it is the small details that make one place stand out over others.  Small wildflowers on pillows and towels, a throw rug on the couch and the lights turned on for our arrival all made us feel extremely special, which is exactly how our hosts wanted us to feel.
The chalets were designed by the owners and built by a local builder with the owners son Blair doing most of the timber work including furniture using materials from the property.  Both chalets are open plan with a well equipped kitchen, dining room and lounge room all of which are heated by a gas log fire and reverse cycle air conditioning.  The colour palate is aligned throughout the chalet and made it feel warm and inviting.  A king size bed (complete with electric blankets) takes pride of place in the centre of the open room that has views through the forest and across the lake.  Through an open doorway is a large bathroom with a spa big enough to have a party in or at least to allow two people to stretch out comfortably.  Nearby there is a large shower area and plenty of bench space surrounding an above bench basin.  One of the best things about the bathroom was the fluffy white robes which are not something I normally use but these were so soft and warm I couldn't resist.
On our first night the power went down for a short time and just as we were preparing to go to reception Jeanette arrived at our door to explain the situation and deliver a basket of extra candles.  A generator sustained us until local power was reinstated and we had also discovered a torch in the cupboard when we were unpacking.  We found this all to be very hospitable and well thought out.
We spent quite a bit of time in our chalet because we would head out in the morning to explore the region, stop somewhere for a nice lunch and spend the late afternoon and evening watching a movie and chatting in the chalet. 
I think Jeanette & Brian were lucky to get rid of us when they did as this is certainly somewhere that we could stay for a long time.
service:  9/10.  Wonderful and helpful hosts who go out of their way to ensure your stay is perfect. 
ambiance:  9/10. If it is a romantic secluded getaway that you are looking for, this is the place. 
would I do it again:  Absolutely, just don't tell your friends, the less people who know the better………for me 🙂