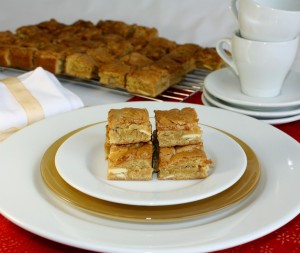 Baking is one of my pleasures in life that I don't need an excuse to do.  Although, I always seem to have a good reason for the things that I make, whether it be taking a dessert to someone's place for dinner or simply because our cookie jar is empty.  Secretly, I love it when I have an excuse to bake :).
The first reason for making these was that I had promised to bring something for everyone to nibble on at G's track day over the weekend (a day where he and his mates who are members of the car club are able to use the local race track to take their cars out for the day and test their own abilities – translation – great fun!).  The second reason is that G's niece, Alexandra, who lives quite a distance from us, absolutely LOVES white chocolate and I have been trying to think of a recipe that she would be able to make (with  a little help from her Mum). 
I had hardly anytime on the morning of race day to bake because I wanted to take some photos for my blog, finish preparing lunch and clean up before I left for the day.  I made the Blondies at 7am so needless to say they are quick & easy because thinking too much at that time on a Saturday morning can be a little challenging at times.  Within an hour they had baked, cooled and were packaged up ready to go.  These could be the speedy gonzales of the baking world.
blondies – (recipe by Fiona at Food 4 Thought)
makes about 48 bite size pieces
Ingredients
160g unsalted butter
300g soft light brown sugar
1/2 tsp vanilla extract
2 large eggs, lightly beaten
2 cups plain flour
2 tsp baking powder
pinch of salt
60g roughly chopped pecans 
90g white chocolate buttons
Preparation
Preheat oven to 190°C.  
Line a lamington tin (30cm x 21cm x 3cm) with non-stick bake paper.  Melt the butter in a medium size saucepan.  As soon as the butter is melted remove from the heat then add the sugar and vanilla.  Stir to combine.  Add the eggs to the pan and beat with a wooden spoon, until the mixture becomes smooth. 
Sift the flour and baking powder into the egg mixture.  Stir well with a wooden spoon then add the pecans and chocolate, stir well to combine. 
Pour the mixture into prepared tin and bake for 15 minutes, until golden.   Once cooked, remove from the oven and leave in the tin to cool for 5 minutes.
Cut into squares and store in an airtight container. 
My tips/alterations:  *If you would prefer to leave the nuts out, just increase the amount of chocolate that you put in.  *I don't use as much sugar as many other recipes but if you find these not sweet enough you can add extra as the recipe will take it and still work.  *When spreading this mixture in the tin it may seem like there isn't enough but just spread it to the edges as it will fill out as it cooks.  *I like to cook these for 15 minutes because it gives them a fudgy, brownie like texture.  If you would prefer them a little firmer, cake like texture then cook them for 20 minutes.  *I find that these are best eaten on the day they are made, although they will keep for a few days in an air tight container.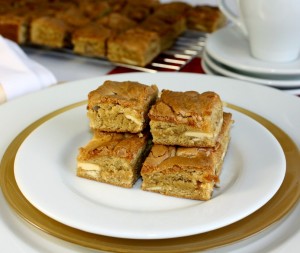 ease: 10/10.  The easiest thing I have made so far.
prep time: 15mins. 
cooking time: 15mins.
total: 30mins.          
taste: 8.5/10.  Crunchy outside, fudgy inside, white chocolate and nuts, there is not too much more that you could want.  The crew at the track loved these and almost emptied the container.  We ate the rest within a few days.   
would I make it again:  Yes.  It is so quick and easy that it would be great to make whenever you are short on time.