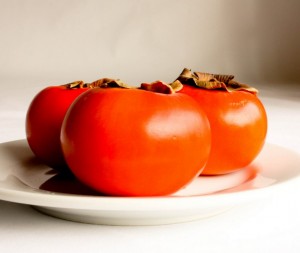 I love finding new produce or products that I have never used before.  I've even been known to purchase items without really having any idea what they might taste like or how to use them and bringing them home just to experiment.  For me, this is part of the joy of cooking, being able to discover and learn new things.
Last weekend I was at the fruit and vegetable markets in Subiaco and found some fuyu persimmons.  I had seen regular persimmons before and had heard of fuyu but never seen them.  They look very similar to other persimmons but can be firm firm in texture even when they are ripe.  They can be used that way or they can be eaten when a little softer, however, you should not let them become over-ripe as they will turn mushy.  Their flavour is sweet and slightly similar to that of a cantaloupe (rockmelon).  Having never seen or used them before a little research was necessary.
That was last weekend.  Since then my Mum arrived for a visit and things have been rather hectic for a few days.  Mum and I decided to have a day of cooking together and given that I still had the fuyu I suggested that we use them.  I had searched the internet for ideas and couldn't find many recipes for fuyu.  There were plenty for persimmons but not many using its firmer cousin and, of course, this would make the dish completely different.  My research also told me that you should not substitute between them so I needed something specifically for fuyu.  Eventually I settled on a recipe for a Fuyu Bundt Cake.  However, there were several things standing in my way to making this cake.  I don't own a bundt cake tin and didn't have enough fruit to make this cake so I adapted the recipe and (literally) made it up as I went along.
This was a fun thing to do with my Mum because neither of us had a clue what to expect or even how to do it so we just tried things and hoped for the best.  Together we discovered a delicious, rich, fruity cake that we feel is best eaten warm with a dollop of double cream.
fuyu cake – (recipe from The California Fuyu Growers Association – adapted by Fiona at Food 4 Thought)
makes one loaf
Ingredients
3 fuyu persimmons (to yield 1 1/2 cups of chopped fruit)
1 tsp bicarbonate of soda
60g unsalted butter 
3/4 cup sugar
1 egg
1/2 teaspoon vanilla extract
1 teaspoon lemon juice
1 cup plain flour
1/2 teaspoon baking powder
1/2 teaspoon ground cloves
1/2 teaspoon ground cinnamon
1/4 tsp ground nutmeg
50g walnuts, roughly chopped 
75g raisins
 
Preparation
Preheat oven to 180°C.  Grease and line a 21 x 10cm loaf pan.
Peel fuyu, remove leaves and chop flesh into 1cm dice (avoiding the large seeds).  Place the flesh into a bowl and sprinkle with bicarb soda.  Stir to combine and set aside.
Beat butter and sugar together until slightly well combined.  Scrap down the bowl and add egg, vanilla and lemon juice.  Beat until light and fluffy.  Sieve the flour, baking powder and spices.  Add these to the butter mixture and stir until just combined then add the walnuts and raisins and mix to distribute these throughout the mixture.
Place the mixture into the lined loaf pan.  Bake for 50 – 55 minutes, until golden and a skewer comes out clean.
My tips/alterations:  *The original recipe did not mention peeling the fuyu but I decided to for my recipe.  *Peeling the fuyu is like peeling an apple.  *The butter and sugar do not cream and go fluffy like a normal cake recipe until the lemon juice is added, then it begins to come together.  *The mixture is quite thick before it is cooked, just spread it evenly in the pan as it will not level itself out during cooking.  *I used a fan forced oven and noticed the top of the cake was browning quickly so I loosely covered the top halfway through to prevent it burning.
ease: 9/10.  Just like any other cake mixture with the addition of chopped fruit, nuts and spices.  
prep time: 20mins. 
cooking time: 55mins.
total: 1hour 15mins.          
taste: 9/10.  This smelt delicious when it came out of the oven.  We tasted it while it was still warm and topped it with a dollop of double cream.  The combination of sweet fruit, spices and nuts is a classic one in the world of cakes because it works so well and it did not disappoint in this instance either.  Serve this as a dessert cake or alternatively for morning tea when you have guests.  It can be eaten warm or cold.
would I make it again:  Yes.