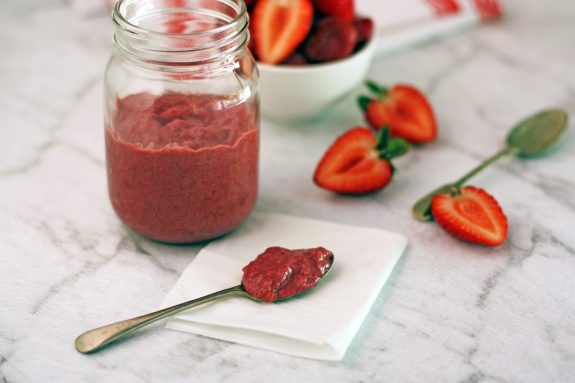 Strawberry season signifies summer for me. The beautiful rich red colour, sweet smell and amazing flavour of a ripe berry makes me want to use them in as many ways as possible. Making jam is not only a great way to preserve them to use later but also a fabulous way to use up slightly over ripe fruit. This "healthy spin" on jam means it has less sugar and is bursting with strawberry flavour.
Strawberry chia jam
No: Gluten / Grain / Dairy / Soy / Refined sugar
Suits: Vegetarian, Vegan, Paleo, Low carb option
You will need
Storage jar/container
Spatula
Ingredients
30g (2 tablespoons) chia seeds
250g fresh strawberries, washed and leaves removed
1 teaspoon vanilla extract or paste
25g maple syrup (or sweetener of your choice)
Preparation
1. Add chia seeds to mixing bowl, mill with MC on / 30 secs / Speed 10. Scrape down. Add strawberries and vanilla, chop with MC on / 20 secs / Speed 4. Scrape down, cook with MC on / 7 mins / 100°C / Speed 2.
2. Add maple syrup and mix with MC on / 10 secs / Speed 3 or until incorporated.
3. Pour mixture into sterilised jar and store in fridge until needed.
DOUBLING THIS RECIPE: You can double this recipe easily. You may need to cook it for a minute longer to get the consistency you want.
My tips
* Using black chia seeds will get a very firm jam consistency once set while white chia seeds don't swell up quite as much and the jam will be a softer set.  I used white seeds.
* This will keep in a sealed jar in the fridge for up to a month.
*  Use this as a filling in Raw Lamingtons.