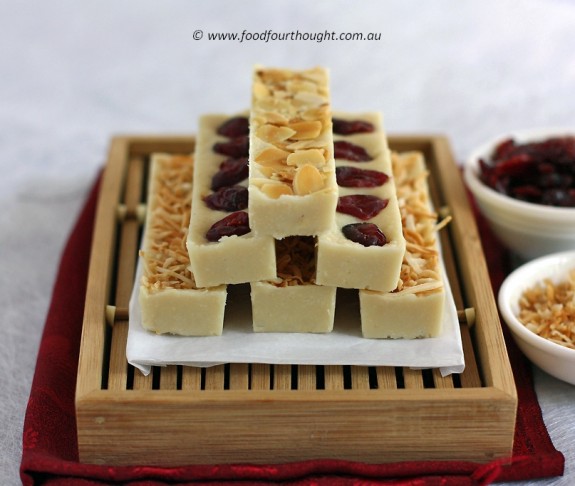 I originally wanted to make something with an Anzac spin on it.  I thought of some kind of "Anzac Bar" so that they could be easily consumed with your favourite brew after attending a dawn service.  As I was making them I thought "don't mess with the original".  Sometimes traditions are just meant to stay the same.
The other problem is that these are simply too easy and delicious to only make once a year.  Great as a grab-and-go, pick-me-up or "fat bomb" style filler when you're feeling peckish.
The hardest part is waiting for these to chill enough to be firm because you just want to eat them!
(paleo) No-bake bars
No: Gluten / Grain / Soy / Dairy / Eggs / Refined sugar
Makes approximately 12 – 14 mini bars
You will need
Spatula
Silicone bar mold or slice tray lined with non-stick baking paper
Ingredients
40g raw macadamia nuts or blanched almonds
130g blanched almonds
100g desiccated coconut
pinch finely ground salt
20g coconut oil, melted
30-50g honey (I used 30g) – For vegan option, use sweetener of choice
Optional additions (I did two different versions)
1 Tablespoon dried cranberries
1 Tablespoon slivered almonds
1 Tablespoon toasted shredded coconut
Preparation
Place 40g of nuts into mixing bowl, chop for 3 – 5 seconds / Speed 5, until nuts are roughly chopped.  Set aside.
Without washing mixing bowl, add blanched almonds and coconut and chop for 15 – 20 seconds / Speed 8, until mixture begins to come together.  Scrape around sides of bowl and add salt, coconut oil, honey and reserved chopped nuts.  Mix for 10-15 seconds / Reverse / Speed 4 or until mixture comes together.  Scrape mixture into molds or tray and press down firmly.  Top with your choice of optional additions then place into fridge for approximately 1 hour or until firm.
Remove from fridge, pop out of molds and wrap or simply eat them.  Store remaining bars in an air tight container in fridge until ready to use.
My tips
* Flavour these with an essential oil of your choice.  Just add 1 drop.
* You can double, triple, even quadruple this recipe to make a large batch.  If you don't have molds, just line a baking tray or tin and press the mixture into that then top it with what whatever you like.
* If your coconut oil is hard, you can carefully run the jar under hot water for a minute or two until it is slightly melted.
*These will keep in the fridge for several weeks (if you don't eat them all).
* If you want to chill them quickly you can put them into the freezer for 15 – 30 minutes or until firm.
* If you'd like to know more about the pure essential oils I use, please take a look here.
ease: 9.5/10.  Could it be any easier?!
total prep time: 10 minutes + chilling time
total cooking time: 0 minutes 
total: 10 minutes + chilling time
taste: 10/10 Even my not-quite-paleo man LOVED these and coconut is not his favourite food!
would I make it again:  Ummmm, I already have because the first batch is all gone 🙂