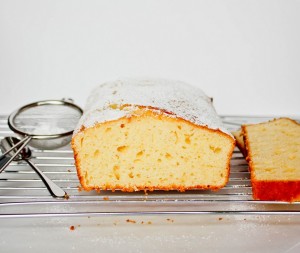 Visiting friends or having friends over always gives me a great excuse to bake and I often like to try something different.  My recipes come from a range of sources such as my Mum, my Nanna, other people blogs, the internet in general and sometimes they are given to me by friends who suggest that I might like to try them for my blog.  This recipe was given to me recently by a friend who had received it from her Aunt. 
G and I were having some family and friends over on Sunday for morning tea and I wanted something to add to my fuyu cake and ginger nut biscuits that I had already made.  Given that G's Mum's lemon tree is producing fruit in abundance I knew I wanted something that included them.  When I read this recipe I thought it sounded quick and easy.  It also helped me use up some yoghurt that I knew would just sit in the fridge otherwise.
lemon yoghurt cake – recipe from the Aunt of a close friend (adapted by Fiona at Food 4 Thought)
makes one loaf
Ingredients
80g unsalted butter or margarine
3/4 cup castor sugar
2 large eggs
1 1/2 cups self raising flour
1/2 cup yoghurt
2 teaspoons lemon rind
juice of 2 lemons (60 – 80ml)
 
Preparation
Preheat oven to 180°C.  Grease and line a 21 x 10cm loaf pan.
Place the butter and sugar into a large bowl and mix until smooth and well combined.  Scrap down the sides of the bowl and add eggs one at a time, beating well after each addition.  Add lemon rind and half the lemon juice and mix to combine.  Add flour gradually and fold in.  Fold in the yoghurt.  Pour mixture into the prepared pan and bake for 30 – 40 minutes or until cooked.  
Remove from the oven and using a skewer make several holes in the cake while still in the tin.  Pour extra lemon juice slowly over the top of the cake so that it soaks in.  Remove from tin and dust the cake with icing sugar to serve.
My tips/alterations:  *The original recipe mentioned that you could use margarine in place of butter and low fat yoghurt if you wish.  I used unsalted butter and greek yoghurt in my cake.  It also required a 25 x 11cm tin which would have meant the cake was flatter.  This may mean that the cake would be moisture also as the lemon juice would penetrate more of the cake.  *When creaming the butter and sugar I noticed that it did not become light and fluffy like in some recipes.  This is due to the (low) ratio of butter to sugar.  *The mixture was quite stiff until the yoghurt was added which lightened it up considerably.  * I cooked my cake in a fan forced oven and it took 35 minutes.  *To test if the cake is cooked, insert a skewer into the centre of the cake and if it comes out clean the cake is done.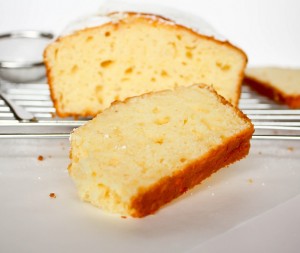 ease: 9/10.  Simple cake method. 
prep time: 15mins. 
cooking time: 35mins.
total: 50mins.          
taste: 7/10.  This cake looked delicious and we served it to our guests with a dollop of double cream and they all raved about it.  It didn't impress me that much because I felt that it was too dry and the lemon juice that moistened the cake was too sharp.  I make another cake similar to this that has lemon syrup (sugar, water, lemon juice) poured over the top and it is delicious.  This seemed to fall short of that one.  In the recipes defence, I did not have the correct size tin and this could have made a significant difference (see My tips/alterations above).
would I make it again:  Probably not.  I'd rather the other version that I make.