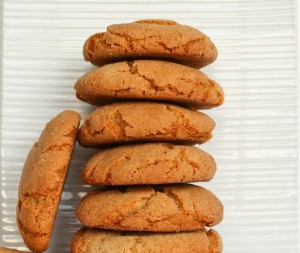 There are times that I absolutely love to make things that I have made a hundred times before.  There is something extremely comforting about knowing a recipe like the back of your hand and knowing the steps inside out.  Most of these types of recipes come from my Nanna or my Mum.  
I was reading through some of my recipes and chatting with my Mum about all things cooking.  She is having a new oven installed at home while she is here on holidays and is a little unsure about her choice.  She will be working with a 600mm wide new oven whereas her previous oven was 900mm so she is worried about cake tins fitting and how it will all work.  I assured her that it will all be fine.  My oven is 44cm internally (which is tiny) and I survive, so I am sure she will too.  Our discussions lead to when I was a child and the wood stove that we used to have at home, which is the oven that I learnt to cook in.  Being fuelled by wood meant that it was difficult to keep the temperature constant but I learnt to use all of my senses to tell when something was ready.  My Nanna used to tell how hot her oven was by opening the door and holding her hand in there.  This innate knowing is also reflected in her recipes.
When I read the recipe for these biscuits it made me giggle because there was no mention of oven temperature or time to bake them.  Typical of my Nanna, you cook them in an oven that is the right temperature, until they are golden brown and cooked. 🙂  Another thing that my Nanna used to do, that I still do sometimes, is measure things in the palm of her hand.  She would always tip things such as sugar, salt and the like into her hand and say "that's about a teaspoon".  The best part was the recipes always worked, so she must have been right.  I can only hope that some of the innate knowledge from both my Mum and my Nanna has rubbed off on me.
nanna's gingernuts – (recipe from My Nanna – adapted by Fiona at Food 4 Thought)
makes approximately 30
Ingredients
125g (4oz) unsalted butter, softened
1 cup sugar
1 tablespoon golden syrup
1 egg
2 cups self raising flour
1 teaspoon bicarbonate of soda
1 teaspoon mixed spice
2 teaspoons ground ginger
castor sugar, to roll biscuits in
 
Preparation
Preheat oven to 180°C.  Line a baking tray.
Place the butter and sugar into a medium bowl and beat until light and creamy.  Scrap the sides of the bowl, add golden syrup and mix to combine then add the egg and mix again.  Sifted flour, bicarb soda and spices and add to butter mixture.  Stir to combine.
Roll "rounded teaspoons" of mixture into balls and roll in castor sugar until completely covered.  Place onto baking tray allowing room to spread.  Bake for 12 – 15 minutes or until golden and crisp on the outside.  Remove from oven and allow to cool for a couple of minutes before placing on a wire rack to cool completely.
My tips/alterations:  *To make all of my biscuits the same size I like to use a small ice-cream scoop to measure it out, then roll the mixture into balls.  *These biscuits are supposed to rise slightly then begin to crack on top, this is what gives them their wonderful texture.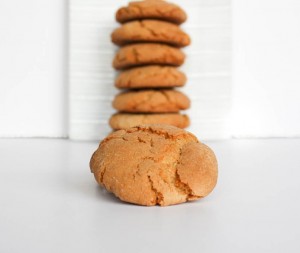 ease: 9/10.    
prep time: 25mins. 
cooking time: 15mins.
total: 40mins.          
taste: 9/10.  These are one of my favourite biscuits.  I love the textural difference between the crunchy outside and soft inside along with the warmth provided by the ginger.  The castor sugar on the outside adds an extra, slightly unexpected dimension.  G isn't a big fan of these as he does not like things that taste too much like ground ginger.  
I like making these for guests because they taste like they are old-fashioned and a little bit special.
would I make it again:  Yes, forever and ever.