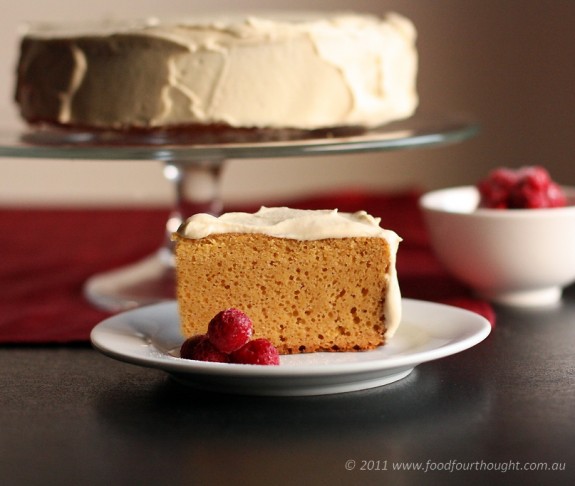 It was my Birthday a few months ago.  As I get older the actual celebration of a Birthday on "the day" means a little less.  However, because I have lived away from my immediate family for so long I still get very excited by receiving cards in the mail to mark the special occasion.  Wishes of love and happiness are heartfelt from those who care about me.
This year I received one card that was a big surprise and most unexpected.  To put this into prospective I need to tell you a little about the sender.
Approximately two months before my Birthday I commenced as an Independent Consultant with Thermomix Australia.  It is my own business that I conduct under the guidelines set out by Thermomix.  As part of my role they provide free training and ongoing support, something (as a consultant) I feel is quite rare these days.  My team leader is amazing and always there with words of encouragement when they are needed.
So really, I guess it shouldn't have come as a surprise when I received a Birthday card from such a wonderful company but for some reason it did.  I think it was the fact that the card had been personally written on rather than a pre-printed version automatically popped in the post, a very nice touch that made me feel somewhat special.
The front of the card had a picture of a piece of cake that looked delicious.  And the best part, the recipe was on the inside 🙂 .
So here it is my friends, I hope you feel special when you enjoy a slice of this with someone you love!
caramel mud cake with toffee cream (recipe from Thermomix Birthday Card – May 2011) 
makes 1 x 23cm cake
Ingredients
Cake
200g unsalted butter, cubed
200g white chocolate, in pieces
200g dark brown sugar
150g hot water
50g golden syrup
2 tsp vanilla bean paste
4 eggs
140g plain flour
140g SR flour
berries and icing sugar, to serve
Preparation
Brush 23cm springform tin with some melted butter and completely cover outside of base with double layer of foil for waterproof.  Set aside.
Pre-heat oven to 180°C and place large baking tray of water in bottom of oven.
Place butter, chocolate, sugar, water, golden syrup and vanilla into TM bowl.  Cook for 5 minutes at 70°C, on speed 1.  Cool slightly.  Add eggs 1 at a time onto rotating blades, beating each in for 10 seconds on speed 6.  Add flours to TM bowl and set dial to closed lid position.  Incorporate gently for 20 seconds on interval speed.
Pour into prepared pan, then place into baking dish of water.  Reduce temperature of oven to 170°C and cook for 50 minutes to an hour until set in the centre.
Allow to cool before un-moulding.  Serve with toffee cream and raspberries.
Toffee Cream

50g unsalted butter
100g cream + 400g cream
100g dark sugar
2 tsp vanilla extract
Place butter, 100g cream, sugar and vanilla into TM bowl and cook for 5 minutes at Varoma temperature on speed 2 with MC off.  Pour out of TM and cool completely (it will partially set).
Insert butterfly into TM bowl and return toffee mixture to TM bowl.  Add remaining cream and whip together for 10-20 seconds on speed 4 until cream holds still peaks.  Either spread over cake with palette knife or serve on the side.
My tips/alterations:  *I cooked this for 1 hour to make sure that it was set but this will vary depending on your oven.  *If you use a butter substitute, this cake will be dairy free.  You can switch out the toffee cream and the whole thing would be dairy free.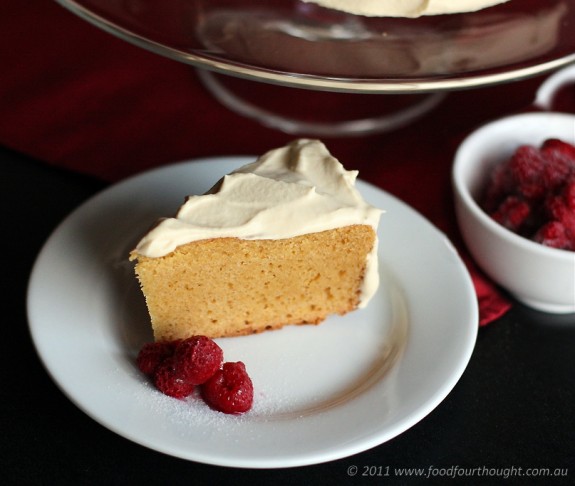 ease: 8/10.  The most difficult part was getting it into the tray of water in the oven!
prep time: 15mins.
cooking time: 55-60mins 
total: 1 hour 15 mins
taste: 9/10.  This was an amazing cake.  Dense – like every mud cake should be, Sweet – without being over the top, Sophisticated – I would make this for guests, anytime!  The caramel flavour was stunning.  I found the cream a little too sweet but others loved it, so I think that is personal preference.
would I make it again: Absolutely! I'm just waiting for that special occasion and someone to spoil!