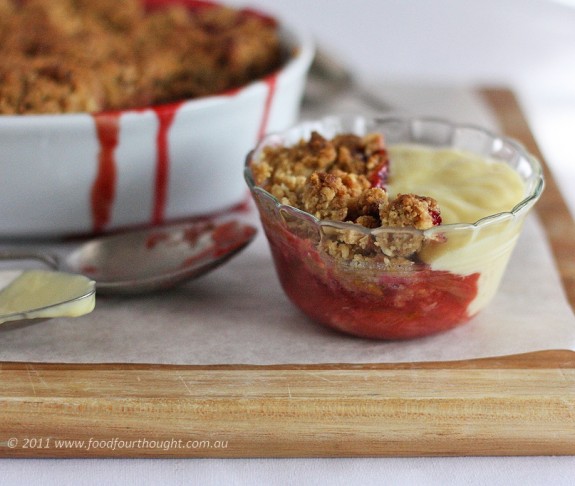 I have always found it quite fascinating how our taste buds change over the years.  And I have often wondered, is it because of age, because we experience different things or simply because we are more open to trying something new?
No matter what the reason, it means we can often find ourselves enjoying flavours we never expected to. For me, one of these is rhubarb.
Like many, as a child I found this fruit to be stringy in texture, tart in flavour and somewhat challenging to eat, therefore generally avoiding it.  I'm not sure when I started to enjoy it.  I think it was when I cooked it for myself and added lots of sugar while stewing it to a pulp :).
Funnily enough, now I like it lightly stewed with honey or raw sugar in preference to the mountain of white sugar that I used to add. Oh how one's taste buds have changed!
When I saw the first rhubarb of the season at my local fruit and veg markets I was so excited I had to buy some.  Unfortunately, life was really busy and I was unable to pay it the attention it deserved.  By the time I found it unintentionally hidden into the back of the fridge it needed some TLC.  And although I am a lover of classic flavour combinations, I didn't want to make anything that used apple and rhubarb together.  I wanted something a little different and somewhat special.  Fortunately I found a great recipe that I could tweak a little to make into my own.  Even better, I could save more time because I could use 'Hermie'!  (For non-thermomix method see "My tips/alterations" below).
strawberry & rhubarb crumble (recipe adapted by Fiona at Food 4 Thought, original from Thermomix Customer Newsletter – August 2010) 
serves 4 – 6
Ingredients
Zest and juice 1 lemon    
120g raw sugar
400g rhubarb roughly chopped
1 tsp vanilla paste or 1 vanilla bean, scraped
5 – 10g cornflour
250 – 300g strawberries, hulled and sliced
100g light brown sugar
100g toasted hazelnuts, skins removed
120g butter, room temperature
70g rolled oats
70g plain flour
Preparation
Pre-heat oven to 200ºC.  Use a 1 litre capacity oven-proof baking dish.
Place rind and raw sugar into Thermomix (TM) bowl and grate for 5-10 seconds on speed 8.  Scrap down bowl and repeat if necessary.
Add lemon juice, rhubarb and vanilla into TM bowl and cook for 12 minutes at 80ºC on Reverse + speed 1.
Pour mixture into simmering basket and sit inside baking dish, allow juice to drain off.  Return juice to TM bowl and add cornflour.   Cook for 4 minutes at 90ºC on speed 3.  In the meantime, spread rhubarb in base of baking dish.  Once cooked, pour thickened juice over rhubarb and top with sliced strawberries.
Place remaining ingredients into clean, dry TM bowl and with dial set to closed lid position, press Turbo button 2-3 times until crumble mixture forms.  Sprinkle on top of rhubarb and bake for approximately 30-35 minutes until fruit is bubbly and fragrant.
Serve warm with plenty of whipped cream and/or ice cream.
My tips/alterations:  *I like the sauce in my crumble to be thick therefore I added the cornflour, however you can skip this step.  *You can use any nuts you like; I would also try macadamia or pecan nuts.  *For Thermomix 5 owners, the turbo would be 3 times 0.5 seconds. *Adjust the amount of cornflour depending on the liquid.  *You can make this recipe without a TM you would need to simmer the rhubarb and thicken the juice on the stove first and make the crumble mixture in a food processor.  *I served this with custard from the EDC.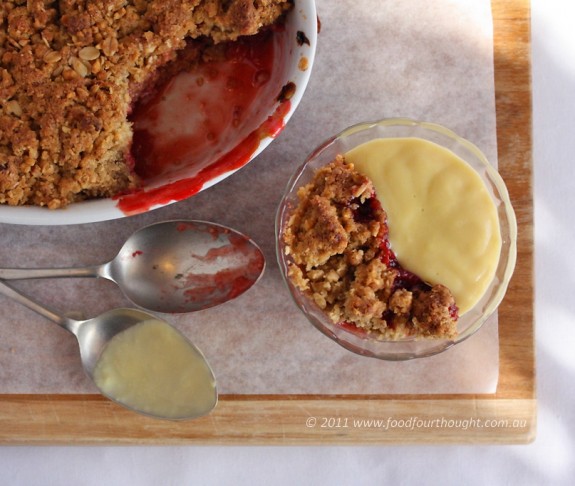 ease: 9/10.  The easiest crumble I've ever made.
prep time: 10mins.
cooking time: 47mins 17 for TM and 30 in oven
total: 57 mins
taste: 9.5/10.  This is simply delicious.  G rated this as the best dessert I've ever made.  The topping is the best crumble topping I've ever tasted and will be the basis for all my crumble topping from now on.  I loved the combination of rhubarb and strawberry, so grown up.
would I make it again: Absolutely! and especially using the TM.  Being able to cook rhubarb while walking the dog is a blessing.