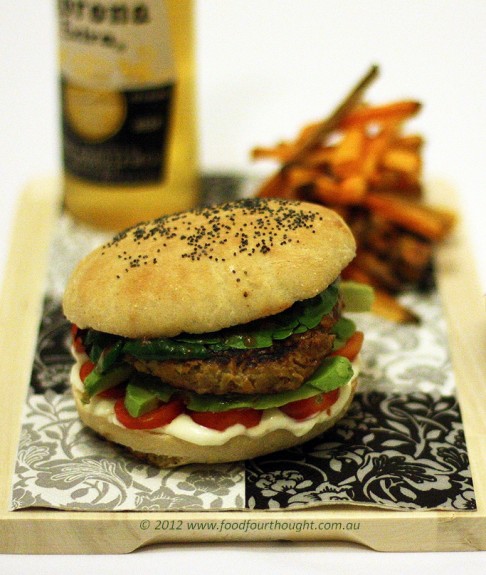 Lately the weather in Perth has been a little wild and wet causing me to rug up and wish for summer.  Given that the warmer months are still a little way off I thought I'd inject our lives with a little "sunshine" by making something that I love to eat in summertime.
A good burger is something I hold in high esteem, and a good homemade burger is hard to find, let alone to make.  Read on, everything in this little beauty is made from scratch.
To digress slightly, I was recently able to participate in the "Chemical Free Life Seminar" run by Perth Organics.  It was a wonderful event showcasing many products that allow use to take control of the amount of chemicals we have in our daily life.
It made me think about (and be very grateful for) the way the Thermomix has changed my life.  I was always a traditional cook in the sense that I would make things from scratch as much as possible but more and more I was finding that   extremely difficult due to the time taken up with other commitments.  Of course that meant that I wasn't able to spend as much time in the kitchen, even if I wanted to.  Since getting the Thermomix that has all changed.  A few weeks ago I found some tomatoes on special at the markets so I purchased six kilograms and decided to make tomato sauce.  With my (old) traditional method this would have meant hours in the kitchen.  I was actually in the kitchen for approximately 10 minutes, no peeling, no deseeding, minimal chopping and cooked and pureed all in one pot with no additional equipment.  I ended up making 18 jars with a minimal amount of effort.  Just one of the things I love about the Thermomix.
What do you love most about your Thermomix?
homemade rolls, burgers (gluten and wheat free), mayonnaise, tomato sauce and sweet potato chips – (recipe by Fiona at Food 4 Thought).
makes six burgers
bread rolls
I use the basic bread recipe (p 112) from the Everyday cookbook (the recipe book you get when you buy your machine) and follow the recipe.  I let the dough rise for 20 – 30 minutes then divide the mixture into six.  I flatten the rolls so that will rise like burger buns.  I put them into a cold oven and bake as described in the recipe.
burgers
Ingredients
1 clove garlic
150g onion, quartered
100g carrot, roughly chopped
1 tablespoon olive oil
1 tsp ground cumin
1 tsp ground coriander
300g rump steak, trimmed of fat and sinew, cut into 3-4cm chunks
1 tablespoon TM stock concerntrate
1 egg
Preparation
Place garlic into TM bowl and chop for 5-10 seconds on speed 6.  Add onion and carrots and chop for 5 seconds on speed 5.   Scrape down sides of bowl, add olive oil and cook at 100°C, for 5  minutes on soft speed.  Add cumin and coriander, cook at 100°C, for 2  minutes on soft speed.  Remove from bowl and set aside to cool.
In the meantime, place chunks of rump into TM bowl and mince on reverse, speed 7 for 2 seconds.  Add to cooled onion mixture.  Mix together then add stock and egg, combine well.
Moisten hands with cold water and divide mixture into six.  Shape like burger patties, place on a lined tray, cover and refrigerate until required.
When ready to cook, heat a frying pan on the stove or BBQ hot plate to cook to your liking.
My tips/alterations: *These burgers are very moist because they have no flour or breadcrumbs added to them.  I find they are best prepared ahead of time and chilled to firm them up a little.  You can take them out of the fridge about 10 minutes before you want to cook them to help them cook evenly.  *If you find them too wet then you can simply add some breadcrubs or flour.  *You could substitute the beef with lamb or chicken if preferred.  *Add any burger toppings that you like.
mayonnaise
Ingredients
1 large egg, straight from refrigerator
¼ tsp salt
½ tsp dijon mustard
190-200g grapeseed oil
15g lemon juice
Preparation
Add egg, salt and mustard into TM bowl and heat at 37°C, for 1  minute on speed 3.  Make sure the MC is in the hole of the lid in the upside down position.  With the blades running on speed 4, pour the oil into the lid and allow it drizzle in.  Once all the oil is mixed in (about 2 minutes) squeeze or pour lemon juice oto lid and continue to mix until well combined.  Refrigerate until required.
My tips/alterations: *There is no need to use the Butterfly for this recipe.  *This is best made ahead so that it can set in the fridge before using.  *If you like you can add flavours at the end such as herbs and/or garlic (that you had previously chopped in the TM).  *My mayonnaise usually keeps for 3 – 4 weeks depending on how much we use!  I use the half of the lemon that I cut to clean the lid of the TM – acid cuts through oil.
tomato sauce
Ingredients
1kg tomatoes, quartered
2 apples
½ onion
150g sugar/raw  sugar
200g apple cider vinegar
1 tablespoon salt
pinch cayenne
½ tsp ginger
½ tsp ground cloves
½ tsp ground allspice
2 tablespoons tomato paste (optional)
Preparation
Place all ingredients into TM bowl and chop for 30 seconds on speed 8.
Cook on Varoma temperature for 10 minutes  at speed 2.   Scrape down bowl and cook for further 40 – 50 minutes at 100°C on speed 2. To make a thicker sauce, remove MC from lid and place basket on top to avoid spitting.
Once cooked, process by slowly turning dial up to speed 8 and puree for 1 minute.  Pour into sterilised jars.
My tips/alterations: *Another make ahead item!  *Change the spices to suit your tastes.  *I prefer to leave the tomato paste out of this recipe.  *I store this in a dark cupboard and so long as you sterilise the jars it will keep for a long time.  *Don't peel or deseed the tomatoes as the TM will pulverise them easily.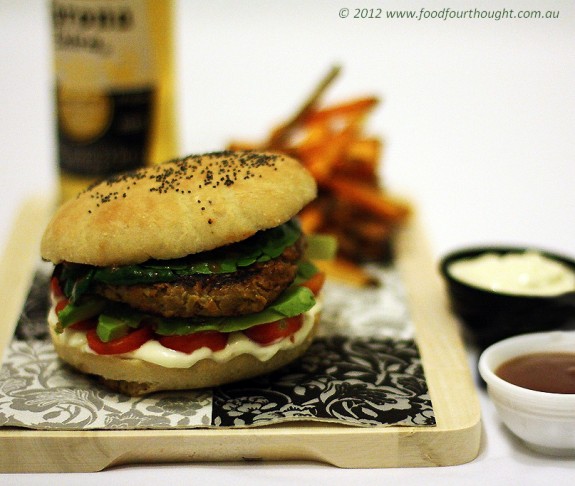 ease: 8.5/10.  I only reduced my score because there are so many elements involved.  However, it can all be made ahead.   The TM made light work of everything.
prep time: 10mins (If all the elements are made ahead as planned).
cooking time: 12mins.
total: 22 minutes.
taste: 9/10. I loved these.  I slightly toasted the buns so they were just crisp, the burgers were moist, the sauce gave it a kick because of the spices and the mayonnaise added that little bit of richness needed to bring it all together.   9.5/10 from G.  The only problem, he didn't have room to eat more 🙂
would I make it again:  Absolutely.