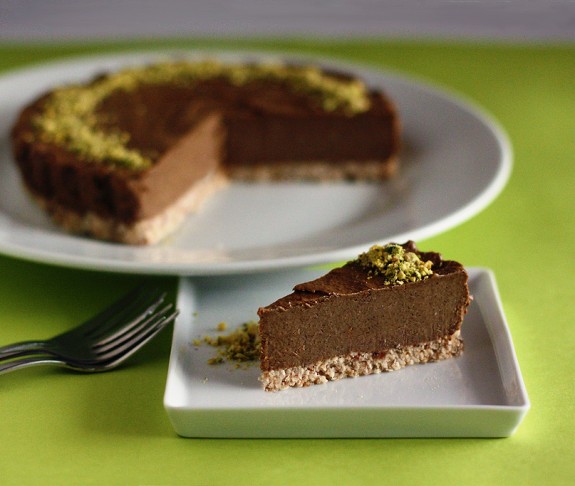 Recently I've been varying our diet a little (much to G's dismay) by trying to get a few more veggies and leafy greens into each meal.  That includes breakfast and dessert.  And although my banana, chocolate breakfast shake, including a huge handful of spinach (I know it sounds bad), seemed ridiculous we both agreed it tasted great.
I've taken it a little further and have been exploring the world of raw and vegan food.  I know people who are dedicated enthusiasts to either or both of these styles of eating and say that they feel more alive, more alert and incredibly satisfied when following their lifestyle choice.  However in the past when it came to desserts my recipes have tended to be those of a more traditional style in the sense that they include ingredients like butter, flour, sugar, milk, etc.
This recipe fits into a completely polarised view of the dessert world.  Suddenly we have a nut-free, egg-free, dairy and soy-free, gluten-free, sugar-free cake. And I would pay good money for.
It was inspired by our last Team Cooking Class in South Perth where one of our consultants has made a recipe that had been adapted from the Raw Power website.  After a little research I changed it (as I do) and what I ended up with something very similar but a little different 🙂
I hope you enjoy it.
chocolate cake (raw and vegan) – (recipe adapted by Fiona at Food 4 Thought).
serves one 20 – 22cm cake
Ingredients
base
100g pitted dates (soaked in hot water for 20 minutes and drained, if using Medjool dates there is no need to soak them)
100g desiccated Coconut
20g coconut oil
filling
100g raw cacao nibs
100g coconut oil
200g pitted dates (soaked in hot water for 20 minutes and drained, reserve the liquid. If using Medjool dates there is no need to soak them)
2 ripe (medium – large) avocado
70g maple syrup
30g raw cacao powder
reserved liquid from soaking dates or water, as required (see tips)
to serve, chopped pistachios (see tips for nut free)
Preparation
For base, place drained dates, coconut and coconut oil into TM bowl and process for 5 seconds on speed 5.  Scrap around bowl and repeat until desired consistency reached.  Remove and press into cake tin with removable base.  Refrigerate.
For filling, place cacao ibs into TM bowl and prcoess for 45 seconds on speed 10. 
Add coconut oil and dates and blend for 10 seconds on speed 6.
Add avocado, agave nectar and cacao powder.  Blend for 30 seconds on speed 6 using the spatula to assist if required.  Scrape around sides of bowl and add reserved liquid if required (I used approx 60g) and blend for 45 seconds on speed 6.
Pour this mixture into the base and refrigerate for a minimum of 3 hours.
Serve, topped with chopped pistachios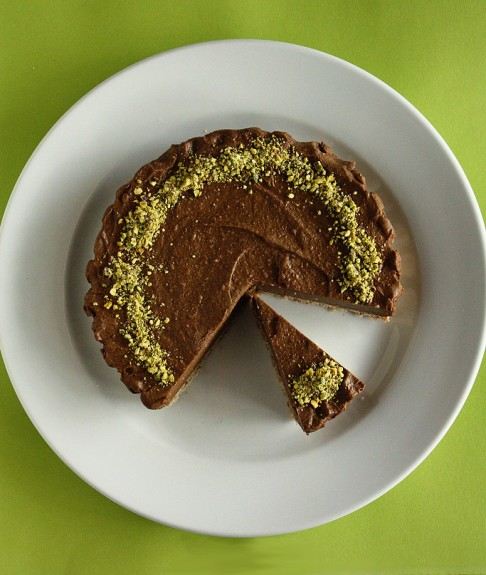 My tips/alterations: *If your coconut oil becomes solid, I find the easiest way to get it out is to sit the bottle/jar in a container of hot water a few minutes before you need it.  *The reserved date liquid is completely optional.  I just found the mixture a little thick without it and by adding it in I got a smoother consistency.  *For an even richer "cake" you can add more raw cacao powder.  You need to make sure it is raw cacao as some cocoa (spelt differently by the way) powders are heated above 37C during processing.  This is one of the reasons I choose to use raw cacao nibs.  If you can't find the nibs use 70-80g cacao powder.  *To chop the pistachios, I just used closed lid and turbo a couple of times until I got the desired texture.  * If you leave the pistachios off, this is nut free.  *You will find most of these ingredients in the health food store.  Some Asian food stores also sell coconut oil.
ease: 9.5/10.  The hardest part was getting ingredients that I had never used.  But now my pantry is we stocked.
prep time: 25mins (20 mins to soak dates, 5 minutes for me to actually do anything).
cooking time: 0mins (no cooking required) + 3 hours chilling.
total: 25 minutes + 3 hours chilling.
taste: 9/10. I loved this.  It was dense, rich and tasted great.  I also found that I was amazingly satisfied with just one piece.  It actually took me 5 days to eat the whole thing, and that was sharing it too.  7.5/10 from G.  He wasn't as impressed because he has a prepensity towards lemon cheesecake.  And although this looked like cheesecake it didn't taste like his favourite lemon version.  In saying that, he still thought this was pretty good for "what it was".
would I make it again: Absolutely  In fact, I happen to have a few extra avocados again this week, so I might need to make another one.