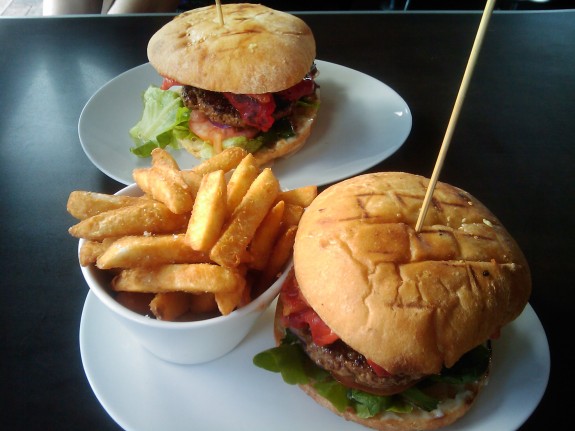 Last night we decided to have an early dinner before watching a movie.  Wanting to stay close to home to avoid any traffic issues we decided to head to Victoria Park.  I had done a little research during the day and settled on a few options.  One of our choices was V Burger Bar, a burger place that is situated along the restaurant trail of Albany Highway.  Given that we wanted to eat before 6pm this was the perfect place.  I had looked at their website earlier and knew that we could both find something on the menu to try.  I also really liked the story of how the business started and the fact that they had a Mission Statement and Vision displayed on their pages. 
We arrived at around 5.30pm and found V nestled in a group of various eateries opposite the Balmoral Hotel.  As we walked in we discovered a small, stylish establishment with a bar and stools along the length of one wall.  This had an open window that allowed a little people watching, another something we both love to do.  While reading the blackboard one of the young guys behind the counter handed us some menus and gave us a welcoming smile.  Upon review the options the choice I thought I would make after reviewing the menu earlier in the day went completely out the window.  G decided upon the Pepperizo and while they all sounded delicious I couldn't go past that one either.  Black peppered prime beef, gourmet salad, Spanish chorizo, char-grilled red pepper, sweet tomato relish and aioli all encased in a bun, what could be better.  Mind you some of the vegetarian options were extremely tempting.  For a mere $5 extra we upgraded one of our meals to include chips and a drink.
We settled into a table at the front window as the breeze blowing across the bar was a little chilly.  About 15 minutes later our meals were delivered to our table.  The first thing that struck me was the sheer size of them and the second thing was how good they smelt.  For once I knew exactly how G felt when I cook something and won't let him touch it until I have photographed it.  He took some shot using his phone and I was about ready to ripe the burger from his frame when he told me he was done.  (You'd never believe I was vegetarian for many years of my life!).  A quick debate on the skill required to devour such a beast resulted in me cutting mine in half and getting stuck in while G surveyed the plate a little longer before opting for the same method. 
The bun was char-grilled until slightly crunchy (a nice touch) with the sweetness from the red peppers and relish balancing out the pepper and beefiness of the burger itself.  The salad was crisp and fresh, the chorizo was a welcome surprise.  I say surprise because every now and then I would taste the lingering flavour of the Spanish paprika coming from the chorizo, another thing that I love.  The only disappointments for me were the aioli, to me it tasted like a standard mayo with none of the garlic punch that I expect from aioli and the fact that I would have liked the burger a little less cooked but that is just a personal preference it wasn't overcooked at all. 
G is much more of a burger aficionado than I am as he has a regular burger night with the boys and he loved everything about it, saying it was better than where they normally go.  The chips were also great, or at least the few I was able to snaffle were :).  They were definitely twice cooked and I think they may have been lightly coated in polenta or something similar because they also had an extra flavour dimension compared to normal chips.  Overall, for $27.00 (after Entertainment Book discount) a great meal.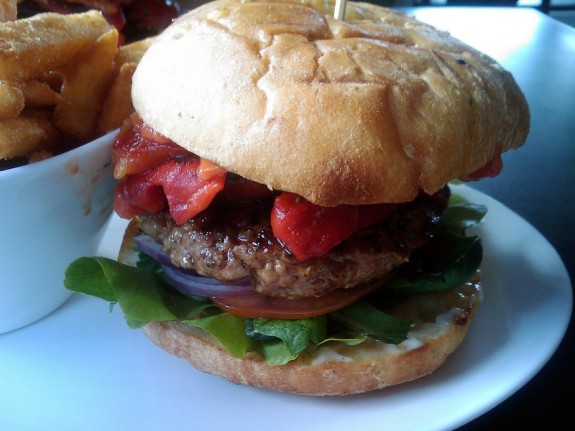 food: 9/10.  This came from the burger aficionado.  I said 8/10.
service: 9/10.  Prompt (although we were the only one's there initially), friendly and with a smile.  
ambiance: 8/10.  Decor suited the casual dining experience.  Very clean and the chairs were comfortable!
would I eat here again:  Yes, and we will bring our friends.
PS – Apologies for the quality of the photos, I didn't think it was appropriate to strut in with my DSLR so these were taken on our phone.
You can also read this review via