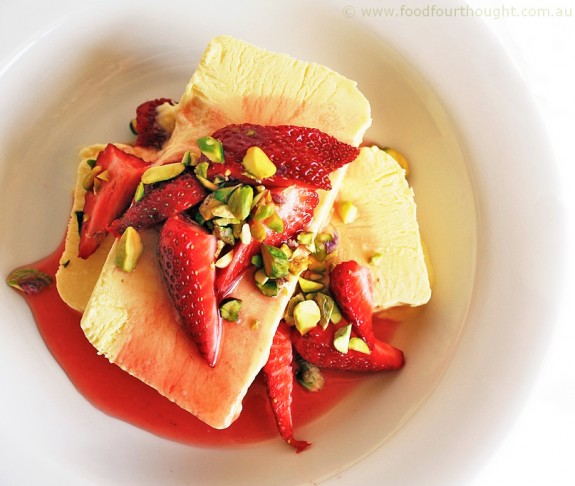 Desserts have always been one of my favourite things to cook and it is only in the more recent years that I have really enjoyed cooking other dishes.  I also like being able to create slightly different desserts.  Whether it be the shape of certain components or simply the interesting combination of ingredients, I love it when friends and guests "oh" and "ah" as I place one of my creations in front of them.
So when a friend offered me a large punnet of seasonal strawberries freshly picked from a farm just outside of Perth I gratefully accepted.  My most recent dessert using these delectable morsels was meringue nests with berries and cream so I knew I wanted to do something a little more elaborate this time.  My latest issue of Gourmet Traveller had appeared in my post box earlier in the week and was a wonderful source of inspiration for a creative dessert.  I had flicked through the glossy pages when the magazine arrived and immediately noticed the section highlighting chef Matt Stone and one of the newest and most talked about restaurants in Perth, Greenhouse. 
The recipe read like a normal parfait with a few extra trimmings.  It also had the addition of mastic which is an ingredient that I knew about and had seen before but never actually used.  Mastic is the resinous sap that is collected from trees on the Greek island of Chios, and these translucent droplets are charmingly referred to as 'tears'.  It is used for the consistency it gives to ice cream and sweets and it was the original chewing gum and mouth freshener.
All of these things made me quite excited about having the opportunity to attempt this dish.
mastic parfait with pistachio, strawberry and rose (recipe from September 2010 issue of Gourmet Traveller magazine)
You'll need to begin this recipe a day ahead.  Serves 8-10
Ingredients
270ml (1 cup plus 1 tablespoon) milk 
8g (0.28 ozs) mastic, finely crushed    
12 egg yolks  
270g (9.5 ozs) caster sugar 
660g (1.5 lbs) mascarpone, gently whisked to soften  
270ml (1 cup plus 1 tablespoon) pouring cream, whipped to soft peaks    
325g (¾ lb) strawberries, trimmed and quartered 
to serve, pistachio kernels, coarsely chopped  
 
rose syrup    
250g (½ lb) strawberries, trimmed and quartered
150g (5.3 ozs) caster sugar
3 tsp rosewater
Preparation
Combine milk and mastic in a small saucepan over medium heat, bring to just below boil, remove from heat and set aside to infuse (10 minutes).
Whisk egg yolks and sugar in a large heatproof bowl until thick and pale (3-4 minutes).  Strain milk mixture over egg mixture then whisk over a saucepan of simmering water until thick and holds a ribbon (8-10 minutes).  Remove from heat, transfer to an electric mixer and whisk to room temperature (4-5 minutes).  Gently fold through one-third of mascarpone, then remaining mascarpone.  Fold though cream, spoon into a 7cm x 20cm loaf tin lined with plastic wrap, smooth top and freeze until firm (6 hours-overnight).
For rose syrup, combine strawberries, sugar and 225ml (almost 1 cup) water in a saucepan over medium heat and stir occasionally until a light syrup forms (10-12 minutes).  Remove from heat, stir through rosewater, strain through a fine sieve (discard solids) and set aside.
Dip tin in hot water to loosen parfait, turn out onto a board, remove plastic wrap and thickly slice with a hot knife.  Serve immediately with strawberries, pistachios and rose water.
My tips/alterations:  *I have never had much luck with cooking custard in a bowl over simmering water.  I did try it this time but after 5 minutes of whisking decided to opt for my usual method of making custard which is to cook it in a large heavy based pot over medium heat, whisking until it begins to thicken then using a spatula or wooden spoon stirring until the desired consistency is reached.  *I used a 21 x 11 cm (8 1/2 x 4 1/2 inch) loaf tin  *The syrup is easy and delicious.  I have made this since just to have with fruit and ice-cream.  *The timing of some of the elements took a little longer than the recipe suggested but not too much more.  *The mastic was easy to use and seemed to thicken the mixture a little, which is what it is supposed to do.
ease: 7/10.  This is basically making custard and syrup with a few other elements added in. 
prep time: 30mins.  
cooking time: 30mins + infusing, freezing and cooling
total: 1 hour 10mins + freezing.         
taste: 9/10.  This parfait was delicious.  The mascarpone gave this a completely different flavour to a normal vanilla custard based ice-cream.  The rose syrup was amazing on its own and was only enhanced by the addition of fresh strawberries and pistachios.  G felt the parfait was a little icy and compared to an ice-cream that has been whipped I guess it was but I didn't find it annoying.  Our guests loved it (or were being very polite :))
would I make it again:  Yes!  In fact, I have already made the syrup since and kept the leftover parfait in the freezer for some sneaky snacks.