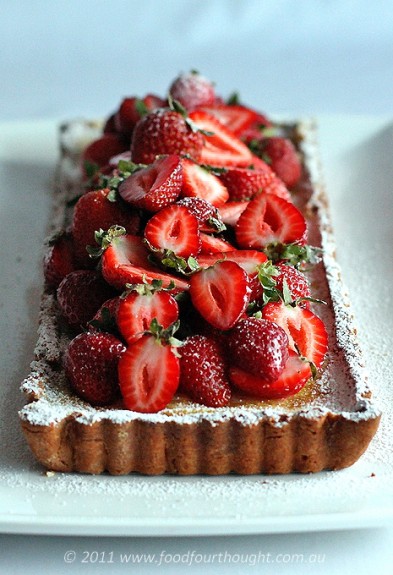 Cooking with good quality seasonal produce is something that every great chef will attest to being one of the things that makes for a wonderful dish.   I love trying to find different ways of using things when they are in season.  I also have a passion for baking cakes and slices and my favourite course of any meal (to create) would have to be dessert.
I have wanted to make this dish ever since I read the recipe about four months ago.  Given the strawberry season has almost ceased I think I can say that I made it by the "skin of my teeth".
In all cooking there are certain ingredients that you expect to see together, tomato & mozzarella, lamb & rosemary and peaches & cream for example.  And while combining strawberry with citrus is not necessarily a natural paring that would spring to mind it does work very well.  This tart is a fine example of a marriage made in heaven.
strawberry and lemon tart (recipe from Dish Magazine, December 2010/January 2011 edition)
makes one 35cm (14 inch) x 10cm (4 inch) tart (use a tin with a removable base)
Ingredients
pastry
250g (½ pound) plain (all-purpose) flour
½ teaspoon sea salt
½ cup icing (confectioners) sugar
150g (1¼ sticks) butter, diced and chilled
1 egg
filling
1 large juicy lemon
½ an orange
1¼ cups caster (superfine) sugar
2 tablespoons cornflour (cornstarch)
2 eggs
1 egg yolk
½ cup melted butter, cooled
1 teaspoon vanilla extract
to finish
250g (½ pound) strawberries
icing (confectioners) sugar for dusting
Preparation
Pastry:  Put the flour, salt, icing sugar and butter in a food processor and pulse to coarse crumbs.  Add the egg and pulse again until the dough starts to come together.  Tip onto the bench and gently bring the dough together with your hands.  Form into a disc, wrap and chill until firm.
Preheat the oven to 200°C (400°F/Gas 6).  Roll pastry out on a lightly floured bench and line the tart tin.  Refrigerate or freeze until firm.
Bake the tart blind for 20 minutes, then remove the baking weights and paper.  Reduce the heat to 170°C (325°F/Gas 3) and bake for a further 5 minutes.  Cool.
Filling:  Cut the lemon into wedges and the orange into quarters, remove the pips.  Chop the fruit roughly and place into food processor with the sugar.  Process until the fruit is finely chopped then tip into a bowl.  Put the cornflour in a small bowl and stir in a ¼ cup of the fruit mixture until smooth.  Tip back into the bowl and add the remaining ingredients, gently whisking to combine. (Don't whisk too much as you do not want a lot of bubbles in the mixture).
Pour into the tart case and bake for 25 minutes until the filling is just firm and the top is lightly browned.  Cool.
To serve:  Halve or quarter the strawberries and pile on top of the tart.  Dust with icing sugar to serve.
My tips/alterations: *Use 300g of good quality purchased sweet short crust pastry if you don't want to make your own.  *Blind baking is when you line a pre-prepared case with baking paper and fill it with weights or dried beans.  The beans support the pastry as it cooks.  Bake in a preheated 190°C (375°F/Gas 3) – 200°C (400°F/Gas 6) oven for up to 20 minutes before removing the paper and weights.  The shell should have taken form.  Return to the oven for time specified in recipe.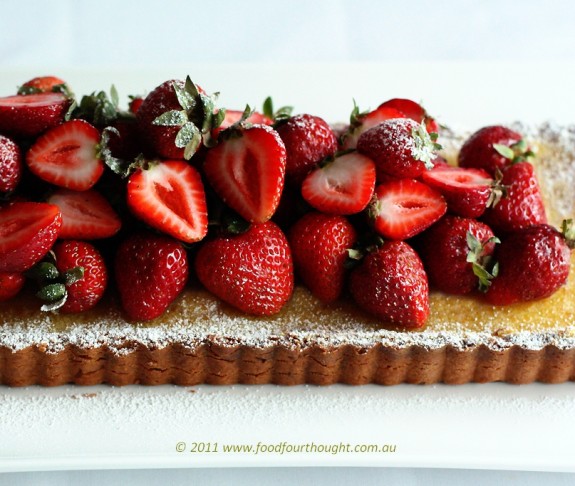 ease: 7.5/10. I used careme vanilla bean sweet shortcrust pastry because I had some in the fridge.
prep time: 20mins plus chilling and cooling.
cooking time: 50mins plus cooling
total: 1 hour 10 mins plus chilling and cooling
taste: 6.5/10. From the man of the house, who didn't really enjoy the texture of the filling.  It wasn't smooth like lemon curd, rather you knew there was blitzed up whole fruit in there.  7.5/10  From me.  I didn't mind the texture and really enjoyed the flavour combination.
would I make it again: Yes, but there are conditions.  Normally with a score like this I wouldn't bother making it again.  However, since baking this I have purchased my Thermomix and knowing what it can do I am sure I can get a very smooth consistency for the filling by using it to whiz everything up.  It is so much easier than making lemon curd filling!
Besides it gives me another excuse to eat strawberry and lemon tart and that is always a good thing 🙂