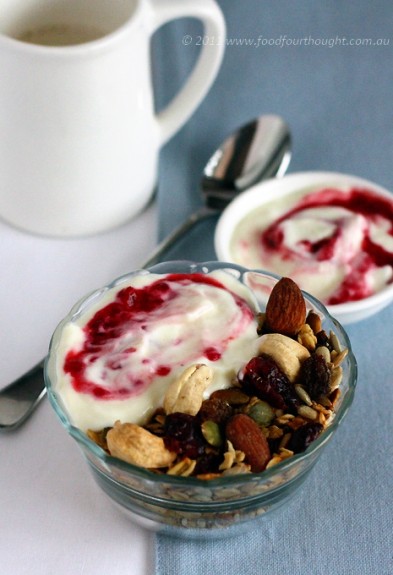 As mentioned in previous posts, eating a healthy breakfast is important to both G & I.  In winter we usually enjoy a bowl of porridge and in the warmer months we both like some kind of cereal.  I've been making quite a bit of bircher recently but G wanted a change.  Normally we would just go for a store bought option but lately we have been reading the labels and have not really been happy with any of the options. 
Because breakfast has always been something that I enjoy to eat I don't mind having quite a big meal early in the day.  So I decided to make us some toasted muesli.  I would never buy toasted muesli because of the fat content and I actually don't really like untoasted muesli because it has that raw oat taste that makes me feel like I'm chewing on a spoonful of flour.   
I have made this recipe several times over the years and have adapted it along the way.  This is my favourite version so far.
cranberry and almond toasted muesli (original recipe by Bill Granger adapted by Fiona at Food 4 Thought)   
makes approximately 6 ½ cups
Ingredients
300g (3 cups) rolled oats
125ml (½ cup) apple juice
2 tablespoons vegetable oil
80g (½ cup) raw almonds
65g (½ cup) sunflower seeds  
80g (½ cup) pumpkin seeds
40g (¼ cup) sesame seeds
80g (½ cup) raw cashews
80g (½ cup) sultanas
80g (½ cup) dried cranberries
raspberry swirl yoghurt
½ cup raspberry
1 cup plain yoghurt 
Preparation
Preheat the oven to 160°C (315°F/Gas 2-3).  Line a large baking tray with non-stick baking paper.
Place all the ingredients, except for the sultanas and dried cranberries, in a large bowl and stir well to combine.  Spread the mixture evenly over the baking tray and place in the oven for 30 minutes, stirring occasionally until lightly browned.
Remove from the oven, allow to cool then add the sultanas and dried cranberries. 
Serve with the raspberry swirl yoghurt and milk.
My tips/alterations:  *I switched the ingredients a little from the original recipe by removing the coconut and dried blueberries and adding the cashew nuts, sultanas and dried cranberries.  You can add fresh seasonal fruit when you serve it if you like.  *You can make this gluten-free by substituting the oats with your favourite ingredient.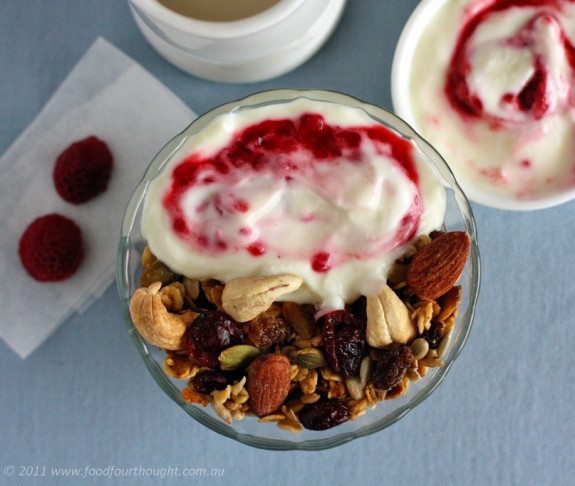 ease: 9/10.  One of the simplest breakfasts I ever made.
prep time: 10mins.
cooking time: 30mins plus cooling
total: 40 mins plus cooling
taste: 9/10.  This muesli is delicious.  It has lots of textural and flavour differences because of the range of ingredients.  I also love the fact that it is so healthy in comparison to many of the pre-packaged brands.  For us this is definitely a breakfast winner.  
would I make it again: Yes this will become our alternate when we need a break from bircher.