Lamb has always been one of my favourite sources of protein.  In fact it was the first meat I ate when I broke out of my 15 years of  vegetarianism!
For as long as I can remember it ahs almost been traditional to have some form of lamb as part of Australia day celebrations.  This year I wanted something simple, that I could make ahead and not worry about while I had guests.  So these little burgers are the perfect solution.  Easy to make, make them the day before, loaded with flavour and served with your favourite burger bun, what could be better?   My suggestion is to make up several batches of these and pop them in the freezer so you have them on hand, they are already a staple in our repertoire.  If your house is anything like mine when you have guests for a BBQ, the men cook the BBQ and ladies generally do salad (and everything else!)  These can be cooked on the BBQ, salad and cauliflower rolls can be made earlier, which means you get to sit with a cool drink and chat.  I hope you enjoy it all!
(paleo/LCHF) Spiced lamb burgers (recipe by Fiona at Food 4 Thought).
No: Gluten / Grain / Dairy / Soy / Nuts
Contains: Eggs
Makes 6 burgers.
You will need
Frying pan/BBQ/Oven
Spatula
Egg flip or similar
Dinner plate
Coconut oil, ghee or lard for shallow frying
Cooling rack
Ingredients
1 clove garlic, peeled
150g brown onion, chopped into pieces
100g carrot, chopped into pieces
20g (1 Tablespoon) coconut/olive oil
1 teaspoon ground cumin
1 teaspoon ground coriander
½ – 1 teaspoon dried chilli flakes
300g lamb rump steak, trimmed of fat and sinew, cut into 3-4cm chunks OR 300g minced lamb
1 tablespoon vegetable stock concentrate OR 1 teaspoon finely ground salt
1 egg
To serve – toppings pf your choice.
Preparation
*If making cauliflower buns, start this recipe and you can make the burgers while the buns are in the oven.
Place garlic into mixing bowl and chop for 5 – 10 seconds / Speed 6.  Add onion and carrots and chop for 5 seconds / Speed 5.  Scrape around sides of mixing bowl, add olive oil and cook for 5 minutes / 100°C / Soft speed / MC off. Add cumin, coriander and chilli flakes, cook 2 minutes / 100°C / Soft speed / MC off.  Pour mixture onto a dinner plate and spread out thinly, set aside to cool.
If you are using minced lamb skip this step.  Without rinsing mixing bowl, add chunks of rump and mince on for 2 – 5 seconds / Reverse / Speed 7.
Add cooled vegetable mixture, stock and egg.  Mix for 30 seconds / Reverse / Speed 4.  You should have a paste consistency.  If not, mix for longer as this is what will help hold the burgers together during cooking.  Remove mixture from bowl and set aside.
If cooking immediately, place a large frypan over medium heat OR BBQ hot plate OR pre-heat oven to 180°C.  Moisten hands with cold water and divide mixture into six equal portions.  Shape into burger patties, cook immediately OR place on a lined tray, cover and refrigerate until required. See tips for freezing.
For frypan or BBQ, I cooked these for 2-3 minutes per side.  I baked them in the oven for 20 minutes.
Serve with toppings of your choice.  If you have any left over, store in an air tight container in the fridge for 3-4 days or freeze.
DOUBLING THIS RECIPE: You can double this recipe easily.  You may need to assist the final mixing step by using the spatula through the hole in the mixing bowl lid to make sure you get the right consistency before shaping the burgers.
My tips
* These burgers are very moist because they have no flour or breadcrumbs added to them.  You need to make sure you have a paste consistency after you have mixed everything together before shaping them.  This helps them hold together during cooking.
* I chop my meat on reverse because I like the texture I end up with.
* Change the flavour by substituting other herbs and spices to the mix.  Ras el hanout or garam marsala would be lovely.  Make it your own.
* Shaping – I made these slightly larger than the buns as they will shrink slightly during the cooking process.
* If you are not using these immediately, once shaped place on a lined baking tray and freeze them. Then place non-stick paper in between the burgers, stack and freeze for as long as your freezer instructs.
* You could substitute the lamb with beef or chicken if preferred.
* To reheat these I used an air fryer. 180°C for 4 minutes was perfect.
* Add any burger toppings that you like.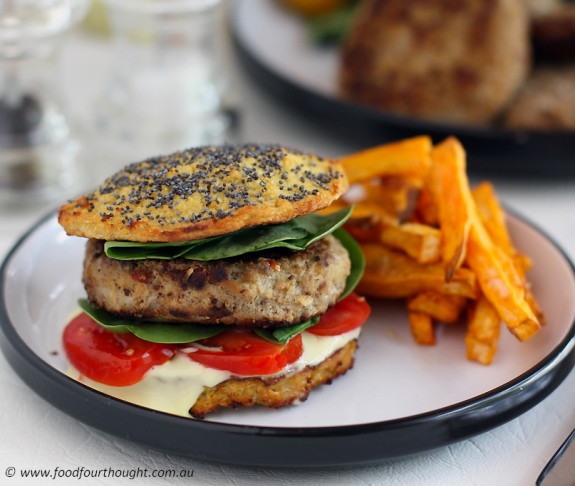 ease: 9/10.  Just a little bit of shaping required.
prep time: 15 minutes  
cooking time: 20 minutes 
total: 35 minutes 
taste: 10/10 These are great. No fillers, no extras, just pure flavour.  Yum, yum, yum.
would I make it again:  They are already a staple, especially in summer.