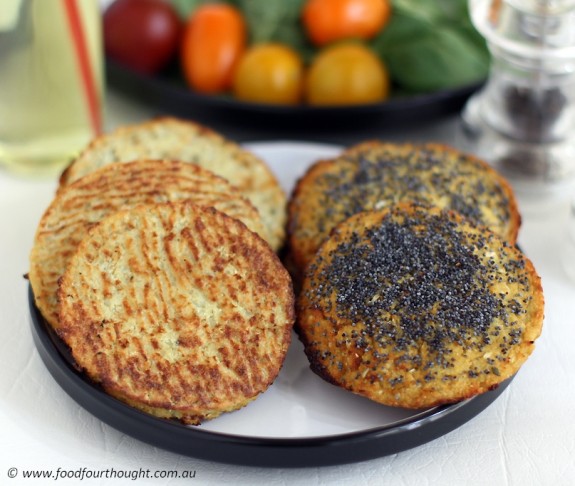 I've never been a big bread eater.  I remember as a child the only thing I really liked was plain white bread with vegemite and grated cheese and even that was only when I was quite young.  As I grew older and my palate developed it wasn't something I gravitated to. So following a paleo lifestyle didn't really present me with a "no bread" challenge.  However, when I want to have a burger, I like to pick it up and feel like I'm eating a burger.
I have always loved cauliflower and more recently I feel that I have become somewhat obsessed.  I want to try it as many ways as I can and I'm starting to realise just how versatile this inconspicuous little vegetable is.
These are something that I've wanted to "play with" for a little while now.  You can use the recipe (minus the garlic and rosemary) as a base and create your own flavours.  Add your favourite burger and enjoy.
(paleo/LCHF) Cauliflower buns/rolls (recipe by Fiona at Food 4 Thought). 
No: Gluten / Grain / Dairy / Soy / Nuts
Contains: Eggs
Makes 6-8 complete buns/rolls.
You will need
Oven
Spatula
Egg flip or similar
Glass bowl
2 x baking tray lined with non-stick paper
9-10cm round cookie cutter or similar
Cooling rack
Ingredients
1 sprig (approx. 20cm in length) fresh rosemary, leaves only OR 1 tsp dried rosemary
1 clove garlic, peeled
400g cauliflower florets, chopped into bite-sized pieces
½ teaspoon fine salt
2 Tablespoons (30g) coconut flour
2 eggs
1 ½ – 2 Tablespoons nutritional yeast flakes (optional)
Poppy/sesame seeds, to sprinkle on top (optional)
Preparation
Pre-heat oven to 180°C and prepare baking trays.
Place rosemary leaves into mixing bowl and mill for 1 minute / Speed 10 (If using dried rosemary, skip this step).  Add garlic and chop for 5 seconds / Speed 6.  Add cauliflower and chop for 4 – 6 seconds / Speed 5.  This should be a rice texture.
Scrape around sides of mixing bowl, add remaining ingredients and mix for 20 seconds / Reverse / Speed 4.  Scrape mixture into a separate bowl.
Place cookie cutter onto lined baking tray.  Take approx. 80g (1/3 cup packed) of mixture and pour into cutter.  Using hands or back of a spoon, press the mixture firmly into shape.  Complete with remaining mixture.  See tips for shaping. Sprinkle half with seeds if you wish.
Place buns in the oven and bake for 20 minutes, then turn over and bake for further 10 minutes or until golden and firm to touch.
*While buns are baking, make these burgers if you like.
Once cooked, remove from oven and place onto cooling rack, cool enough to handle and serve. To store, cool completely and store in an air tight container for up to 2 days.
When you want to use them, you can reheat them in a 180°C for 5 – 7 minutes or crisp them under the grill.
My tips
*Substitute any other dried herb if you don't have rosemary.
*Shaping – Make sure the mixture is pressed in firmly.  To make the "bun tops", once pressed into shape remove cutter then gentle press edges down so they are slightly thinner than centre and have a tapered appearance. 
*Add any burger and toppings that you like.
*We didn't have any left over to check how they freeze but I think they would freeze quite well.
*To reheat these I used an air fryer. 180°C for 4 minutes was perfect
*For LCHF – You could add a couple of tablespoons of cheese in place of the nutritional yeast and some ham if you like.
*Rosemary – I find when using fresh rosemary (and a small amount) just removed from the stem, it is difficult to cut in the Thermomix.  I suggest you either take the leaves off the stalk and sit them on the bench uncovered overnight to dry out a little or put them on a lined tray and bake in oven for a few minutes to do the same.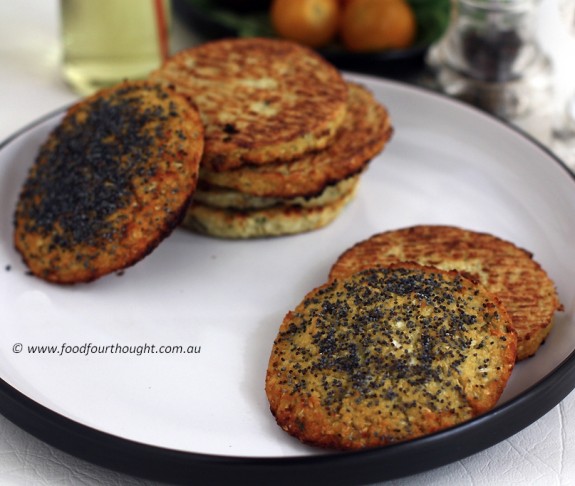 ease: 9/10.  Just a little bit of shaping required.
prep time: 20 minutes  
cooking time: 30 minutes 
total: 50 minutes 
taste: 9.5/10 These are great. They stand up like a "normal" bun.
would I make it again:  Oh yes.