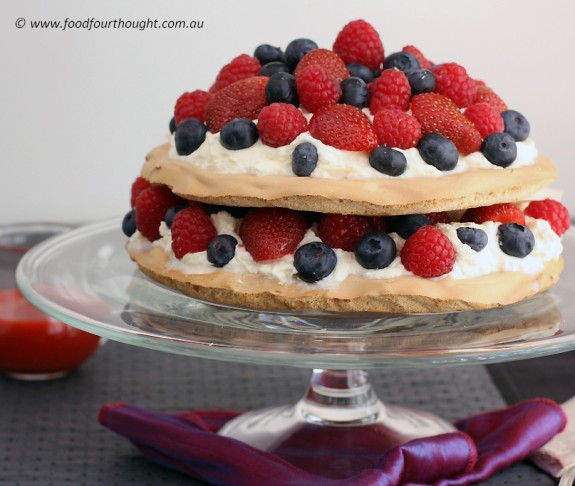 I have been trying to make any sort of Paleoish meringue/pavlova for a few weeks now. I think I have used at least three dozen egg whites (and made LOTS of mayonnaise with the yolks) and I finally think I've cracked it.
Although these aren't as thick as a normal pav, they have that crunchy exterior and soft gooey interior.  When I was making them it felt like I was making real meringue.  I was sooooo excited.
So before anyone judges me, I know the Paleo lifestyle is not about making sweet things compliant enough to eat and I actually don't eat many sweet things at all, it was more the challenge of being able to make this so that it was similar to what used to do.  This recipe isn't completely Paleo compliant because it uses Xylitol.  If you want to try something else, this pavlova wreath recipe uses maple syrup.
If you give this a try I truly hope you enjoy it.
Meringue stack with strawberry sauce (recipe by Fiona at Food 4 Thought).
No: Gluten / Grain / Soy / Nuts
Contains: Eggs / Dairy (optional)
Makes 2 x 20cm discs.
You will need
Oven
Spatula
Butterfly whisk
2 x baking tray lined with non-stick paper
20cm ring to mark a pattern on the paper
Cooling rack
Meringue
Ingredients
150g xylitol (from Birch trees)
200g egg white (approx. 6 eggs)
1 pinch cream of tartar
1 teaspoon lemon juice
2 teaspoons honey
3 teaspoons tapioca flour (see Tips for LCHF option)
Preparation
Preheat oven to 120°C.  Line 2 large baking trays (40 x 35 cm) with baking paper.  Trace 2 circles (approx. 20 cm) on the underside of each piece of baking paper, then set baking trays aside.
Place xylitol into mixing bowl and mill 15 seconds / Speed 9.  Transfer into a bowl and set aside.  Thoroughly clean and dry mixing bowl.
Insert butterfly whisk.  Place egg whites and cream of tartar into mixing bowl and whip for 3 minutes / 50°C / Speed 4 / MC off.
With butterfly whisk still in place, mix 3 minutes / Speed 4 / MC off, slowly adding reserved xylitol through hole in mixing bowl lid 1 spoon at a time until well combined.
Mix the lemon juice and honey together in a small bowl until combined.  With butterfly whisk still in place, mix 1 ½ minutes / Speed 4 / MC off, adding lemon/honey, then tapioca flour through hole in mixing bowl lid until combined.
Spoon mixture into traced circle guides to form discs approx. 2-3 cm thick. Bake for 1 ½ hours (120°C).
*While Meringue are baking, make Strawberry sauce if you like.
Turn oven off and leave meringue discs to cool completely in the oven with the oven door slightly open (with a wooden spoon or similar to hold it in place), leave approx. 3 hours or overnight.  Clean and dry mixing bowl and butterfly whisk.  Once cooked, remove from oven and place onto cooling rack, leave for a few hours to dry out as much as possible (I left mine uncovered for another day).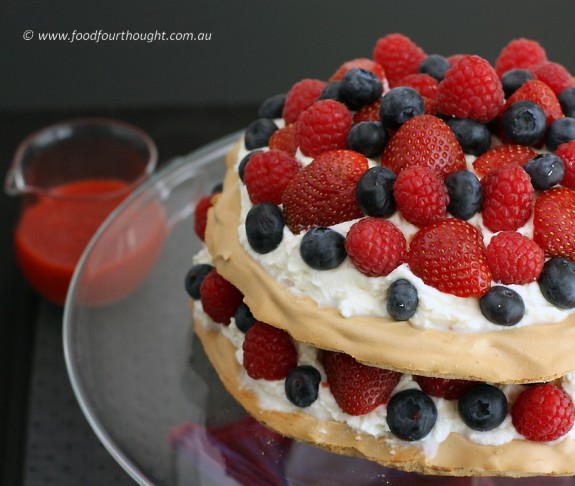 Strawberry sauce
Ingredients
250g fresh strawberries, washed and green tops removed
3 teaspoons honey (or 40g xylitol)
2 teaspoons lemon juice
Preparation
Place all ingredients into mixing bowl.  Cook for 3 minutes / 90°C / Speed 3.  Then mix for 10 seconds / Speed 5.  Transfer into a bowl and set aside.  Thoroughly clean and dry mixing bowl.  See below regarding assembly.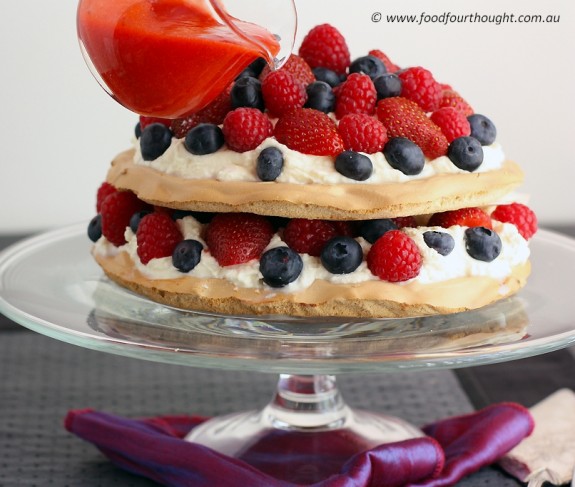 ASSEMBLY –
To serve
– Cream/Coconut cream – I would use approx. 500g of cream to top these discs.  For whipped coconut cream, use 2 cans chilled overnight and follow a whipped coconut cream recipe for instructions.
– Fresh berries or fruit of choice
To assemble meringue stack, place 1 of the discs onto a serving platter. Top disc with half of the whipped cream of choice, then decorate with fresh mixed berries and drizzle with 1-2 tablespoons of the strawberry sauce.  Place remaining meringue disc on top, then repeat layering with remaining cream, fresh berries and 1-2 tablespoons of the coulis.  Serve immediately.
My tips
*Before I start this recipe, I do a lemon or vinegar wash on my bowl.  This video explains how and why you should do so.
*It is important that you start this recipe at least a day before you want to assemble it so that the discs have time to dry out properly.
*Use any fruit toppings that you like.
*This is best eaten on the day of assembly.
*For LCHF – You could substitute the tapioca flour for xantham gum.  I would try ½ – 1 teaspoon.  I haven't tried this so can't guarantee it will work.
ease: 7.5/10.  Just a few steps.
prep time: 50 minutes + cooling time
cooking time: 1 hour 30 minutes 
total: 2 hours 20 minutes + cooling time
taste: 9/10 Not quite as good as I remember the "real thing" but a great dish in its own right.
would I make it again:  For special occasions, absolutlely.