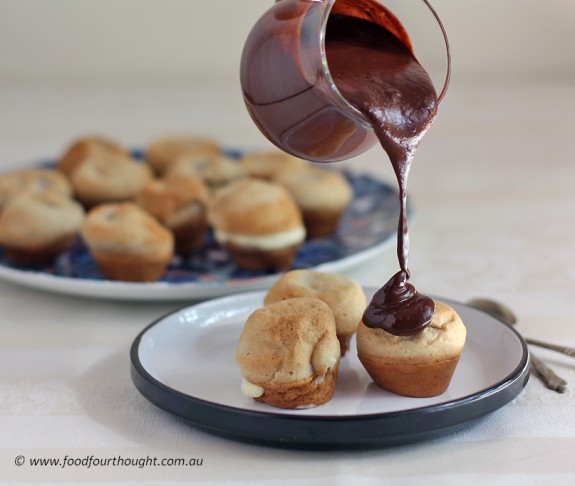 Developing recipes can often be a challenging experience, especially when you are trying to create things that are free of grains, gluten, dairy, refined sugar and on occasion eggs and nuts.  With a list like that even I think – what else is there? However, there is so much we can do with a few basic alternatives.
This is one recipe that I've wanted to convert for a little while.   I've always loved profiteroles, in fact I think they used to be my favourite dessert.  Many years ago I was fortunate enough to be in a lovely restaurant in Paris experiencing all things French.  The perfect end to a wonderful meal was profiteroles with warm chocolate sauce.  I thought I'd died and gone to heaven.  Crunchy pastry, silky smooth vanilla infused crème centre topped with warm, bitter dark chocolate sauce.  Could anything be better!?!
Recreating something like that is hard enough without restricting the ingredients we can use but I'm really happy with all the individual parts of this dish as well as the end result when they are all combined.
Make this for yourself or someone you love.  Just do yourself a favour and find an excuse to make these soon!
(paleo) Profiteroles filled with vanilla crème patisserie drizzled with chocolate sauce (recipe by Fiona at Food 4 Thought).
No: Gluten / Grain / Soy / Nuts / Dairy
Contains: Eggs
Makes 24 mini profiteroles
You will need
Oven
Spatula
Medium glass bowl
24-hole mini muffin tray, greased with coconut oil
Small serving jug
Cling wrap or similar
Cooling rack
Crème patisserie (pastry cream) – makes approximately 2 cups
Ingredients
400g coconut milk
60-80g maple syrup
2 egg yolks
20-25g tapioca flour
Seeds of 1 vanilla pod OR 2 teaspoons vanilla extract
Preparation
Place all ingredients into mixing bowl, cook for 7 minutes / 90°C / Speed 4.  Transfer into a bowl, place plastic wrap directly on surface of pastry cream to prevent a skin from forming, and allow to cool.  Once bowl is cool to touch place into refrigerator to cool completely and thicken.
Make pastry rolls.
My tips
*You can store the remaining pastry cream in an air tight container in the refrigerator for up to 2 days.
(Cheats) Pastry roll (makes 24 mini muffin size)
Ingredients
160g coconut milk
60g coconut oil
1 egg
170g arrowroot flour
1 teaspoon honey
Preparation
Preheat oven to 200°C (fan-forced).  Grease 24-hole mini muffin tray with coconut oil.  Set aside for filling later.
Place all ingredients into mixing bowl, mix for 25 seconds / Speed 7.  Scrape around sides of mixing bowl and mix for 5 seconds / Speed 7.
Fill each mini muffin mould three-quarters full with batter.  Bake for 16 – 19 minutes (200°C fan-forced), or until puffy and lightly golden brown.
Remove from oven and carefully remove tray onto a cooling rack.  Once cool enough to handle, use a skewer to pierce the base of the roll to allow any remaining steam to escape.  This will keep them crisper as they cool.  Set aside to cool completely before filling.
My tips
*These are best consumed on the day they are made, however you can store the remaining rolls in a container for up to 2 days.
Chocolate sauce – makes approximately 1 cup – *Make this close to serving
Ingredients
50g dairy free 100% chocolate pieces
20g raw cacao powder
50g maple syrup or honey
150g coconut milk
Pinch of fine salt
Preparation
Place chocolate into mixing bowl and melt for 2 minutes / 70°C/ Speed soft.
Add remaining ingredients and mix for 15 seconds / Speed 3.  Scrape around sides of mixing bowl and heat for 1 minutes / 70°C/ Speed soft. Scrape into jug or serving dish.  Serve warm.
My tips
*This sauce will store in an air tight container in the refrigerator for up to a week.  You will need to heat it gently to serve as it will firm up in the refrigerator.
ASSEMBLY
If you haven't already made the chocolate sauce do so now.
Remove crème patisserie from refrigerator and remove plastic wrap.  You have two options of filling the pastry rolls.  You can lay each one on their side and cut them so you have a top and bottom, like a bun OR you can make the hole in the bottom slightly bigger and spoon or pipe the mixture into the base of each roll.  Fill as many rolls as you would like to serve.
Place rolls on a serving plate and top with warm chocolate sauce.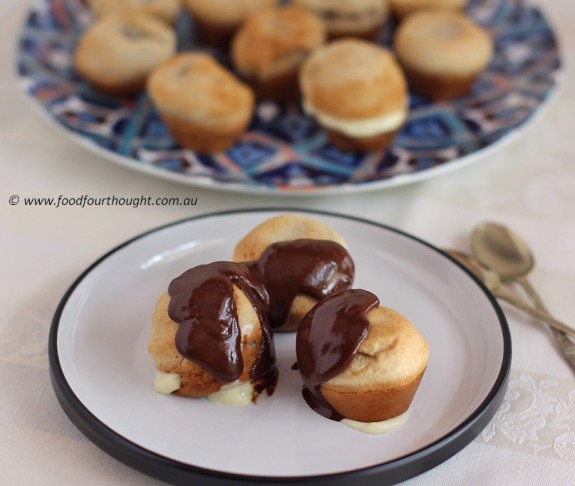 ease: 8.5/10.  A few elements but nothing too challenging.
total prep time: 45 minutes + cooling time
total cooking time: 30 minutes 
total: 1 hours 15 minutes + cooling time
taste: 10/10 I know these are not "the real thing" but oh my goodness they are pretty special.  I hope you enjoy these as much as our house did.
would I make it again:  For special occasions, absolutely.  I couldn't make them more often as they would disappear too quickly.