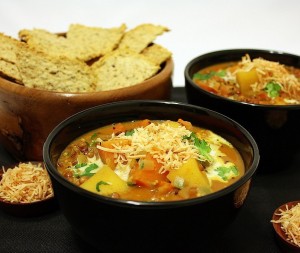 A little while ago I realised that my obsession for food magazines and cookbooks was completely out of control.  My bookshelves were almost bursting out of the shelves, my spare room looked more like a library as each day passed and the spare piles of magazines were becoming high enough that I could use them as a coffee table.  So I made a commitment to only subscribe to one magazine for the year and buy others only if I knew that I would cook more than two recipes from it.  This also meant that I could start and consult my vast number of cookbooks more often rather than just letting them gather dust.
With these best intentions in mind while visiting the newsagent recently I found myself standing in front of the food magazines.  Remembering my rules for purchasing such items I flicked through one of my favourite reads called dish from New Zealand.  My gorgeous (brilliant cook) friend Karina showed me this once and I was in awe.  The issue I held in my hand was yet another fabulous one with great stories, some unusual recipes and a sealed meat section for carnivores only.  I knew there were at least three things that I would create from this magazine so I tucked it under my arm and made my way to the register.
On the evening that I cooked this dish I was looking for something simple, tasty and healthy for a mid-week dinner.  Soup is one of those things that I love to cook and to eat.  It is normally a one pot dish filled with any number of delicious ingredients that can become a meal in itself.  This particular soup was vegetarian and had slightly unusual ingredients.  Not that you wouldn't have most of the things you need in the pantry it is just that they may not be something that you would normally include in a pot of soup.  That is one of the things that made me want to try this dish.
red lentil, kumara and coconut soup (recipe from August/September 2010 issue of dish magazine)
makes 8 cups of soup, serves 6 – 8
Ingredients
3 tablespoons olive oil
1 onion, finely chopped
1 carrot, finely chopped
2 cloves garlic, crushed
sea salt
1 tablespoon grated fresh ginger
1 tablespoon black or yellow mustard seeds
2 teaspoons Madras curry powder
1 x 400g (14ozs) tin crushed Italian tomatoes
400g (14ozs) kumara, peeled and diced into 2cm (1 inch) pieces
2 apples, peeled, cored and diced into 2cm (1 inch) pieces
½ cup (125ml) coconut cream
4 cups (1 litre) chicken or vegetable stock
¾ cup (150g/5.3ozs) red lentils
to serve
¼ cup chopped coriander plus extra for garnish
½ cup long thread coconut, toasted
extra coconut cream
Preparation 
Heat the olive oil in a large saucepan.  Add the onion, carrot and garlic with a good pinch of salt, cover and cook gently until the vegetables are tender.
Add the ginger, mustard seeds and curry powder and cook for 2 minutes.  (Add a splash of water if the pan is dry).  Add the remaining ingredients, season and simmer, partially covered, for 20 – 25 minutes until the kumara is tender.
To serve, stir the chopped coriander into the soup and ladle into warm bowls.  Top with a drizzle of coconut cream, toasted coconut and coriander
My tips/alterations:  *This is a relatively simple meal to create.  The only thing that I would say is to be careful that you do not burn the spices when you add them as they will become bitter.  *Also use a curry powder that you like as this will change the overall flavour of the dish.  *For a vegertarian version use  vegetable stock.
ease: 9/10.  Chop a few ingredients and throw them into a pot, what could be simpler.
prep time: 10mins.  
cooking time: 40mins.
total: 50mins.
taste: 9.5/10.  I loved this meal.  The colours and smell were absolutely gorgeous and both made us want to dive straight in.  It was hearty yet light and had so many different flavours that danced over the palate in the most harmonious way.  It made us feel like we were being very healthy.  Even my little carnivore loved it and only deducted half a point because it didn't have any meat. 🙂
would I make it again:  I already have!