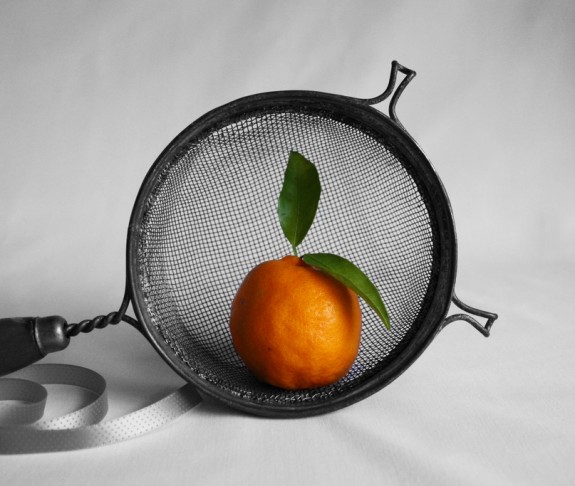 In some of my previous posts I have mentioned the generosity of friends and colleagues when it comes to serving my passion for cooking.  Several of them grow their own fruit and vegetables and often I am the fortunate recipient of any excess goods that they may have.
One of my friends from the office, Greg S, is lucky enough to have a small orchard on his property and he works hard to cultivate wonderful produce.  His generosity is appreciated by many people within the office and especially by me.  His latest donation to my cause was some gorgeous mandarins picked from the tree the evening before I received them. 
I must confess that I have not used this particular citrus fruit many times in my cooking adventures so a little research was necessary.  During the search I honoured my commitment to try and use cookbooks before turning to the internet but there was nothing that suited my purpose.  Given the source of the key ingredient I wanted to make something that I could share with others in the office, to show my gratitude and highlight Greg's skill in tending his wares.  I also didn't want to have to boil fruit for several hours or use too many complicated processes.  So after trawling the wealth of information known as the world wide web I finally settled on a recipe that used the fresh fruit segments in a simple way.  It came from a website that I had never heard of which is something that I love about finding new things to bake.  The Mountain Mandarin Growers are located in California and have been growing this variety of fruit for over 50 years.  Their website provides some unusual recipes such as 'Cucumber and Mandarin Orange Salad', 'Honey Ham with Mandarin Oranges' and my personal favourite, 'Mandarin Madness Milkshake.'  I chose something a little simpler and more mainstream, I hope you enjoy it.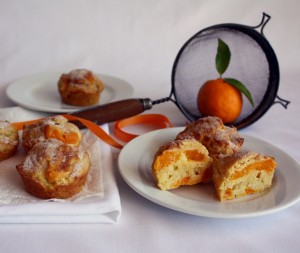 mandarin muffins (recipe from Mountain Mandarin Growers Association adapted by Fiona at Food 4 Thought)
makes 12
Ingredients 
300g (11 ozs) fresh mandarins to yield 250g (8.8 ozs) segments
1 ½ cups plain (all-purpose) flour 
1 ¾ teaspoon baking powder  
½ teaspoon salt 
¼ teaspoon ground nutmeg 
¼ teaspoon allspice 
½ cup castor sugar  
85g (3 ozs) unsalted butter, melted and cooled slightly 
1 egg, slightly beaten  
½ cup (125 ml) milk 
Topping
2 tablespoons butter, melted
2 tablespoons castor sugar with ½ teaspoon cinnamon added
 
Preparation  
Preheat oven to 180°C (350°F/Gas 4). 
Peel mandarins, remove any pith and threads then gently remove seeds.  Place segments in a bowl and set aside.  In a separate large bowl, mix flour, baking powder, salt, spices and sugar.  Add mandarin segments and mix lightly.
Combine the melted and cooled butter, lightly beaten egg and milk in a jug and whisk to combine.   Add to flour mixture and stir until all ingredients are just combined.  Spoon into greased muffin pan to about 3/4 depth and bake for 20 to 25 minutes or until a skewer comes out clean.
Remove from pan and while still a little warm brush with melted butter, then sprinkle generously with cinnamon sugar mixture.
My tips/alterations:  *I choose to change the recipe slightly to try and lighten the mixture as I thought the original might be too heavy.  The changes I made seemed to work well.  *Don't overmix the batter as this can make the mixture become tough once it is cooked.  You should stir it until all the ingredients are just combined.  Lumpy batter is okay.  *The mandarins have a slight bitterness when they are cooked but the cinnamon sugar balances that out.  It also gave the top a nice crunch. 
ease: 9/10.  Simple melt and mix method.  The hardest part was peeling the mandarins. 
prep time: 30mins + 5mins to decorate. 
cooking time: 25mins.
total: 60mins.          
taste: 8/10.  These weren't as light as I would have liked, however they were extremely tasty.  The recipe highlighted the mandarin flavour and the sugar topping balanced it perfectly. 
would I make it again:  Maybe.  But only if I had excess mandarins.