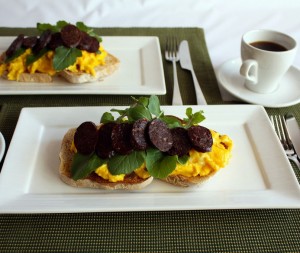 Breakfast is one of my favourite meals and I love trying to cook different things at home as well as we when eat out.  We don't tend to eat out too often (because we think we eat well at home :)) but when we do it is often for breakfast.  We have tried a few places and one of our very favourites is Sayers Food in Leederville (Western Australia).  I have written about another breakfast there that inspired me to attempt to recreate their Banana chocolate bread.
We recently had breakfast with our good friend, M, and the boys decided upon the scrambled eggs with spicy Italian sausage and spinach drizzled with a balsamic glaze.  Sounds delicious, right?  Well let me tell you, I think I was lucky to even be able to get a taste as it was wolfed down rather quickly with several muffled, mouthful comments of "this is really good" being expressed.  And I could understand why.  Firstly, I have always sincerely appreciated the scrambled eggs at Sayers, they just get them right every time and I tend to judge a cafe on their coffee and scramble.  Secondly, the balance of the dish was spot on.  Light and fluffy scramble with crunchy, spicy sausage, the heavy, iron flavour of the spinach and the sweetness of the balsamic glaze all worked in harmony to create a wonderful meal.
So I guess you can see why I was inspired to try and recreate this dish at home.  Although nothing is ever quite the same at home for several reasons.  I don't have a commercial kitchen in my house, nor do I have a sous chef to assist me with the preparation, and the big one, I'm not a qualified chef!  However, I knew that starting with the freshest, best quality ingredients that I possibly could would go a long way to helping me create something memorable.  So here is a rundown of what I used in my breakfast.  The eggs were free range and came from a friends family, the 'sausage' came from our recent trip to the Venison Farm in Margaret River, the rocket was grown in our garden and I made the sourdough bread myself. 
So here is what I made with these wonderful ingredients.
'sausage' and scramble (recipe by Fiona at Food 4 Thought)
per person – serves 1 
Ingredients
60g (2ozs) venison chorizo (or any other sausage you like)
2 slices sourdough bread
3 eggs  
1 (scant) tablespoon thick (35%) cream  
pinch sea salt   
1 teaspoon butter
½ teaspoon olive oil
15g (0.5ozs) rocket/baby rocket leaves
Preparation
Preheat two medium frying pans over medium heat.  Slice chorizo into thin slices on an angle.  Place slices into a dry pan and cook until slightly crisp, turn and repeat on other side.  Once cooked, remove from pan, drain on paper towel and keep warm.
In the meantime, cook bread as desired.
Place eggs into a large bowl and whisk to just break up the eggs and whites but not combine them completely.  Add cream and salt then gently whisk to fold through the eggs.  In the second frying pan, add butter and oil and allow to heat a little.  Pour egg mixture in and leave if to set a little.  When you can see it is just set on the bottom and the top is still liquid, drag a spatula or spoon from one side of the pan to the other, turning the eggs over as you do so.  Continue this process until the eggs are cooked as you like them.* 
Place the toast onto a serving plate, top with the eggs then the rocket and finish with slices of chorizo.
My tips/alterations:  *I chose to use venison chorizo because I didn't have any sausage.  The venison is also lower in fat than other meats so this makes the breakfast slightly healthier.  You can use whatever you prefer.  *As you can see by the photos there is also a distinct lack of balsamic glaze.  I did make it by reducing balsamic vinegar and a small amount of sugar but forgot to put it on the dish until we were halfway through eating it.  When we did try it with the glaze we both agreed that because of the lack of the iron flavour from the spinach to balance out the sweetness of the glaze the dish was nicer without it.  *You can bake the chorizo if you prefer by placing it on a lined oven tray and baking it in a 180°C (350°F/Gas 4) oven for about 7 – 10 minutes.  *I like my eggs to be light and fluffy, and the cream certainly assists in making them that way.   I also like the yolks and whites to be a little separate with a preference for my eggs to be a little under cooked rather than over cooked.  Remember, when you cook eggs they will continue to cook even after you have removed them from the heat and even from the pan.  Overcooked eggs equals rubbery scramble. 
ease: 7.5/10.  There is nothing too difficult about each element but getting the timing right can be challenging as can the eggs. 
prep time: 10mins. 
cooking time: 10mins.
total: 20mins.          
taste: 8.5/10.  We both really enjoyed this, although I did over cook the chorizo a little.  The lack of glaze didn't affect the flavour and I probable did us a favour by forgetting to put it on.   
would I make it again:  I already have. I make us a version of scrambled eggs most weekends.  I think I will try different sausages next time just for fun.