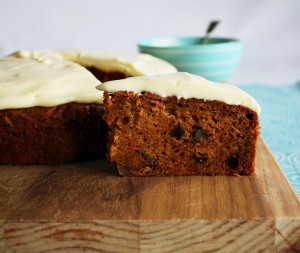 When we go over to friends for a casual dinner they will sometimes allow me to bring dessert.  I love being able to make things that I know they love.  Recently, Aunty J invited us for Friday night pizza so I insisted on providing the sweet treat to follow our main and she was happy for me to do so.
I knew that one of her favourite sweet treats is carrot cake.  I have made one for her previously and she said it was the best she had tasted so I decided to use the same recipe.  It comes from someone that many foodies around the world would recognise but I don't tend to cook many of her recipes.
When I am teaching my classes some participants ask who my favourite celebrity chef is.  My response is always the same.  I don't have a particular favourite, I think they all serve a purpose and have a following and that variety is always good.  This answer is not because I am trying to be diplomatic but rather it is the truth.  The chefs I admire tend to be those generally unheard of, those who achieve in their own city and write the odd cookbook or two but that is about it.  I know there are some people out there who are religious followers of one or two chefs and only cook from their books/magazines and that is great if that is what they like to do.  I just like to try and find things that others may not.
Back to this recipe.  It is from Donna Hay, or at least from her recipe book, Classics 2. 
carrot cake with cream cheese frosting (recipe from Donna Hay)
makes 22cm (8 – 9inches) round cake 
Ingredients
Carrot cake   
1¼ cups (220g/7 ¾ozs) brown sugar   
¾ cup (185ml) vegetable oil*   
3 eggs  
1½ cups (225g) plain (all-purpose) flour  
1½ teaspoons baking powder  
1 teaspoon bicarbonate of soda (baking soda)
1 teaspoon ground cinnamon
½ teaspoon ground ginger
2 ½ cups (300g/10.5ozs) grated carrots (about 5)
½ cup (60g) chopped pecan nuts
½ cup (80g) sultanas     
Cream cheese frosting  
250g (8.8ozs) cream cheese, softened  
⅓ cup (110g) icing (confectioner's) sugar, sifted* 
1 ½ tablespoons lemon juice 
Preparation  
Preheat oven to 180°C (350°F/Gas 4).
For the carrot cake, place the sugar and oil in the bowl of an electric mixer and beat for 2 – 3 minutes.  Add the eggs gradually and beat well.  Sift the flour, baking powder, bicarbonate of soda, cinnamon and ginger over the sugar mixture.  Add the carrot, pecans and sultanas and mix until just combined.  Pour into a greased 22cm (9inch) round cake tin lined with non-stick baking paper and bake for 55 – 60 minutes or until cooked when tested with a skewer.  Cool in tin.
For the cream cheese frosting, process the cream cheese in a food processor until smooth.  Add the icing sugar and lemon juice and process until smooth.  Spread frosting on the cooled cake.
 
My tips/alterations:  *I choose to use less sugar and oil in my cake to make it that little bit healthier.  My measurements were 200g (1 cup) brown sugar and 167ml (2/3 cup) of oil.  The cake came out less oily than a normal carrot cake but was still quite moist.  I would make it this way again.  *When I made the icing I put the icing sugar in the food processor first and pulsed it to break up the lumps, that way it does not need sieving.  *I cooked the cake in a 21cm pan at 170°C for 55 minutes in a fan-forced oven. 
ease: 9/10.  Basic cake method and a food processor makes light work of the icing. 
prep time: 30mins. 
cooking time: 55mins.
total: 1 hour 15mins.          
taste: 9/10.  I love this carrot cake.  The pecan nuts and sultanas give it a textural and flavour difference and the carrots that I used were extremely sweet so the flavour that came from them was delicious.  The cream cheese frosting is divine and the little bit that was let in the bowl disappeared very quickly. 
If you make this to take to friends I am sure you won't have any to bring home :).  
would I make it again:  Yes.  It is Aunty J's favourite, so I am sure it will be made again and again.  Besides, it is so easy, why wouldn't I.