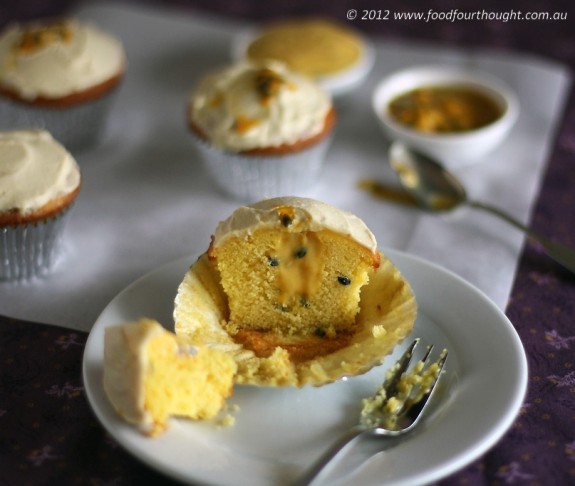 Cooking with seasonal ingredients is something I always try to do.  It gives our dishes the best possible flavour because the produce is at its peak when it is in season.  It also means that we can (generally) source items from our local area.
This was one of the things I considered when choosing a business name. There are 4 seasons that we use as a planting guide for produce and for setting menus and my cooking classes always have 4 courses.
Hence "Food 4 Thought".  But I digress, back to our seasonal produce.
Recently I delivered a machine to a lovely couple, very excited to receive their new "kitchen hand".  As I was leaving I noticed a large bag of passionfruit by the front door.  I mentioned how lucky I thought they were and that I hoped they were going to put them to good use.  To which the reply was "Would you like them?"  Trying to cover my absolute joy, I asked "Are you sure?".  After hearing how their vine had been prolific and many had been passed on and too many consumed, I didn't ask again and left looking like a kid who had just raided a candy store.  (Thanks so much Sonia and Adam).
So what is one to do with a bag full of passionfruit?  Why Passionfruit Curd of course!  It was easy and delicious.
Then one of my gorgeous friends offered me more fresh passionfruit.  Not being one able to ever turn away free organic home-grown produce of course I said yes.  (Thanks Cherie!).  So what next?  Passionfruit Cupcakes.
Adapting recipes to the Thermomix is easy.  What recipe have you adapted?  Leave me a comment below or on my FB page.
passionfruit cupcakes – (recipe adapted by Fiona at Food 4 Thought from here).
makes 12 cupcakes
Ingredients
150g sugar
170g butter, softened
200g self-raising flour
½ teaspoon baking powder
1 teaspoon vanilla extract
3 eggs
100g passionfruit pulp (6 – 12 passionfruit – depending on size)
Preparation
Preheat the oven to 160°C with the fan on (or 180°C for non fan-forced oven).  Line and/or spray a 12-hole, 1/3 cup-capacity muffin pan with paper cases.
Add sugar to TM bowl and mill for 3 seconds on speed 9.
Scrape down sides of bowl, add remaining ingredients and mix on reverse for 20 – 30 seconds on speed 5.
Divide mixture between cases.  Bake for 20 minutes or until golden and a skewer inserted in centre of one cake comes out clean.  Stand in pan for 5 minutes. Transfer to a wire rack to cool completely.  Decorate as you wish.
buttercream icing – (recipe adapted from original by Alyce Alexander from "Quick Fix in the Thermomix").
makes approximately 4 cups
Ingredients
400g raw sugar
340g butter
2 teaspoons vanilla extract
Preparation
Add sugar to TM bowl and mill for 2 minutes on speed 9.
Scrape down sides of bowl, add butter and chop for 5 seconds.  Cream butter for 15 seconds on speed 5.  *I used room temperature butter so skipped the chopping and creaming stage.
Turn dial to speed 2 and begin adding sugar, 1 tablespoon at a time.  Scrape down sides of bowl as necessary.  As the mixture begins to thicken with more sugar being added, increase the speed to 3 and then to 4.   Once all the sugar is added, mix at speed 4 for 30 seconds or until the mixture is creamy.
If texture is too soft to spread or pipe, refrigerate for 15 minutes.
My tips/alterations: CUPCAKES – *Don't overcook these cupcakes as they will dry out too much.  *This recipe is so easy and could have other fruit or flavour added instead of the passionfruit.  *I used reverse to mix the cupcakes so that the passionfruit seeds weren't broken up.  *I used a mini ice-cream scoop to ensure the mixture was divided evenly between the cases.  You can use anything you like so long as it is equal in each case.   BUTTERCREAM – *It might seem excessive to pulverise the raw sugar for that length of time, however, to reach the desired consistency for the icing it needs to be super fine and aerated.  *I used a small amount of what the recipe makes because I decided not to pipe it onto the cupcakes (due to it being 30°C outside and the kitchen being warm) so I stored the remainder in an airtight container in the refrigerator.   When I want to use it again I will mix it on speed 4 until it is smooth again.  *You can add fruit, chocolate or coffee to the icing to make it whatever you want it to be.
You could use the cupcakes with the buttercream and have a wonderful result.  However, being one to always like a surprise when it comes to food, I decided to add a little something extra to the centre of these beauties.  I used an apple corer to make a little well in the centre of each cupcake, then piped in some of the delicious passionfruit curd that I had made recently.  (See below for picture reference).  If you don't have a piping bag, are scared of piping of simply can't be bothered, here are some options.  No piping bag – use a zip lock bag that you would normally store food in and cut off the corner.  Scared of piping – take two teaspoons.  Use one to spoon the mixture into the cupcake and the other to push in gently into the well.

What to do with the little pieces that come out of the cupcakes?  They are like donut holes, delicious to eat on their own. 🙂
ease: 8.5/10.  If you have never filled a cupcake that might be a little tricky.  If you decide to leave it out I would rate this 9.5/10.
prep time: 15mins.
cooking time: 20mins in the oven + cooling time.
total: 35 minutes + cooling time.
taste: 9/10. I love the surprise of the curd and the buttercream icing just finishes these off beautifully.
would I make it again:  Yes.  Whenever I am fortunate enough to have excess passionfruit.