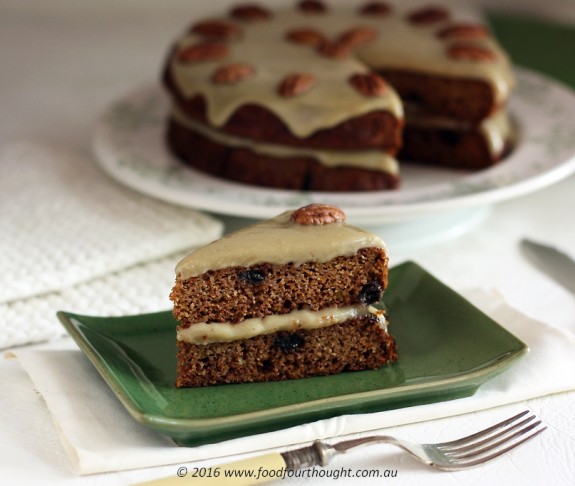 One of the things I love to do most in life is to bake.  When I was (much) younger I used to sit on the bench and help my Mum cream together butter and sugar for the beginning of a cake – by hand of course – mixing it in the bowl with a wooden spoon.  I'm sure the butter would have been made by hand churning the cream (from the family cows) until it split into that gorgeous sunshine yellow and that silky buttermilk.  As I reflect on those times I can't help but think how idyllic that was!
While a few things have changed (I'm too big to sit on the bench, I have found some wonderful healthy and tasty substitutes for butter and sugar, I use a Thermomix to make my own butter

), one thing remains the same.  I still love to bake.  It brings me a sense of relaxation, of joy and a feeling that I'm sharing a piece of my soul to those who taste my creations.  I don't eat desserts or cake that often anymore but when I do it has to be good, otherwise, what's the point!
I like this recipe because the cake isn't too sweet, it is firm enough that you could use it as a celebration cake and decorate it quite easily and it keeps really well.  You can put the icing on at least a day ahead of when it is needed, pop it in an air tight container and leave it in the refrigerator.  It can be for Easter or anytime of the year.  I hope you enjoy this recipe too.
(paleo) Carrot cake and cashew cream frosting – makes 2 x 19cm cakes (recipe by Fiona at Food 4 Thought).
Ingredients
cake 
200g whole almonds (skin on), raw or activated if you like (see notes below) or use 200g almond meal
200g carrots (skin on), washed and chopped into 2cm pieces 0r use the same amount of finely grated carrot
20g (2 Tbls) coconut flour
1 teaspoon ground mixed spice
1 ½ teaspoons ground cinnamon
2 pinches ground rock or pink Himalayan salt
50g coconut oil, melted
4 eggs
100g raw honey or maple syrup
seeds from ½ vanilla pod or 1 teaspoon vanilla extract or paste
1 teaspoon bicarb soda (baking soda)
60g raisins
2 teaspoons fresh lemon juice
frosting
150g raw cashews, raw or activated if you like (see notes below)
60g honey or maple syrup
3 teaspoons fresh lemon juice
50g filtered water (you may need less if you have activated the nuts)
40g coconut oil, melted
seeds from ½ vanilla pod or 1 teaspoon vanilla extract or paste
1 pinch ground rock or pink Himalayan salt
Preparation
Line 2 x 19cm round cake tins with non-stick paper.  Preheat the oven to 180°C (170°C fan-forced).
For cake, place almonds into TM bowl and chop for 10 seconds on speed 8, to turn them into almond meal.  Scrape around sides of mixing bowl with spatula. Add carrots and chop for 3-4 seconds on speed 6 or until chopped finely. Add remaining ingredients and mix for 15 seconds on reverse, speed 3 or until combined.  Pour into prepared tins and level with a spatula.
Bake for 20 – 25 mins (depending on your oven) or until a skewer inserted into the centre of the cake comes out clean.  Once baked, remove from tin and cool completely on wire rack before frosting.
For frosting, place cashew nuts into TM bowl chop for 10 seconds on speed 8.  Scrape around sides of mixing bowl with spatula. Add all remaining ingredients into TM bowl and mix for 20 – 30 seconds on speed 4 or until well combined and smooth.  Scrape around the sides of the bowl and repeat if necessary.  Pour frosting over each cake, assemble as you like and place into fridge until needed.
Decorate with whatever you like.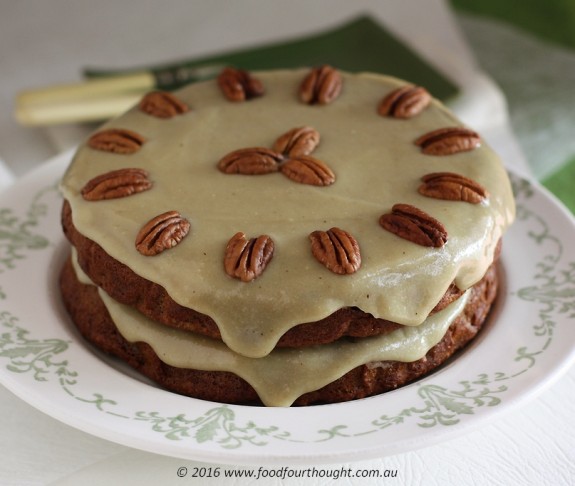 My tips: *You could make this in one 22cm cake tin then cut it once it is has cooked and cooled however it will be a little denser.  You would need to cook it for 45 – 55 minutes depending on your oven.  *You can add a handful of walnut pieces to this batter if you like.  *If you don't have raisins you can substitute sultanas.  *During winter coconut oil will solidify.  The easiest way to melt it is to loosen the lid of the jar slightly then run the sides of the jar under hot water.  It will melt quite quickly.  *I activate nuts by soaking them for around 5 hours and rinsing them.  You can use them straight away  If you want them crunchy again, roast them (low and slow) in the oven.  This process decreases levels of anti-nutrients such as phytic acid.  You can find some more information here and lots of other places on the net.
ease: 8.5/10.  This is as easy as any other cake I've made.
prep time: 10 minutes 
cooking time: 25 minutes 
total: 35 minutes + cooling time and assembly
taste: 9/10 This was (it went pretty quickly) delicious.  Even my non-paleo friends decided this was "pretty good" for a healthy cake (and they went back for seconds).

would I make it again:  Absolutely.  Especially if I need a cake to decorate for a special occasion.