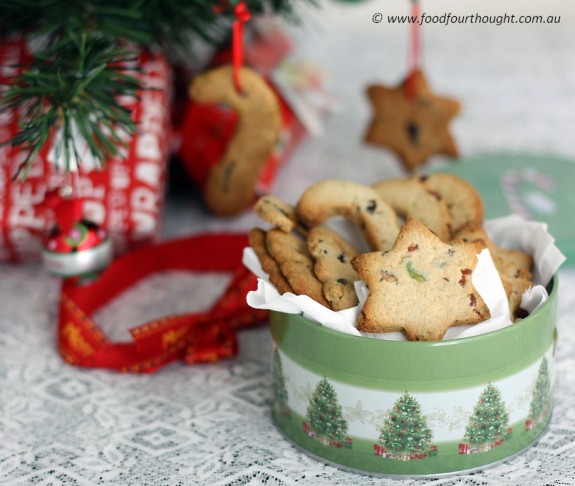 Shortbread is one of the treats I enjoy and following a paleo lifestyle doesn't mean I miss out.   I love the rich buttery taste and the slightly crumbly texture that almost melted in your mouth yet still had a little crunch.  That is exactly what I wanted from this recipe and I think I've got there.  After a few trials that I had to taste test (the hardest job of all) I hope you enjoy this recipe.
Whether it is a last minute gift idea or for your own pleasure, you should try these.
(paleo) Cranberry and pistachio shortbread– makes approx. 24 (recipe by Fiona at Food 4 Thought).
Ingredients
50g pistachio
220g blanched almonds, raw or activated if you like (see notes below) or use 220g almond meal
60g coconut oil, melted
40g maple syrup or honey
30g coconut sugar
30g tapioca flour
20g coconut flour
seeds from ½ vanilla pod or 1 teaspoon vanilla extract or paste
2 pinches ground rock or pink salt
25g unsweetened dried cranberries
Preparation
Line 2 x baking trays with non-stick paper.  Preheat the oven to 170°C (160°C fan-forced).
Place pistachio nuts into mixing bowl and chop for 3 sec / speed 5, remove from bowl and set aside.
Place almonds into mixing bowl and chop for 10 sec / speed 8, to make them into almond meal.  Scrape around sides of mixing bowl with spatula.  If coconut oil isn't melted, remove almond meal from bowl and set aside.
If coconut oil is melted, skip this next step.  Add coconut oil to mixing bowl and heat for 2 min / 90°C / speed 1 or until melted.
Add remaining ingredients (including pistachios) to mixing bowl and mix for 15 sec / speed 3 or until combined.  Layout a 40cm piece of cling wrap and scrape mixture into centre.  Flatten until mixture is approx. 2cm thick, wrap and place in freezer for 10 minutes.
Once chilled slightly, remove mixture from freezer and divide in half.  Rewrap one half and place in the fridge.  For the other half, layout a 40cm piece of baking paper and place an extra 40cm piece of cling wrap (or baking paper) on top.  Place the mixture in between the paper and cling.  Use a rolling pin to roll out to 8-10mm thick.  Cut out desired shapes and place onto lined tray.  Press the off cuts or mixture together, wrap in cling and place in fridge while rolling out the second half of the dough.  Remove second half of dough from the fridge and place between paper and cling and repeat rolling and cutting out process.  Combine all off cuts of mixture and repeat rolling and cutting out process until all dough is used.
Once shortbread are on trays, place into freezer for 10 minutes (*If you don't have time to do this see my tips below).  Once chilled, place into pre-heated oven and bake for 12 – 15 mins (depending on your oven) or until golden.  Once baked, remove from oven and cool for 15 minutes on tray then transfer to a wire rack to cool completely.
Store in an airtight container in fridge for two weeks or freeze for up to 6 months.  Give these as a gift or serve to guests.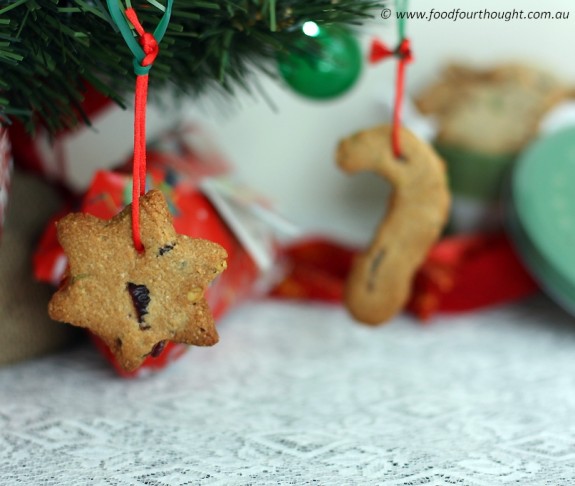 My tips: *If you feel the off cuts are becoming too difficult to work with, wrap in cling and place in freezer for 5-10 minutes to chill then continue.  *I used a 6cm diameter round cutter for my shortbread but anything will work.  *If you don't have time to place the cut out shortbread in the freezer before cooking, you can place them straight into the oven and cook them for 8-10 minutes.  They will spread a little more and will have a slightly chewy texture but they are still delicious. *You can also substitute the coconut sugar with extra maple syrup.  You might find the texture is not as crumbly.  *During cooler months coconut oil will solidify.  The easiest way to melt it is to loosen the lid of the jar slightly then run the sides of the jar under hot water.  It will melt quite quickly.  *I activate nuts by soaking them for around 5 hours and rinsing them.  You can use them straight away  If you want them crunchy again, roast them (low and slow) in the oven.  This process decreases levels of anti-nutrients such as phytic acid.  You can find some more information here and lots of other places on the net.
ease: 8.5/10.  This is as easy as any other shortbread I've made.
prep time: 40 minutes (including chilling time)
cooking time: 15 minutes 
total: 55 minutes + cooling time
taste: 9/10 The feedback I got for these was wonderful.  One of my friends even wanted to buy some to give as a gift 

would I make it again:  Absolutely.  Especially if I need a quick treat to share with friends.