Time flies when you're having fun!  I recently realised that a very important date had passed without my acknowledgement.  Just over one year ago I decided to give Food 4 Thought an online presence including my blog.  The reason I started blogging was to not only share my cooking experiences but also in the hopes of inspiring others to spend more time in their kitchen.  From the feedback I have received I am beginning to achieve my goal as more readers use my recipes, ask questions and send great comments. 
Acknowledging such an auspicious occasion called for something decadent, delicious and completely celebratory.  I knew that I wanted to use dark chocolate and Frangelico and to make some kind of cake.  So on went my thinking cap and my research hands went to work.
What evolved was a deliciously moist, rich cake that is fit for any celebration.
I've loved every minute of sharing my cooking, eating and travel experiences and have learnt so much from some incredible people.  Thank you all!
chocolate and hazelnut celebration cake (recipe by Fiona from Food 4 Thought)   
serves 10
Ingredients
295g (10½ozs) peeled and toasted hazelnuts 
365g (13ozs) plain flour
2½ teaspoons baking powder  
50g (1¾ozs) Dutch cocoa powder 
6 large eggs, at room temperature 
450g (1lb) caster (superfine) sugar
295g (10½ozs) unsalted butter, melted and cooled 
120ml (4flozs) milk  
75ml (3flozs) Frangelico   
95g (3½ozs) dark chocolate, minimum 70% cocoa solids, finely chopped
syrup 
110g (½ cup or ¼lb) caster (superfine) sugar
100ml (3½floz) Frangelico 
25ml (1floz) hot water   
topping
1 level teaspoon cocoa powder 
1 level teaspoon icing sugar  
Preparation

Preheat the oven to 180°C (350°F/Gas Mark 4).  Butter and lightly flour the sides of a 25.5cm (10 inch) round loose-bottomed springform cake tin, line the base of the tin with parchment paper. 
Using an electric mixer beat the eggs and sugar for about 10 minutes until very thick and mousse-like.  Meanwhile, put the hazelnuts, flour, baking powder and cocoa in the large bowl of a food processor and blitz until finely grind.  In a separate bowl or jug whisk together the butter, milk and 25ml (1floz) of the Frangelico.
Once the eggs and sugar are ready lightly fold in the whisked butter mixture using a large metal spoon.  Then repeat with the nut-flour mixture.  Finally, fold in the chocolate.
Pour the mixture into the prepared tin, smooth the top and bake on the middle shelf of the oven for 50-60 minutes, or when a fine skewer pushed into the centre of the cake comes out clean.  Remove from oven and leave in the tin while preparing syrup. 
For syrup, place all ingredients into a small saucepan over medium heat and stir until sugar dissolves.  Bring to boil, reduce heat slightly and rapidly simmer for 5 minutes.  Meanwhile, using a fine skewer, spike the cake all over the top to create holes so that the syrup can be absorbed into the whole cake.  When syrup is ready, remove cake from the tin and place (right way up) on a cooling rake.  Place a plate or tray underneath the rack to catch any excess liquid.  Slowly pout the syrup all over the cake making sure that you cover the edges also.  Allow the liquid to absorb into the cake before serving.
If there is any excess syrup on the tray you can pour it over the cake when serving.  For topping, combine the ingredients and sprinkle over the cake.  Serve with whipped cream and caramel dipped hazelnuts (recipe below) if you desire.
My tips/alterations:  *When processing any nuts you need to be careful that you don't over process them or they will become oily and clump together.  By blitzing the nuts with the other ingredients this helps prevents that.  *Folding is a technique used to keep air into a mixture which keeps the cake light.  *This cake can "soufflé" a little during cooking then sink back once cooled.  This means that the top of the cake will be cracked.  If you want to prevent this from happening, lower your oven temperature by 10 or 20 degrees and cook the cake for longer.  Because this is a slightly dense cake you need to make sure it is cooked in the centre by using the skewer test.  *The syrup is optional but it does make the cake really moist and it will also keep for longer.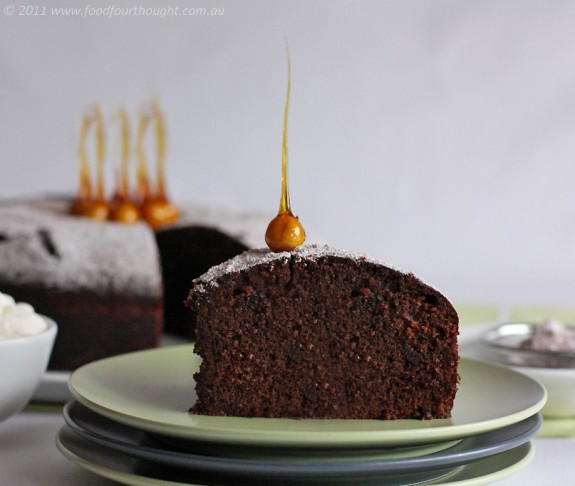 ease: 7.5-8/10.  Not that difficult, just a few different elements.
prep time: 15mins.
cooking time: 60mins plus cooling
total: 1 hour 15 mins plus cooling
taste: 10/10.  This was a winner.  It was lusciously moist, rich with dark chocolate and laced with Frangelico.  We served it with a generous dollop of cream and a cup of coffee.  It was just as delicious the next day. 
would I make it again: Yes it is perfect for any celebration.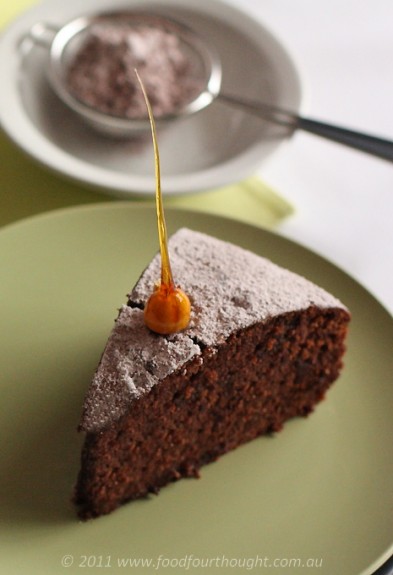 caramel dipped hazelnuts (recipe by Martha Stewart adapted by Fiona from Food 4 Thought)   
makes 20
Ingredients
20 hazelnuts, toasted and skinned   
2 cups sugar
½ cup water 
bamboo skewers
Preparation
Gently insert pointed end of a skewer into the side of each hazelnut.  Place a chopping board along the edge of a bench; place newspaper on the floor, directly below the board.
Prepare an ice-water bath.  Heat sugar and the water in a heavy saucepan over medium heat, stirring occasionally, until sugar is dissolved and syrup is clear.  Stop stirring; cook until syrup comes to a boil, brushing down sides of pan with a wet pastry brush to prevent crystals from forming.  Continue to boil, gently swirling occasionally, until medium amber in colour.  Plunge pan into the ice bath to stop the cooking; let stand until thickened, 5 – 10 minutes.  (To test: Dip a skewer in caramel and lift a few inches; if a thick drip slowly forms and holds a string, the caramel is ready.)
Dip a skewered hazelnut into caramel, letting excess drip back into pan.  When dripping syrup becomes a thin string, secure opposite end of skewer under the board.  Repeat with remaining hazelnuts.  (If caramel hardens before all hazelnuts have been dipped, rewarm it over low heat.)  Let stand until caramel string has hardened, about 5 minutes; break each string to desired length.  Carefully remove skewers.  Candied hazelnuts should be used the same day; store, uncovered, at room temperature.
My tips/alterations:  *Make sure that the caramel is a medium amber before removing it from the heat.  If it is not cooked enough it will not harden preperly.  *The ice-water bath is important to stop the cooking as quickly as possibly otherwise the caramel is likely to burn and taste bitter.
ease: 7/10. 
prep time: 15mins.
cooking time: 15mins plus cooling
total: 30 mins plus cooling
taste: 7/10.  These had a great flavour and went really well with the cake but I found that my caramel didn't harden enough and they went soft quite quickly.  
would I make it again: Maybe but they were a bit fiddly.  I would probably just roll them in caramel and not make the tail.