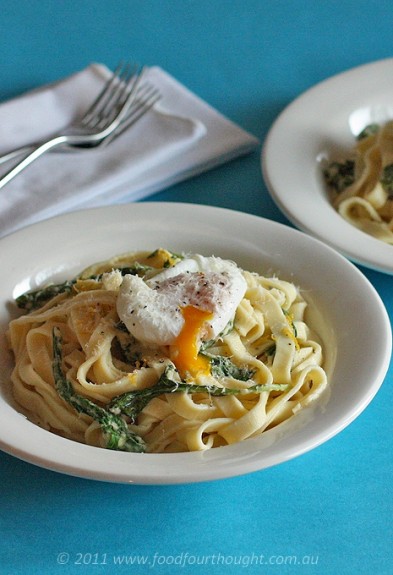 Sunday evenings are when we usually like to relax at home, especially if we've had a busy weekend working on projects or out socialising.  This weekend I've been working around the house partially completing my annual spring clean (which I should have done months ago) and G has been dedicated to his cars.  So we both felt like we need something easy, nourishing and tasty for dinner.
I had seen this recipe in the "Easy Everyday" section of one of my favourite magazines and tagged it for exactly this kind of occasion.  I have been making my own pasta for some time now and know how much G enjoys it so I decided to make some fettuccini. 
I was intrigued to taste this dish as I expected the flavours to work well together.  I also loved the idea of breaking open a freshly poached egg to allow the soft yolk to coat the pasta.  
linguine with lemon, parmesan and soft poached eggs  (recipe from dish magazine adapted by Fiona from Food 4 Thought)   
serves 2 (the original recipe served 4)
Ingredients
200g linguine (or fettuccini) pasta
knob of butter
40g (1½ozs/1 handful) of rocket or baby spinach (or arugula) 
1 teaspoon lemon zest
50ml (2½ tablespoons) lemon juice
75g (½ cup/2½ozs) freshly grated parmesan cheese
2 free-range eggs, poached 
sea salt and freshly ground black pepper
 
Preparation
Cook the pasta in a large saucepan of well salted boiling water until al dente.  Drain, reserving 1/4 cup of the cooking water.  Tip the pasta back into the saucepan with the water, a good knob of butter, the rocket or spinach, the lemon zest and juice and the parmesan. 
Place back over a medium heat and stir until the ingredients combine to form a sauce and coat the pasta.
Season and divide the pasta between warm serving dishes.  Top with a poached egg, a grind of pepper and a little parmesan cheese if desired.
My tips/alterations:  *I altered the method when adding the ingredients and pasta together in the pot.  I placed the water, lemon juice and rind, and the parmesan into the pot and stirred it until it formed a slightly smooth sauce.  Then I added the pasta and finally the rocket.  This meant that the cheese didn't clump together as soon as it hit hot pasta.  *I pre-cooked the poached egg and then just heated it before serving.  I also added crispy batons of pan fried pancetta, because everything is better with bacon. 🙂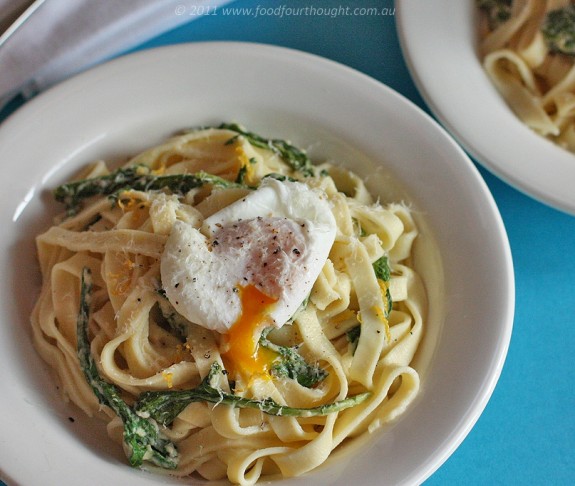 ease: 8/10. 
prep time: 15mins.
cooking time: 15mins. 
total: 30 mins.
taste: 6/10.  This was G's rating. 
The dish itself was quite contentious because G felt that it didn't really work because of the lemon whereas even though I thought it was quite lemony and I enjoyed that.  I also loved breaking into the poached egg and letting the yolk become part of the sauce.  This meal was light and strangely, somewhat refreshing.  It also made me feel healthier for eating it.
G said that without the lemon it would have been ok although found it very different to anything else we had eaten before.  He felt the pancetta added a dimension that the dish needed.
would I make it again: Yes but as I enjoyed it more than G, maybe I'd cook it  for a girls lunch rather than for my man.