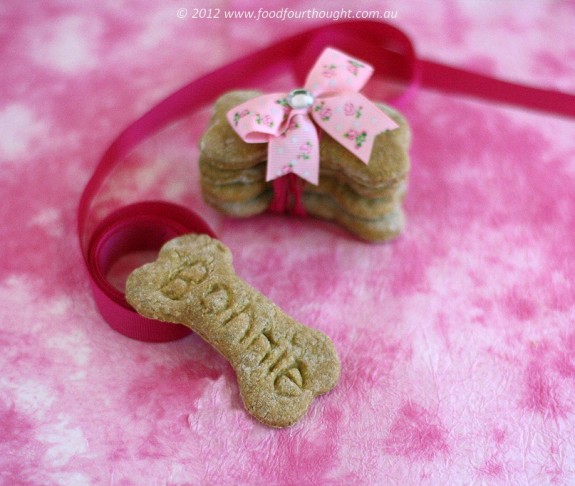 When I think about what we ate before purchasing our Thermomix it was quite different to what we eat now.  At the time I used to think we had quite a healthy diet.  Lots of fruit and vegetables, red meat a few times a week, chicken and never enough fish :).    However after having our beloved "Hermie" for over a year, I have come to realise that what I thought was healthy, actually wasn't so good for us.  We were still consuming a lot of additives and preservatives.
The main reason I say this is because we used to still have store bought basics like tomato sauce, peanut butter, chocolate hazelnut spread, etc and when you start reading the labels on these items there can be several letters and numbers instead of fresh ingredients.
Now I find myself making these things and many more, just because I can.  Soy milk, almond milk, raw vegan shakes, cashew cream, whole wheat sesame crackers, some of these things I've never contemplated making let alone attempted to do so.
That is exactly how this recipe came about.  I started reading the label on the box of biscuits that we buy for our girl (Bonnie the dog) and I thought "if we're eating healthy then so will the dog".  No more fillers and additives for anyone in this family!  So now we also have homemade dog biscuits, which I might add, are totally safe for human consumption and taste really good.  (Yes, I did try them!)
I have you have a special someone to make these for too.
"bonnie" (dog) biscuits (recipe by Fiona at Food 4 Thought) – Designed for the Thermomix BUT you can make these without one.  Just read "My tips".
makes approximately 60 bone shape biscuits
Ingredients
200 – 250g (3 – 4 rashers) bacon, roughly chopped
350g whole wheat grain (or whole wheat flour)
100g rolled oats
100g cheddar cheese, cubed
50g butter
200g water
100g milk
150g cornmeal (polenta)
1 egg
Preparation
Pre-heat the oven to 160°C (325°F/Gas 3).
Add bacon to TM bowl and chop on Speed 5 for 3 – 5 seconds, until desired texture is obtained. Cook at 100°C for 8 – 10 minutes on reverse, soft speed. Once cooked, remove and set aside to cool.
Add whole wheat grain to TM bowl and mill on Speed 10 for 30 – 45 seconds depending on the desired texture.
Add cheese and oats to TM bowl and mill on Speed 7 for 5 seconds.  Set aside with milled wheat.
Add butter, water and milk to TM bowl and heat at 60°C for 2 minutes on speed 1.  Once complete, add milled wheat, oats, cheese, cornmeal and egg to TM bowl and mix on speed 6 for 5 – 10 seconds (by slowly turning dial from 1 – 6) until just combined.  Add bacon and mix for 5 – 10 seconds on reverse until completely combined.
Tip bowl upside down onto Thermomat and turn base of blade to release mixture.  If mixture is slightly wet leave to stand for 5 minutes before rolling out.  Roll out (with rolling pin) to 1/2 cm thickness and cut into desired shape.  Place on lined baking tray and bake for 40 – 45 minutes.  Cool on wire rack.
My tips/alterations: *If you don't have a Thermomix, use wholewheat flour instead of the grain.  You can also substitute the oats for an extra 100g of flour if you like.  You could cook the bacon in a frying pan as you would normally, allow it to cool, then crumble it into small pieces.  Grate the cheese as you would normally.  Then you can just mix it all together and rolll it out as instructed.  *You could add chopped carrots, spinach or corn to these for something a little different.  See my Puppy Treats recipe for other tips.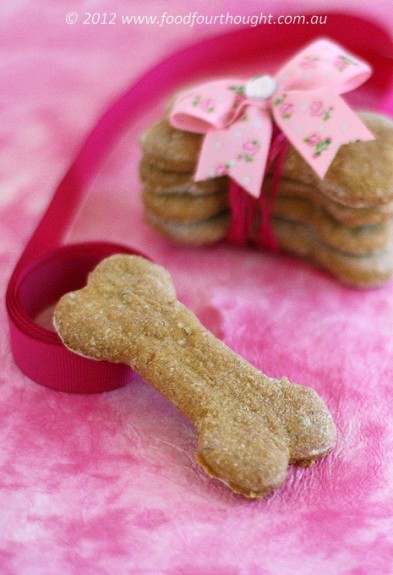 ease: 7.5/10. The fact that these are made from whole ingredients makes it more challenging but the TM makes it easy.
prep time: 15mins.
cooking time: 45mins plus cooling
total: 1 hour plus cooling
taste: 8/10. These are hard to rate as I've never eaten dog biscuits before :).  Bonnie seems to love these.  Whenever she sees one she begs to have it asap.
would I make it again: Yes.  Not a lot of work to achieve a healthy alternative.