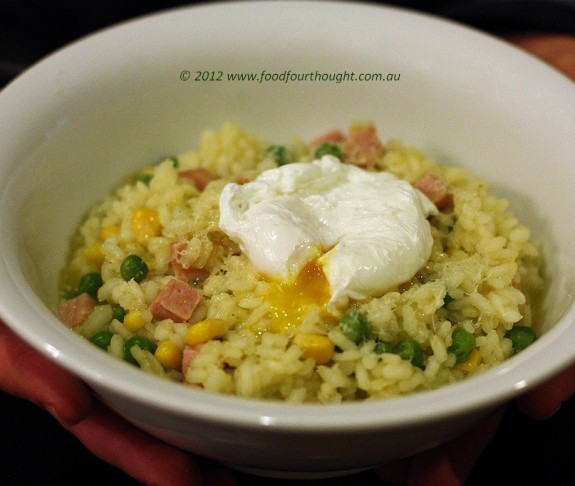 When some of my friends first  found out that I had purchased a Thermomix, they couldn't quite believe it.  They felt that I was such a "cook" that I would love the process of cooking and not want to "cheat".  I must say, I don't feel that using the Thermomix is cheating.  Many amazing chefs use this incredible machine everyday to create fabulous food and they are still regarding in the highest esteem among their colleagues.
Besides, the process of cooking is something I enjoy, when I have 5 hours to spend in the kitchen.  But lets face it, we are all a little "time poor" these days so that doesn't happen very often, at least not for me.
One of the major reasons I bought my Thermomix, even though I already had ever other kitchen appliance known to man, was that none of my other amazing (and expensive) machines would allow me to put ingredients into them, set a program, walk away and come back to a complete, healthy, cooked meal in under 30 minutes.
Before this little gem had a home on our bench we never ate risotto.  Not that we didn't enjoy it, more that it took too long and was too much effort to make.  Now we have it in many different forms, whenever we want to.
This recipe came about because we were given a delicious leg of ham for Christmas (thanks Jenn!) and (as you do) we had some left over.  It was one of those nights (you know the kind I mean) when you either need to spend minimal time in the kitchen or you'll opt for calling the local take-away.  So this was what came out of our kitchen instead. 🙂
It can be even easier without the egg but when I was creating it, all I could think about was Dr Seuss's "Green eggs and ham"  I had the green peas and ham so I added an egg.  Besides, I've done this before with a pasta dish and it was delicious.  I hope this helps you avoid take-away too.  🙂
green pea, ham and corn risotto topped with a poached egg (recipe by Fiona at Food 4 Thought) – Designed for the Thermomix BUT you can make this in a pan like any other risotto.
serves 6 – 8
Ingredients
50g Parmesan cheese, cubed
1/2 brown onion, quartered
1 garlic clove, peeled
10g olive oil
360g Arborio (or short grain) rice
100g white wine
200 – 250g thick sliced ham, cubed (to approximately same size of peas and corn)
2-3 tablespoons TM stock concerntrate
1000 – 1100g water
170g frozen peas
170g (drained) tinned corn
Preparation
Place Parmesan into TM bowl, grate for 5 seconds on speed 7.   Transfer to a bowl and set aside.
Place onion and garlic into TM bowl and chop for 3 seconds on speed 7.  Add oil and sauté for 5 minutes at 100°C on speed 1.
Add the butterfly, then add rice and wine, sauté on reverse for 2 minutes at 100°C on speed soft.
Add ham, stock and water, cook for 16 minutes at 100°C on reverse, speed soft.  5 minutes before the end of cooking, add the peas.  Use the spatula to push them into the rice mixture.  (Meanwhile, cooked poached egg to your liking)  Once cooking has finished, pour the risotto into the TM serving bowl, stir through the corn and as Parmesan to taste.   Adjust seasoning as you like, cover and let stand for at least 5 minutes before serving.
Serve topped with a soft poached egg.
My tips/alterations: *If you don't have a Thermomix, you can make this in the normal way that you would make risotto.  *You can substitute the ham for bacon if you prefer.  *If you want it to be even simpler, you can leave out the egg, although I think it is worth the effort.  *Resting the risotto in the TM server means that it will retain its heat very well and the consistency can change.  Make sure that you check it occasionally so that you can devour your meal when the desired consistency is reached.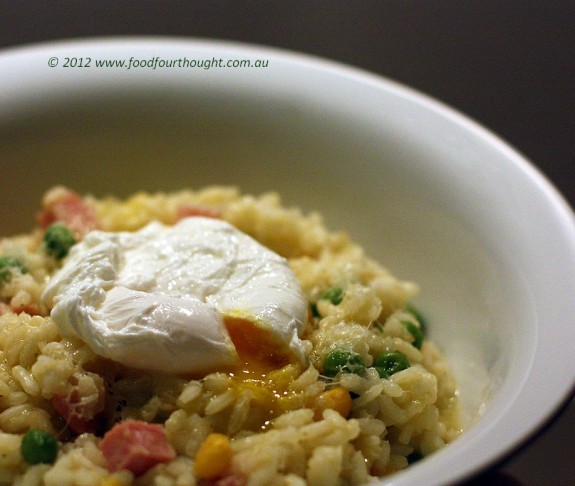 ease: 9/10.  So much easier than a pan risotto.
prep time: 15mins.
cooking time: 25mins plus resting
total: 45 minutes plus cooling
taste: 7.5/10. I think G was almost sick of risotto when I made this version.  8.5/10 I loved this.  The ingredients were so simple and the flavour was great.  How much better does a dish get?

.
would I make it again: Yes.  Too easy and tasty.