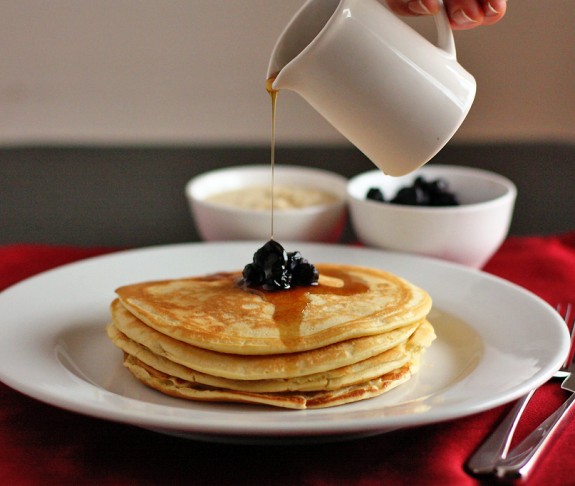 Even after many years of cooking, gaining valuable  experience and improving my technical skills I have never been able to cook a light and fluffy pancake.  Don't ask me why.  Maybe it's the recipes I have chosen in the past or the ingredients I have paired together OR maybe it is simply because I wasn't using a Thermomix :).  I'm not sure, I just know that I've never quite got it right.
That is, until today!
We have wanted to make pancakes for breakfast for a few weeks now and given the cold weather this morning it seemed like the ideal day.  I decided to trust my fate in an internet search for the perfect pancake using the Thermomix.  The Thermomix Forum popped up with (what appeared to be) a great result.  I got started straight away so that I had time to allow it to stand for the suggested 30 minutes.
I returned to find my mixture had thickened considerably so I added a little more milk to encourage it to pour more freely.  I initiated "Project Pancake" by anointing my preheated pan with butter and pouring over a layer of the mixture.  After a minute or so, I had lots of bubbles forming in the batter.  "Brilliant" I thought.  Bubbles mean light and fluffy pancakes, just what we really wanted for breakfast.  I encouraged the edges to release from the pan then flipped it over to discover a gorgeously crisp crust.  A few minutes on the other side firmed up the centre sufficiently and created a golden disc.  Two seconds after it hit the plate, the pancake was doused with maple syrup and devoured by two delighted and astonished diners.  More were made and all were eaten………..rather quickly.
I couldn't believe how light these were, although they were really filling at the same time.  These will definitely become a winter breakfast favourite in our house!
rara's pancakes (recipe by Maddy, posted on Forum Thermomix)
makes approx 10 large (20cm/8 inch) pancakes – 1.25 l of batter
Ingredients
50g (¼ cup/2 ozs) unsalted butter – cubed
350g (¾ lb) self raising flour
60g (¼ cup/2 ozs) caster sugar
2 eggs
500g (2 cups) milk
1 tsp vanilla extract
to serve
maple syrup, blueberries and whipped cream
Preparation
Place chopped butter in Thermomix jug.  Melt for 2 minutes, 50°c, speed 1.
Add in the remaining ingredients, and mix for 30 seconds, speed 5.
Scrape down jug, and mix a further 30 seconds, speed 5-6.
Let the batter stand for at least 30 minutes.
Brush non-stick pan with melted butter and cook on medium-low heat.  Wait until mixture bubbles, then turn over.  Cook for 1-2 minutes until pancake feels spongy but does not dent when pressed gently.
Repeat with remaining mixture.  Keep pancakes in a warm oven until ready to serve.
My tips/alterations:  *I let my mixture stand for approx 1 – 1 ½ hours and used approx 600g of milk as I felt the batter was too thick.  *Just use a small amount of butter on the pan as that is all you need.  *If you have left over mixture simply refrigerate it and just cook it the next day.  *You could make this in a blender I think but I am not sure that you will get the same quantity of air throughout the mixture.
ease: 9/10. Almost child's play!
prep time: 5mins + standing time.
cooking time: 30mins
total:  35 mins + standing time.
taste: 9/10 – These were light and fluffy but had sufficient density that made them very satisfying.  They were just sweet enough to allow them to be (almost) drowned in maple syrup without feeling like you were heading for a sugar high.
would I make it again: Absolutely. These will definitely be a favourite winter breakfast in our house!