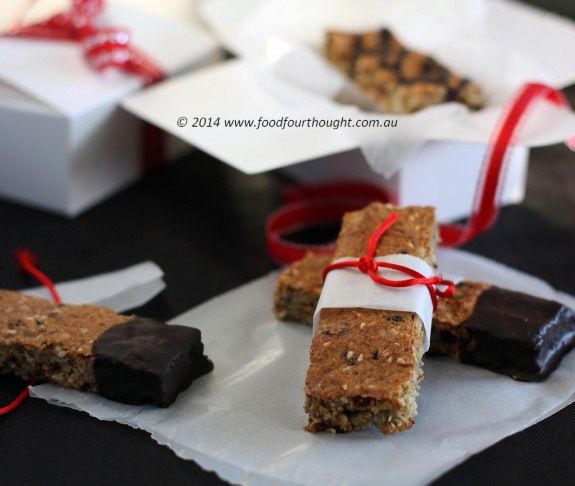 In January 2010, I said "Hello" to the blogging   community and started my Food 4 Thought website.  My goal was to put my passion for cooking into pages to share with others and hopefully along the way, inspire people to cook.
How things have changed!   I still love to cook and to share my recipes.  Inspiring people to try new things and take their own "food journey" continues to drive all that I do.
What has changed most?  Since that first post, I now have a Thermomix (of course) and a digital SLR (camera) – I love them both.  One allows me to create delicious food and the other beautiful photos :).  I still have my KitchenAid because…….umm……it's so pretty.  Unfortunately it does gather dust because I tend to adapt things to "Hermie" now.  I've taken my own food journey throughout the years and learnt that my body likes different foods now and runs more efficiently when I eat those particular things.  Some people might think a breakfast of LOTS of spinach, avocado, roasted pumpkin and boiled eggs is a bit weird, but I love it.
As I mentioned, sharing recipes and ideas is really important to me and one of the reasons I write my blog and my newsletter.  So when someone asked me recently how I use my Thermomix for breakfast aside from the "usual response" of poached eggs (YUM!), porridge, boiled eggs, CADA, omelettes, baked eggs and homemade bread and butter I also mentioned muesli bars.
When creating this recipe I took inspiration from a little cookbook that Thermomix in Australia offer.  "Cooking for Me and You" is designed for one to two people and has some delicious recipes like Asian style mussels, Prawn stir fry and Chocolate custard soufflé.  So in celebration of sharing to inspire people to cook, I am also sharing the book.  Simply leave a comment below telling me about your favourite breakfast creation using the Thermomix.  Share your recipes, you might inspire people xxx
(paleo) breakfast bar– makes approx. 18 bars (recipe by Fiona at Food 4 Thought inspired by Cooking for Me and You).
Ingredients
70g flaked coconut (unsweetened)
60g brazil nuts
120g your choice of mixed dried fruit
60g raw cashew nuts, activated if you wish
120g your choice of mixed seeds
250g almonds, activated and dried if you wish
3 eggs (or chia eggs)
60g raw honey
40g dried cranberries
Preparation
Preheat the oven to 170°C (160°C fan-forced).  Line a 30cm x 20cm baking tray with non-stick paper.
Place flaked coconut into TM bowl and grind for 10 seconds on speed 7.  Set aside.
Add brazil nuts and chop for 7 seconds on speed 4.  Set aside with coconut.
Add cashew and dried fruit into TM bowl and chop on closed lid position, Turbo for 1 second, 1-2 times.  Set aside with coconut.
Place almonds into TM bowl and mill for 8 seconds on speed 8.  Add eggs and honey, mix 5 seconds on speed 4.  Add all other ingredients and mix for 20 seconds, reverse on speed 3.
Scrape mixture into prepared tray, use damp hands to press down firmly and evenly.  Bake for 25-30 minutes, until golden.  Once cooked remove from oven and place on cooling rack.  When just cool enough to handle, cut into bars.  If you want to coat them in chocolate allow to cool a little more then coat as desired.
My tips:  *For the dried fruit I used 30g apricots, 40g sultanas, 50g dates and for the mixed seeds I used 40g each of sesame, sunflower and pumpkin.  You can use whatever you like.  *I  activated the nuts by soaking them then roasting them in the oven.  This process decreases levels of anti-nutrients such as phytic acid.  You can find some more information here and lots of other places on the net.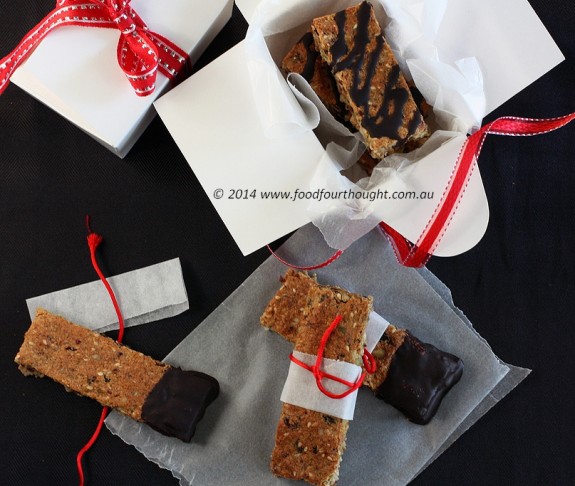 ease: 9/10.  Not difficult, just a few steps
prep time: 15 minutes
cooking time: 30 minutes 
total: 45 minutes
taste: 9/10 I LOVE these.  They have become my "grab and run" breakfast as well as the little snack I have just to fill the gap when I need it.  They're not too crunchy so easy to eat one handed 🙂
would I make it again:  I  have already