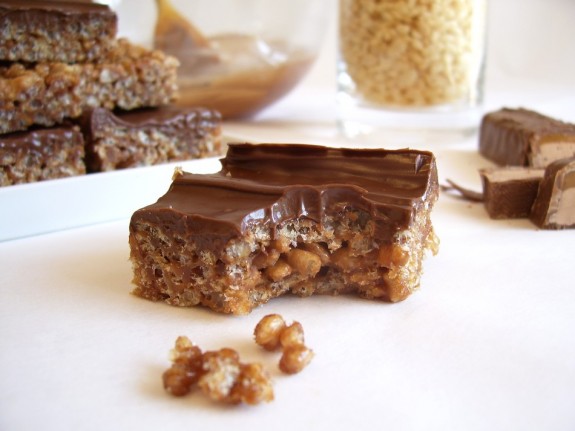 Food can evoke some very powerful memories, especially of one's childhood.  Being a competitive swimmer when I was younger meant that my diet consisted (mostly) of healthy, energy giving food with sweet treats being exactly that, a special treat.  One of the first delights I remember making with my Mum was Mars bar slice.   I was about five at the time and was allowed to mix the ingredients together to create a memorable delicacy.  Imagine, crispy rice bubbles bound by a rich, slightly chewy, chocolate-caramel mixture and spread with a luscious chocolate icing.  Once a childhood treat, now a guilty pleasure, this slice is very moreish for kids and adults alike! 
Mars bar slice (recipe from my Mum – one of a trillion out there)
makes 20 – 25 pieces 
Ingredients
3 cups (100g/3.5 ozs/¼lb) rice bubbles
3 x 53g Mars Bars (*See below for US version)    
90g (3 ozs/¾ of a stick) unsalted butter
200g (7 ozs/½lb) milk or semisweet chocolate (cooking or normal eating chocolate)
20g (1½ tablespoons) unsalted butter
Preparation
Grease and line 26cm x 16cm slice tin with non-stick baking paper.  Place the rice bubbles into a large bowl.
Chop Mars bars into chunks and place in saucepan along with butter.  Melt together, breaking down the Mars Bars with a spatula.  This will take a few minutes. 
Once the mixture begins to come together I use a whisk to finish it off.  You need to bring it to a boil to get it to come together completely.  Just before it does it will look like it has split but keep stirring.
Once combined add the caramel to the rice bubbles and stir quickly to combine well. 
At this stage I can almost guarantee that you will want to dive in and taste the mixture.  Please don't.  The mixture is very hot and you will burn your mouth, trust me, I speak from experience!
Pour the mixture into the tin.
Melt the chocolate and butter together, pour over slice.  Refrigerate until chocolate and slice are firm, minimum of 1 hour.  Remove slice from the tin and cut into pieces.
My tips:  *The quantities listed make a thin slice, if you would like it thicker simply increase by 1 each.  That is, 4 cups rice bubbles, 4 Mars bars and 4ozs (125g) butter.  *Don't use cheap rice crispies, they just don't work as well, I use the Kellogs brand.  *From memory and experience when living in the US a few years ago, Mars bars are not the same as those 'Down Under'.  They don't have the caramel section and therefore the mixture doesn't turn out the same.  Some other caramel bars might work.  Since I wrote this post I have found out that Mars Bars have been re-released into the US market.  I am not sure of the size of the bar you will need to use but think they are about 58g or approximately 2 ozs, so I would use three of those.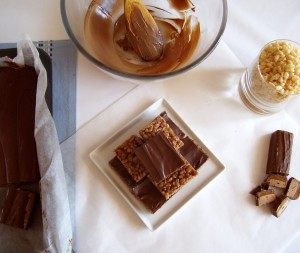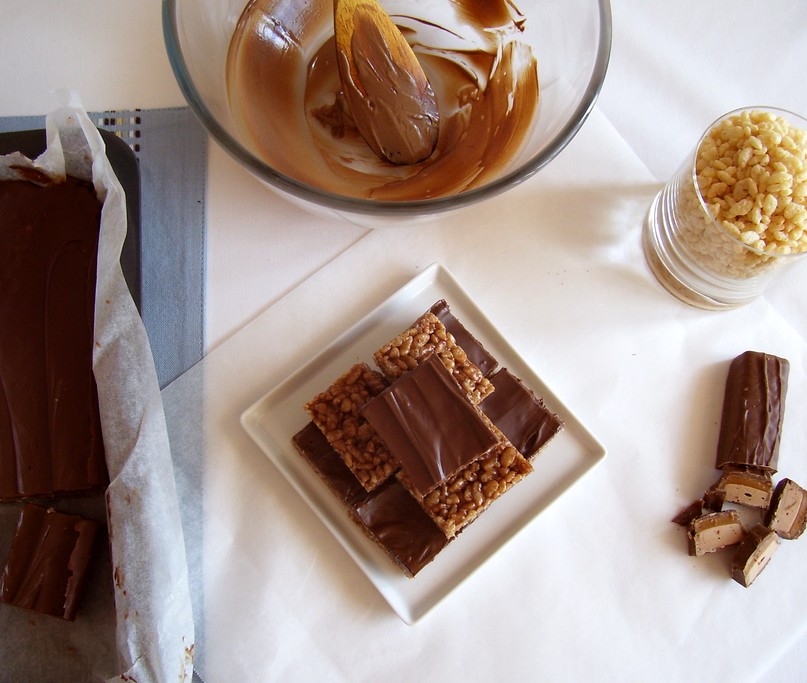 ease: 10/10. (this is even kid friendly so long as an adult heats the mixture).
prep time: 15mins.
cooking time: None.
total: 15 mins + chilling
taste: 10/10. It is what it is.  Sweet, sticky, slightly chewy caramel flavoured crisp morsels covered in chocolate.  Does it get any better?
would I make it again: Yes – especially when there are some kids around to make it with me.