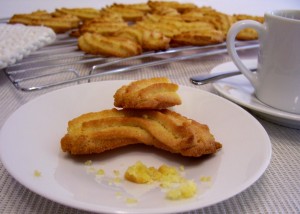 Today was one of those days when I sincerely appreciated how the world works. You know what I mean, when things just seem to work out for the best. This morning I was supposed to go for an early walk with a girlfriend I haven't seen in some time, but unfortunately a text at 6.30am explained that she had slept terribly due to a problem with her neck and was heading back to bed. As disappointed as I was because I wanted to see her, I was equally as elated because that meant I now had time in my day to bake. Last night after dinner I really felt like a cup of coffee and a biscuit, but the cupboard was bare, not even a standard store bought packet (which I normally buy to make cheesecake bases). G arrived home a little later and also expressed disappointment with the no biscuit situation as that was what he really felt like. So, I am very pleased to say that I whipped up some yummy biscuits with a twist.
orange polenta biscuits (recipe from bake it by Bay Books)
makes 20 – 22
Ingredients
125g (4 ½ oz) unsalted butter, softened
80g (2 ¾ oz) caster (superfine) sugar (I used 70g)
1 tsp orange flower water (I used 1 ½ tsp)
Finely grated zest of 1 orange (2 tsp)
2 eggs, lightly beaten
165g (5 ¾ oz) plain (all purpose) flour
80g (2 ¾ oz) polenta (cornmeal)
Preparation
Preheat the oven to 200°C (400°F/Gas 6). Line two baking trays with baking paper.
Combine the butter, sugar, orange flower water and orange zest in a food processor and process until light and creamy. Add the eggs and process until smooth. Add the flour and polenta and pulse until a sticky dough forms.
Transfer the mixture to a piping bag fitted with a 2cm star nozzle (I used a size 11 star nozzle). Pipe the mixture onto the prepared baking trays to form 7cm (2 ¾ inch) crescents. Bake for 15 minutes, or until the biscuits are golden around the edges. Cool on the trays for 5 minutes, then transfer to a wire rack to cool completely.
Keep stored in an airtight container, for up to 3 days.
My tips:  *If you do not want to pipe the mixture you could take a teaspoon of the mixture, moisten your hands a little with either water or orange blossom water and roll into a ball.  Press down lightly with a fork.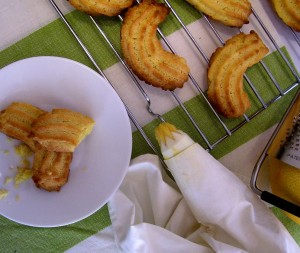 ease: 8/10. (depends how competent you are with a piping bag).
prep time: 15mins.
cooking time: 15mins + 5 mins cooling on tray.
total: 35mins.
taste: 8/10. The hint of orange blossom that come through these slightly crunchy firm textured little morsels reminds me of late spring when the citrus trees begin to flower. That evocative scent that makes you want to inhale deeply is also one of the things that make you want to eat more than one of these biscuits. The other reason I ate 3 (or was it 4) in the first half hour after they had cooled, is the wonderful texture that polenta gives to these biscuits. It is hard to describe without sounding derogatory but the graininess that is in every bite makes you want to have another. Oh, and they are a fantastic accompaniment to a cup of freshly brewed coffee.
The best part about baking these was that they made G and I both sigh with relief, not only did we both love the flavour and texture but they also satisfied our biscuits craving……for now!
would I make it again: Yes – and maybe use just a little more orange blossom water, because I love it.