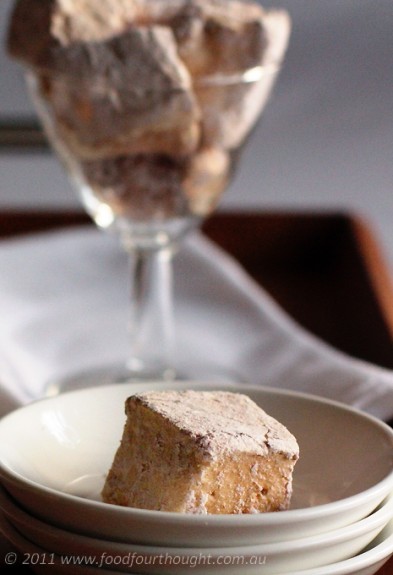 A good espresso is something that is celebrated in our house.  For the past few years G has immersed himself into the world of caffeine and has become quite the self-educated connoisseur.  His love of this habit (for want of a better word) has also meant that half of our kitchen bench space is dedicated to a fully manual coffee machine (a smaller version of those you see in a cafe') and a rather large conical burr grinder to go with it.
The benefits of all of this is that we can have wonderful coffee whenever we desire.  It also makes it much easier for me to create  things that include "a shot of espresso".  Because I have this advantage I have wanted to make something that incorporated coffee for quite some time, so when I saw a recipe for Espresso Marshmallows I knew it would have to be on my list.
Given it was Valentine's day soon and I was making raspberry marshmallows for that occasion, it seemed like a perfect time to make an extra batch flavoured with coffee.
espresso marshmallows (original recipe from Australian Gourmet Traveller adapted by Fiona at Food 4 Thought)   
makes approximately 40 pieces
Ingredients
flavourless oil such as vegetable or canola
2½ gelatine leaves (titanium strength)*
30ml (1ozs) espresso, cooled
330g (1½ cups) white sugar
160ml (2/3 cup) corn or glucose syrup  
scraped seeds of 1 vanilla bean or 1 teaspoon of vanilla paste
160g  (1 cup plus 2 tablespoons) pure icing (powdered) sugar
10g (1 tablespoon) Dutch cocoa
10g (1 tablespoon) cornflour   
Preparation
Lightly grease a 22cm x 22cm (9″ x 9″) pan with oil.
Break gelatine into small pieces, combine in the bowl of an electric mixer with coffee and 50ml cold water and set aside.  Combine sugar, corn syrup and 125ml water in a small saucepan, stir over medium-high heat until sugar dissolves, then bring to the boil and cook until syrup reaches 115C on a sugar thermometer (2-3 minutes). 
Whisk gelatine mixture on low speed, add hot syrup in a thin steady stream down the side of the bowl, add vanilla and whisk on high speed until thick and fluffy and tripled in volume (8-10 minutes).  Spoon into prepared tin, quickly smooth top with a lightly oiled spatula and stand at room temperature until set (2-3 hours).
Sift icing sugar, cocoa and cornflour into a bowl.  Turn marshmallow out of tin onto a lightly oiled piece of baking paper, cut into 3cm cubes with a lightly oiled knife, then toss in cocoa mixture.  Store in an airtight container, in cocoa mixture, until required. Marshmallows will keep for a week.
My tips/alterations:  *Because of the ingredients (lack of egg whites to encapsulate the air) I was very dubious as to the result I would get but they worked well.  *I followed the same process I used for my raspberry marshmallows and melted the gelatine before adding the hot syrup.  This ensured that the gelatine would be evenly distributed throughout the mixture.  *All gelatine will vary in how much it will take to set a set quantity of liquid.  Make sure you read the instructions of the packet.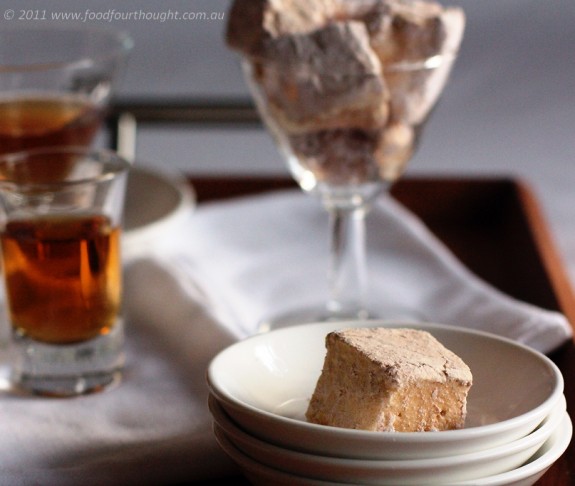 ease: 7.5/10.  Not that difficult but you will need a candy thermometer.
prep time: 15mins.
cooking time: 10mins plus setting and cutting
total: 25 mins plus setting and cutting (which took me about 30 mins)
taste: 8/10.  These were yummy although the texture was a little sticky.  I think it was due to me having different strength gelatine leaves than what the recipe specified. 
When I popped these into my mouth they tasted like a burst of espresso laced with condensed milk, never a bad thing!  I couldn't eat many of these because to me they were quite sweet.  Those coffee lovers who tried these loved them.  
would I make it again: Yes and just make sure I had the right gelatine to get the texture right 🙂