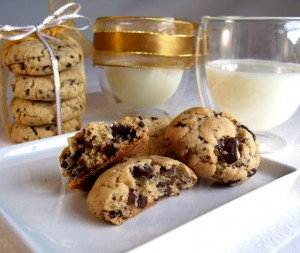 Cookies (or biscuits if you live down under) are one of those things that can make anyone weak at the knees when they are fresh from the oven, especially if they are chocolate chip cookies.  I think that people who love baking are always on the hunt for the best recipes for classics such as these, I know I was, until I made these.
I decided to make these because we were going away on a holiday and I thought it would be nice if we could sit in our chalet with a warm cup of coffee and delicious cookies while we watched the rain outside.  It was perfect, just as I imagined.  I looked at a lot of recipes for these little gems before going back to my old faithful from the Women's Weekly "Big Book of Beautiful Biscuits".  I used to make these often but have wanted to try different things of recent times so these have been omitted from my repertoire.  I was so happy to rediscover them. 
We had to ration these during our time away and they still didn't last the week.  I am sure they will be a significant part of our holiday memories.  Unfortunately holidays only happen every so often; luckily the same does not need to be said about making these cookies!  
chocolate chip cookies – (recipe from The Australian Women's Weekly Big Book of Beautiful Biscuits – adapted by Fiona at Food 4 Thought)
makes about 35
Ingredients
125g unsalted butter
1/2 cup sugar
1/2 cup brown sugar (lightly packed)
1/2 teaspoon vanilla extract
1 egg
1 3/4 cups self-raising flour
1/4 teaspoon salt
150g dark chocolate chips
 
Preparation
Preheat oven to 180°C.  
Cream together butter, both sugars and vanilla until light and fluffy.  Add lightly beaten egg gradually, beating well after each addition.  Mix in sifted flour and salt.  Add chocolate chips and mix well to distribute throughout dough.
Shape teaspoonfuls of mixture into small balls, place on a lined oven tray allowing room to spread slightly.  Bake in oven for 10 – 12 minutes, until just golden brown.  Remove from oven and cool on wire rack.
My tips/alterations:  *The original recipe used 125g chocolate chips and 60g walnut pieces.  I used Lindt dark chocolate blocks that I smashed up.  This meant that there were some large and small pieces throughout the mixture.  *I made my cookies about half the size of a golf ball or a little bigger.  That way they were bit size and you didn't feel guilty for having more than one……or two.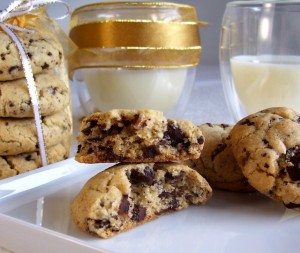 ease: 9/10.  
prep time: 30mins.  Rolling the mixture into balls takes most of this.
cooking time: 12mins.
total: 42mins.          
taste: 9/10.  Fresh from the oven I think I ate tested four, or maybe five.  After they had cooled I had to try another just to make sure they were the right texture.  Crunchy on the outside, soft in the middle, perfect.  The dough is a little sweet because of the two different sugars and the dark chocolate has a slight bitterness to it, they balanced each other in complete harmony.  I could rave about these all day long but I think you should do yourself a favour and make them. 
would I make it again:  Absolutely.  These won't slip off my repertoire again.