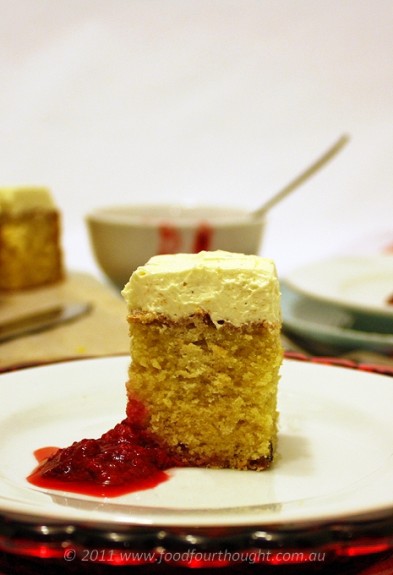 One of the things I love about cooking is being able to bring pleasure to other people's lives.  I know that might sound like a cliché but it is honestly the truth.  I guess cooking for others is my tool for showing that I care about them. 
I made this cake for one of the girls I work with.  It was her Birthday late in December and I wanted her to have something special because she was working that day.  I read this recipe when the magazine came out in October and knew it would be a special cake.  I also knew that the frosting would be quite firm so it would keep well and also transport easily.  This meant that I could make it a day ahead, and with limited time that is always a handy option.
buttermilk and vanilla cake with raspberries (recipe from Gourmet Traveller adapted by Fiona at Food 4 Thought)   
serves many
Ingredients
250g (½lb) softened butter
330g (¾lb/1 ½ cups) caster sugar  
3 eggs 
scraped seeds of 1 vanilla bean or 1 teaspoon of vanilla paste
finely grated rind of 1 lemon
300g (2 cups) plain (all-purpose) flour, sieved 
150g (1 cup) self-raising flour, sieved  
½ teaspoon bicarbonate of soda, sieved
350ml (1 ½ cups – US) buttermilk 
500g (1lb/about 4 punnets) raspberries, to serve
vanilla frosting 
3 eggwhites, at room temperature 
pinch of cream of tartar
260g (½lb) caster sugar
scraped seeds of 1 vanilla bean or 1 teaspoon of vanilla paste
300g (2/3lb) softened butter
 
Preparation
Preheat the oven to 160°C (320°F).  Beat butter and sugar in an electric mixer until creamy.  Add eggs one at a time, then add vanilla seeds and lemon rind.  Meanwhile, sieve flours and bicarbonate of soda into a bowl with a pinch of salt.  With mixer on low speed, add half the flour mixture, then half the buttermilk.  Repeat, then spoon mixture into a buttered 22cm x 32cm cake tin lined with baking paper.  Smooth top, then bake until cake is golden and an inserted skewer withdraws clean (35-45 minutes).  Cool in tin for 10 minutes, then invert onto a rack and cool completely.
For vanilla frosting, combine eggwhite and cream of tartar in an electric mixer and whisk until frothy.  Meanwhile, bring 240gm caster sugar and 120ml water to the boil in a saucepan over medium heat, stirring to dissolve sugar, then gradually add remaining sugar to eggwhite and whisk on medium speed until soft glossy peaks form.  Continue cooking syrup to soft ball stage (115C; 4-8 minutes).  Remove from heat, then gradually add hot syrup to whites, whisking continuously on medium-high speed.  Add vanilla seeds and whisk until cool and glossy (10-20 minutes).  Gradually add butter a little at a time, whisking continuously until incorporated and smooth. 
Spread frosting over cake, scatter with raspberries and serve.
My tips/alterations:  * Vanilla paste is the seeds from vanilla beans and vanilla extract blended together.  If you can't get fresh vanilla beans you can use this.  *I always start and finish with flour when alternating liquid and flour.  I find this gives the cake a lighter texture.  *For a whiter frosting, use a European-style butter with a pale colour.  *It's important the meringue is completely cooled before the butter is added; otherwise, the butter will melt.  If the mixture is too cold, it may look curdled; if this happens, continue beating the mixture until it is smooth.  *This vanilla frosting is very stable, so you can ice the cake before you transport it.  The frosting will be soft in warm weather and firmer in cool weather.   *The cake is best eaten on the day it is made, however it keeps well for 3-4 days in an air-tight container.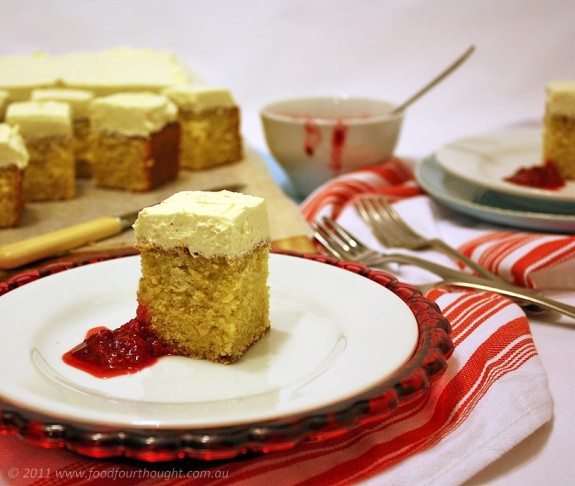 ease: 6.5/10.  The cake is quite easy but the frosting was a little more challenging.
prep time: 40mins.
cooking time: 50mins plus cooling time
total: 1 hour 30 mins plus cooling time
taste: 8/10.  This cake was delicious.  It was very moist and you definitely knew it was vanilla flavoured.  G & I agreed that we really enjoyed the cake but not the icing so much.  Everyone else who tried it loved the complete package.
would I make it again: Yes if I need a large cake that will transport well.