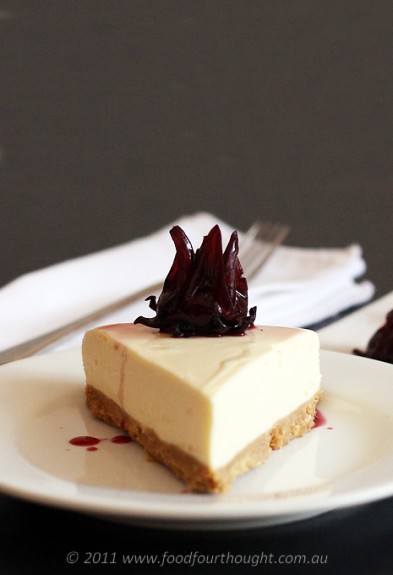 Being a passionate cook often involves giving and receiving food related gifts.  I love seeing the look on someone's face when they try something that I have created and really enjoy it.  The gifts I have received over the years have been many and varied. 
Items such as Vanilla and Port Chocolate Sauce, Chilli and Lime Mayonnaise and even a bottle of Truffle Oil are all gifts that did not stay on my shelf very long before finding their way into my kitchen.  One thing that I do seem to have received several jars of are (edible) Wild Hibiscus Flowers in Syrup.  They are a great to add to champagne for that special occasion but I always tend to forget to put them out when we serve champagne to guests.  So when I recently cleaned out my pantry and found three jars that needed to be used I knew that a little creativity was required.  
We had friends coming for dinner and I knew they loved cheesecake.  I decided to use my delicious classic lemon cheesecake recipe and add a little embellishment of my own. 
You will need 1 x cheesecake (as per recipe link above) and 1 jar hibiscus flowers in syrup to decorate the cake as you wish.
My tips/alterations:
  *When using gelatine leaves always check the strength ie how much liquid one leaf will set and to what consistency.  This should be listed on the packaging.  *When decorating the cake remember that the syrup is quite sweet so use it sparingly.  You can always add more! 
ease: 8/10.  I think the hardest part is to try and get the base even.  Gelatine sheet are easy to use, just follow the directions.
prep time: 30mins.
cooking time: No cooking required.  Chill for a minimum of 1 1/2 hours.
total: 2 hours.           
taste: 10/10.  This is the score the original post was given and our guests agreed that the addition of the flowers and syrup was a great twist.  
would I make it again: Yes it is an old faithful.