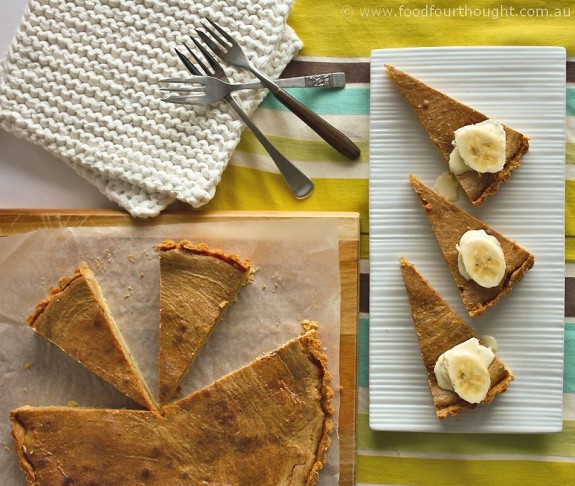 Having good friends over for dinner gives me an excellent excuse to create something that I would not normally make.  So when one of my girlfriends said she could join us one evening I put my thinking cap on. 
My dear friend Cherie came for dinner last night and brought me some of  her Mum's wonderful free range chicken eggs that I absolutely adore.  They have gorgeous deep yellow yolks and I am fortunate enough to be able get them as fresh as possible.  I wanted to make sure that I was able to use these in a dessert but didn't want to make custard or anything similar.  I also had some bananas to use and really wanted to incorporate them. 
I remembered a recipe that I had cooked some time ago that used both egg yolks and bananas in the filling so went hunting for it.  After finding and reading it I reminisced about the delicious flavour of the rich brown butter filling and couldn't wait to get to work.
I hope you enjoy making this to share with your friends.
brown butter banana tart  
makes one 23cm tart
Ingredients
pastry
125g (4ozs) cold unsalted butter
200g (1 2/3 cups) plain (all-purpose) flour
pinch of salt 
65g (1/2 cup) caster (superfine) sugar
1 small egg, lightly beaten
filling
125g (4ozs) unsalted butter
4 egg yolks
100g (1/2 cups) caster (superfine) sugar 
1 teaspoon vanilla extract
pinch of cinnamon
pinch of salt
50g (1/3 cup) plain (all-purpose) flour
150g (2 small) bananas
to serve, sliced bananas, double cream or vanilla ice-cream
 
Preparation
Preheat the oven to 180°C (350°F/Gas 4).  Lightly oil a loose base 23cm (9inch) tart tin.
To make the pastry, place the flour, salt and sugar in large bowl of a food processor and pulse to combine.  Cut butter into cubes and add to processor.  Process until mixture resembles fine breadcrumbs.  Add egg and process until the mixture starts to come together into a dough.  Tip onto a lightly floured workbench and press together with your hands, kneading briefly until smooth.
Roll out on lightly floured bench to a disk about 4mm thick.  Line the prepared tart tin with pastry being sure to press into tin and neaten the edges.  Set leftover pastry aside.  Chill tart case in the freezer for 15 – 20 minutes, until well chilled. 
Once chilled, line pastry case with non-stick baking paper and fill with weights, rice or beans, blind bake for 15 minutes or until sides are lightly golden.  Remove paper and weights, return case to oven and cook for further 5 minutes, until base is cooked through.
While pastry is cooking prepare filling. In a small saucepan, melt butter over medium heat and cook for about 5 – 10 minutes, stirring frequently until butter turns light brown and smells 'nutty'.  Meanwhile, using an electric mixer, whisk egg yolks, sugar and vanilla on high speed for about 4 minutes, until pale and fluffy.  Gradually add butter by pouring slowly down the side of bowl, whisking constantly to combine.  Add cinnamon, salt and flour, briefly whisk until smooth.
Slice bananas and fill the base of pastry case with a single layer.  Spoon filling mixture over bananas and smooth out.  Bake for 25 – 30 minutes, until filling is golden and just set.  Remove from oven and cool for 20 – 30 minutes (or completely).  Remove from tin and serve with your choice of accompaniments.
My tips/alterations:  *You may find that you have some pastry left over.  You can wither freeze it or make an additional small pastry case and bake it off to use at a later date.  *When browning the butter you will know when it is about to go nut brown because the bubbles on top of the butter become very small and it becomes very quiet (after making a lot of noise when it was bubbling).  Keep an eye on it at this stage as it turns quite quickly.  *When trying to smooth out the filling mixture I used a lightly oiled spatula to avoid it sticking.  *My photos show this slice to have a dense filling, which is because I left it to cool completely.  If you prefer a softer centre then serve the tart warm.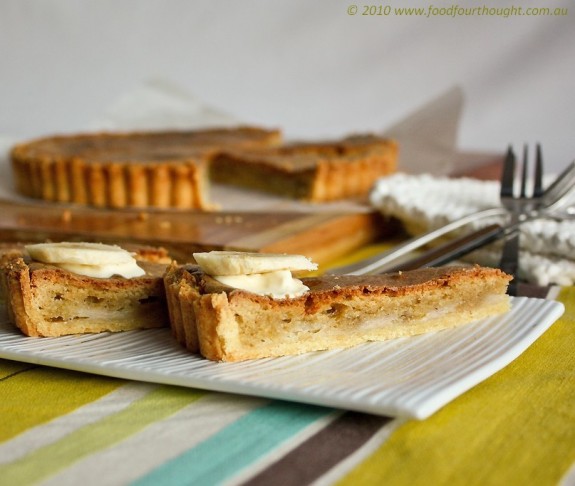 ease: 7/10. 
prep time: 15mins + 20 mins chilling
cooking time: 55mins. 
total: 1 hour 10 mins + 20 mins chilling + 30 mins cooling
taste: 8/10.  We enjoyed this at room temperature with a little double cream and sliced banana.  The flavour of the banana with the brown butter filling is delicious and the pastry is sweet with just enough crunch. 
We all agreed that it would also be great served warm with vanilla bean ice-cream.  I guess I will need to make it again to try it served that way.  What a hard life I have :).  
would I make it again: Absolutely