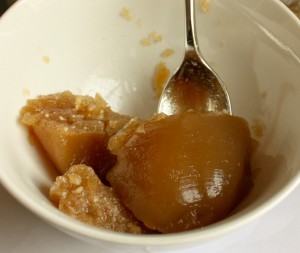 In cooking, there are certain things that are just better made at home, even if they are a little time consuming.  Stock is one of those things that, whenever I have the time, I like to make myself.  There are some very good chicken and beef stocks on the market so I tend not to make those varieties very often but I have not been able to find a lamb stock that suits my needs, so I make my own.
Over the weekend I had some time to do so and I had too many lamb bones in my freezer.  Whenever I debone a leg of lamb I will keep the bone for making stock, unless the dog is lucky enough to get it first.  If you're not comfortable taking the bone out of the leg of lamb you could ask your butcher to do it for you or your butcher may even have some bones that he doesn't want to give to his dog!
This is not a difficult recipe, it just takes a little dedication as it requires skimming every hour and needs to cook for around 6 hours.  If you do all of this you are rewarded with a wonderful lamb flavoured jelly like mixture that will make any stew or sauce taste so much better you will want to make it again and again.
lamb stock (from "Cooks Companion" by Stephanie Alexander) 
makes approx 1.5 litres (0.4 US gallons or 3.2pints)
Ingredients
1kg (2.2lb) lamb bones or lamb neck, chopped
1 large onion, unpeeled and halved
1 tablespoon of olive oil
1 carrot, chopped
1 leek, chopped
1 stick celery, chopped
100g (3.5ozs) mushrooms or mushroom trimmings or 50g (1.25ozs) dried mushrooms
1 cup dry red or white wine
3 stalks parsley
1 bay leaf
1 sprig thyme
a few black peppercorns
3 cloves garlic, crushed
 
Preparation
To make the lamb stock, roast the bones and onion halves at 200°C (390°F) in a lightly oiled baking dish until well browned.  Transfer to a stockpot.  Tip off all the fat from the baking dish.  Put vegetable into dish and roast until well coloured.  Transfer vegetables to stockpot, tip off any fat remaining and place baking dish over a high heat.  Deglaze the pan with wine, stirring and scraping well.  Tip deglazing juices into stock pot.  Add herbs, peppercorns, garlic and generously cover with cold water.  Bring to simmering point, simmer well then reduce the heat and simmer for 6 hours, skimming every hour and replacing the volume of skimmings with cold water. 
Strain, pressing well on vegetables and refrigerate stock overnight for all the fat to rise.  Next day remove fat.  Store in air tight containers and freeze until required.
My tips/alterations:  *I left the mushrooms out of my recipe because I want a pure lamb flavour.  *I didn't replace my skimmings with cold water.  This meant that I had less volume of stock at the end but that it was also very gelatinous and had a great lamb flavour.      
What starts as a huge pot of bubbling ingredients then separates into a gorgeous lamb flavourd jelly with the fat as a solid covering over the top.
Once the fat layer has been removed you are left with a lovely mixture that could even be mistaken for caramel ice-cream at first glance.
ease: 8/10. Check out how to debone a leg of lamb and what skimming is on the internet.    
prep time: 15mins
cooking time: 7.5hours. 
total: 7 hour 45 minutes.
taste: 9/10.  I love the consistency and intensity of this stock and that it was not too dark in colour.  It will be the base for all my delicious lamb dishes for the next few months.
would I make it again: Absolutely – Whenever I can snaffle the lamb bones before the dog gets them.